This Isn't Her First TV Detective Role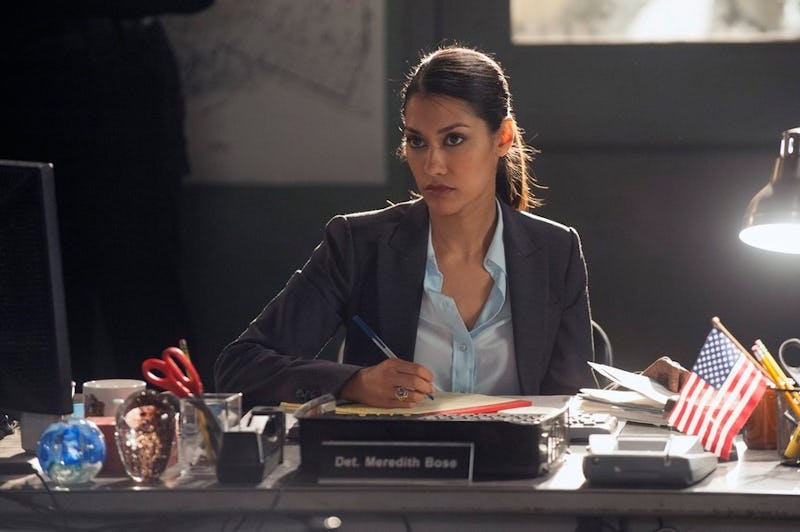 Those of us who tuned in for the premiere of The Mysteries of Laura last week were treated to the start of what appears will become a good cop/hot mess cop struggle. Janina Gavankar plays Meredith Bosethe, the foil to Debra Messing's Laura Diamond, and she eyes Laura's job like a freshly frosted chocolate cake. This is not her first television role; heck, it isn't even her first television detective role. Gavanka is not stranger to the small screen. You've probably seen her at least once, if not more times, in one of your favorite shows.
Though she had small roles in movies like Barbershop and played an intern for two episodes on Grey's Anatomy, her first big acting role came on Showtime's The L Word, where she played Papi for two seasons. From there, it was a role on ABC Family's supernatural series The Gates, where she played an officer in a gated community full of vampires and werewolves. Then, she jumped to another set of vampires and werewolves, with a role on True Blood, playing Luna. She's also appeared in The League, playing Shiva, who is the "deity" of their league's trophy. Most recently, she appeared in the first season of Arrow, playing McKenna Hall, the detective who Oliver briefly dates.
Just before she joined The Mysteries of Laura, Gavankar played Tessa on the fifth season of The Vampire Diaries. See? You've most definitely seen her pop up before.
Those just aren't her only claims to fame, though. While being interviewed on Attack of the Show Gavanka claimed to be the first actor on Twitter in 2006. This could quite possibly be true, considering that according to her Twitter page, she has belonged since November of 2006, which is actually pretty impressive. I'm usually just impressed when someone has a join date of 2008, but 2006? Twitter was but a dream back then. She is also a self proclaimed gamer, and spends a lot of her time trying to help other actors reach more fans with their online media presence.
Gavanka has a music career too. She was a member of the now defunct girl group, Endera, who was signed to Cash Money Records and she told Complex that she's still close with Jay Sean and his team. Along with singing, she also plays piano and percussion. Her last single, Waiting for Godot, was released in 2012.
And now, you'll be able to see her weekly on NBC. Seeing as how last week's episode ended with Laura's husband, Jake, being transferred to their precinct, is there the possibility of a Meredith and Jake coupling? "I think she thinks Jake is real cute," Gavankar admitted to Zap2It. I guess we won't see Meredith and Laura bonding anytime soon.
Images: Barbara Nitke/NBC; wonderlandgirlforever/tumblr