Franco's 'The Interview' Gets a NSFW Trailer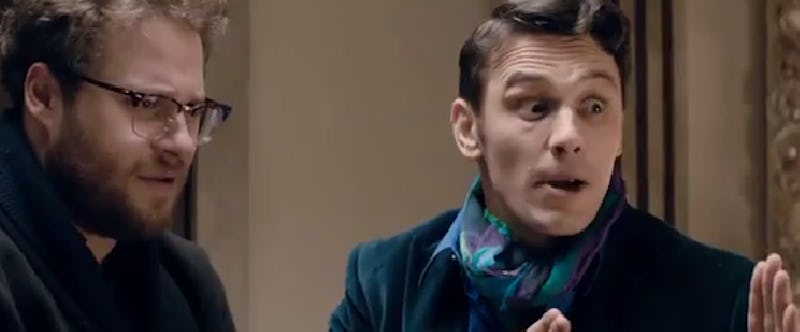 Last June, Sony Pictures released a teaser trailer for The Interview , starring James Franco and Seth Rogen, a movie about two severely under-qualified guys on a mission to assassinate Kim Jong-Un by order of a government official-looking character played by Lizzy Caplan. This, and the fact that the real Kim Jong-Un reportedly wasn't happy about the movie being made but still wanted to see it, were the only solid things we've known about the upcoming comedy. Now, there's a new, longer, NSFW red-band trailer out that gives a much clearer picture of what will actually be happening in the movie. It's still about two bumbling bros on a mission to assassinate Kim Jong-Un, but now there's a backstory, and a clearer picture of who else will appear in the film. Lizza Caplan is still there. Rob Lowe will also be there, as himself. Sadly, Margaret Cho as Kim Jong-Un will not.
The new red-band trailer for The Interview is definitely funnier, much, much raunchier, and reveals that Franco and Rogen play two employees of a "TMZ-like organization" before they are recruited by the CIA to assassinate Kim Jong-Un. According to Vulture, the film's release has been pushed back to Christmas Day 2014 to allow Sony time to "work on an edit" that would make the movie more dictator-friendly.
Check out the trailer here:
Image: Sony Pictures Entertainment/YouTube