Lenox Tillman Is 'ANTM's Dark Horse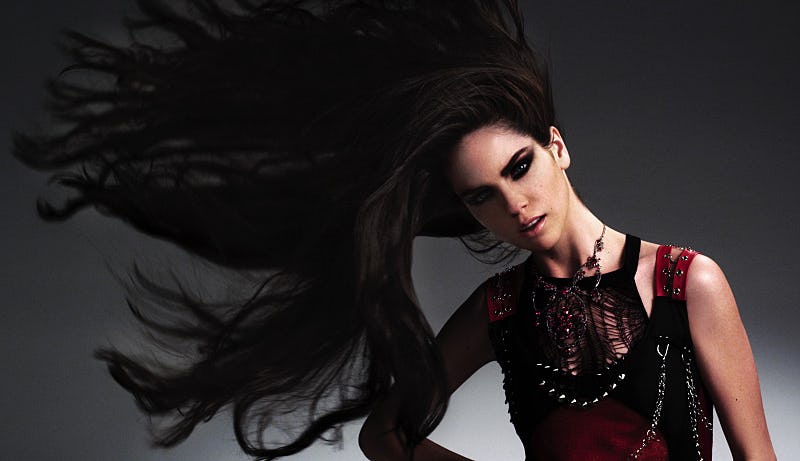 What do you call it when a model is given only five frames to get a photo that is better than a model with infinite chances? An unbelievably massive comeback, courtesy of 19-year-old America's Next Top Model contestant Lenox Tillman. If she's up to the task this week on ANTM, Lenox may very well be this cycle's underdog story. This week's episode is titled "The Girl Who Got Five Frames," which can only mean one of two things: either she gets the boot, or she rocks the shoot. I'm predicting the latter. In fact, I predict that if she makes it through this week and wins back Trya's faith, she might just make it all the way.
Weirder things have happened during Cycle 21 already; crowd favorite Chantelle Brown-Young was eliminated within the first few weeks and Romeo Tostado went down in history as the first ever ANTM disqualification even though they were two of Tyra's early favorites. But perhaps even more surprising was the unexpectedly low score Tyra gave Lenox for her lack of effort on the Black Widow shoot. Now Lennox has only five frames to prove she has what it takes to go from underdog to top dog.
So far, a male contestant has won best picture every week, but by no means does this indicate that the men are stronger models. Adding guys to the competition was the best thing to happen to ANTM since Rob Evans — it adds a little more comedy, some testosterone, and a whole lot of drama. But the remaining ladies are still strong competitors, and you know who's not getting involved in the drama? Lenox Tillman. While the other girls are getting into it with the guys, this Georgia Peach is five foot, ten inches of model ambition; she just lost her way a bit last week.
Even with Lenox's setback during Top 12, she still falls smack dab in the middle of the pack with an average weekly score of 34.5. After I did a little math (give me a gold star!) it actually turns out that Lenox maintains an average higher than Denzel, Shei, Adam and Kari, even with Trya's brutal scoring. OK, so scoring a one out of ten doesn't help her case much, but Lenox obviously had a strong enough beginning that it's keeping her head well above water even now. If you recall, Lenox started out as one of the judges' (and Twitter's) favorites. I mean, just look at that running water shot! She had every reason to get a little cocky after that one.
With her bright eyes and unique body shape, Lenox was immediately written off as having winning potential. But Tyra did not approve of her inability to be sexy on film, and more frustratingly her unwillingness to put in the effort to fake it. It resulted in what should've been Lenox's downfall. Now that Tyra's scared the bejesus out of her, I'm hoping she'll take it as a wake up call rather than writing it off as defeat. Her time is not over yet on this show; she has to embrace Romeo's disqualification as a blessing and realize this is her second chance. Five frames isn't a lot but it's more than she would get if Trya had rightfully sent the girl home.
Lenox only has to get ONE shot that is better than ONE other person's and she's back in the game. If she can do that, the other girls better watch out because Lenox could be a serious contender. Fake it 'til you make it, Lenox, or it's the chopping block for you this week and that would be a damn shame.
Images: Massimo Campana, Franco Lacosta, Erik Asla/Pottle Productions Inc/The CW