23 Things Overheard at 'The Voice' Blind Auditions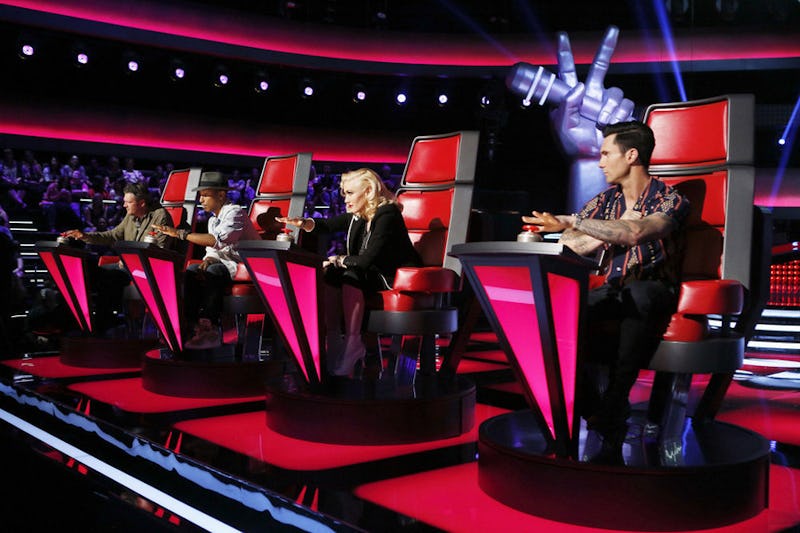 On the twenty-sixth day of the month of April in the year 2011, The Voice premiered on NBC. It would quickly become my favorite singing competition TV show. There's just something about those spinning chairs! I have watched every episode of every season at least once. I get emotionally invested on the regular. I've bookmarked a few of my favorite performances. I am happy to talk about The Voice anytime, anywhere. I love this show. Devoted fan that I am, I was stoked when I was offered the chance to watch a taping of season seven's Blind Auditions. Let me not mince words: I about crushed a glass of water with my bare hand out of joy. I would get to see the spinning chairs in real life!!!!!!
The day of the taping, I drove to the studio, got lost on the lot (classic Kristie move), and wandered around in the ruthless Los Angeles sun until I found the soundstage. Sweaty yet happy, I checked in and followed the group I would be sitting with to our section. I planted my butt in one of the hundred chairs (that's a rough, probably wrong estimate) that'd been set up on the risers. And then, my eyes locked in on them: the four empty spinning chairs. The coaches' thrones. I was starstruck.
Looking down at the stage from my seat, I felt like I was about to watch gladiators fight for their lives in the Colosseum. I wanted to make a Joaquin Phoenix/thumbs up or thumbs down joke to my seat mate, but I chickened out. I worried the joke was too predictable/dorky/not that funny. I didn't want to annoy my seat mate with a predictable/dorky/not-that-funny joke. So, we had a straightforward discussion about the weather instead.
After the audience settled in and the crowd hype man hyped the crowd, the coaches walked out on the stage. The audience lost its shit. Gwen Stefani, Adam Levine, Blake Shelton, and Pharrell Williams sat down in their respective spinning chairs. And the Blind Auditions began.
For the next four hours, we watched at least 10 auditions (I lost track around the last hour, for I was both thirsty and had to pee. Stuff started to blur); stared at the coaches' beautiful faces as they reacted to vocal performances and uttered constructive criticism; witnessed the truly exhilarating phenomenon that is The Four-Chair Turn; basked in the greatness of Carson Daly, timekeeper and host extraordinaire; and laughed every time Blake let out a thunderous guffaw.
As the Blind Auditions trucked along, I heard things other than the vocal stylings of Voice hopefuls. I heard things other than the coaches' feedback. I heard things other than Carson's scripted intros. I heard things other than Blake's laugh.
"I heard things," she mumbled, eyes glazing over. "They were real. I know they were real."
OK, OK, I didn't, like, hear ghosts or disembodied voices or something supernatural. I heard the chatter of the people seated around me. I heard the coaches' conversations between takes. I heard Carson's asides. I heard my own thoughts. I heard things.
What I overheard during The Voice Blind Auditions
Audience member: "Everything is smaller in real life."The camera adds 10 lbs to the spinning chairs.
Audience member: "Gwen Stefani is going to be here. She's gonna walk out on that stage. I can't."Yes, yes, and you can. You totally can.
The entire crowd as the show's hype man threw T-shirts at the audience: "WOOOOOOOOOOOOOOOOOOOOOO!"It's T-shirt tiiiiiiiiime!
Me when the goddess that is Gwen Stefani stepped onto the stage for the first time: "Oh my god. [Hnnnnngh.]"She is so perfect IRL.
Audience member No. 1: "He's so good. He's so good."Audience member No. 2: "… Who?"A contestant? One of the coaches? Carson? Someone in the audience? Someone who wasn't at the Blind Auditions? I never heard audience member No. 1's answer, so it shall remain a mystery forever.
Audience member: "We're trying to get on TV right now."A noble quest.
Audience member: "I feel like I'm watching a TV show."... And what do you feel like when you're watching TV?
Pharrell to contestant re: practicing: "Drive your parents nuts."Out of context, this is my favorite piece of advice.
Audience member re: Blake texting in between auditions: "He's tweeting about us!"Her ears must've been burning. Or whatever the Twitter equivalent is.
Contestant to Gwen: "Thank you for teaching me to spell 'bananas.'"Gwen's given us so much. Never forget it.
Adam to contestant: "I like your lipstick. It's pretty."Adam after another coach interrupted him to begin a sales pitch: "'I like your lipstick' doesn't count as an argument."Adam should moderate the next presidential debates.
At least 35 different audience members: "I have to pee."Every 15 minutes or so, another person made the state of their bladder known.
Audience member: "I wish [the coaches] were meaner."So salty!
Audience member: "Ugh, Adam never stops talking. He should stop talking."SOOOO SAAAAALTYYYY.
Carson: "[Singing] I am a monkey who reads."No, I don't have this on tape. Sadly, we were not allowed to record anything. But believe you me, if we were allowed to record anything, I would've recorded Carson singing this reading monkey tune. It'd be my new ringtone.
Me re: an exploding lightbulb: [Gasps, clutches chest.]I am very easily startled.
Adam re: an exploding lightbulb: "Scariest shit I've ever seen."Adam and I had similar feelings regarding the lightbulb explosion, so that must mean we're soul mates, right?
Adam: "I wanted to be Stevie Wonder and Lauryn Hill." What about now? Do you want to be Jimmy Buffett? Or am I reading into your Hawaiian shirt collection?
Blake to a contestant who auditioned with an Ed Sheeran song: "Don't pick such a complicated song for the Blind Auditions … Unless we're going to do hick hop."Tell me more about the hick hop genre, please. It sounds like something I'd hate/be obsessed with.
Contestant about to take the stage: [Breathes into a microphone nervously.]Adam: [Clutches chest.]This was a very endearing moment.
Audience member re: Gwen: "Is she dating anyone?" I almost butted in with a "GOT A MACHIIIIIIINE HEAAAAAD," but I stopped myself.
Blake: "I've been drinking."Classic Shelton.
The entire crowd when Adam called Blake one of his BFFs: "Awwwwww!"Don't worry, the bromance (blech that word) will rage on for another season.
As I drove home after the auditions, I heard Maroon 5's "Maps" on the radio. IT WAS A SIGN! What could a Voice coach's song popping up at that very moment mean???
I left The Voice, but The Voice will never leave me... or something? Sure. I'll run with that.
Images: Trae Patton/NBC nbcthevoice/tumblr (2)