Carlton & Will "Reunited" on 'DWTS'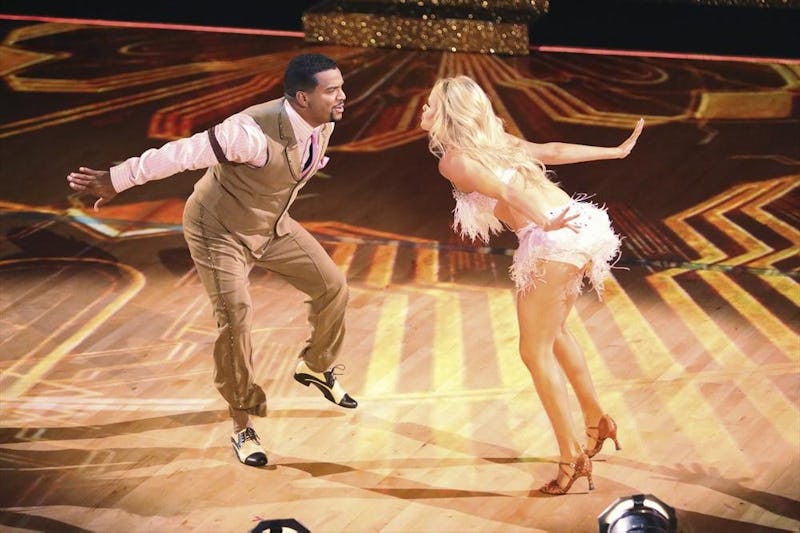 He may not have done the signature Carlton Banks dance, but this week actor Alfonso Ribeiro performed to a Will Smith song on Dancing With the Stars and it was adorable. Ten times more so when you realize that this week's theme is My Jam Monday and the competitors got to choose their own songs. Alfonso's nod to his The Fresh Prince of Bel-Air co-star was beyond sweet.
He didn't get the same high score he got last week, but Will Smith would probably dig Ribeiro's tribute and fans certainly enjoyed the "Gettin' Jiggy Wit It" vibe. "If you listen closely you can hear my childhood screaming," one viewer Tweeted. And even without topping the score chart, Alfonso and his partner Whitney Carson still made the top three thus far with their sassy samba routine.
And, as one person on Twitter noted, "I don't care what the judges say @AlphonsoRibiero was gettin jiggy wit it! POW!" So judging points aside, we just got to see Carlton Banks dance to Will Smith and everything is right in the world. And because you know you want to relive the moment, here's a vine of the amazingness:
Never stop being awesome Alfonso Ribeiro.
Image: Adam Taylor/ABC