This 'Voice' Contestant Survived The LAX Shooting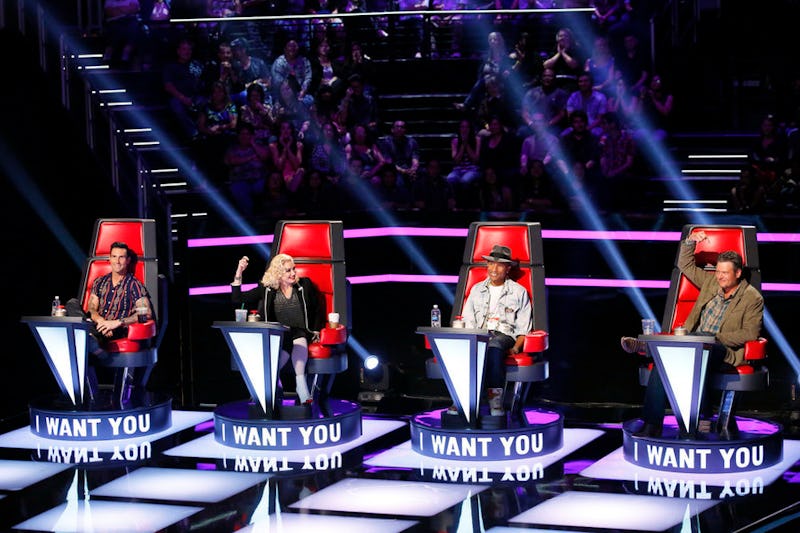 There's something about music reality show competitions that bring on the waterworks... and not just from the contestants who don't make the cut. It always seems like everybody has a story that makes me need to root for them, whether they're actually talented or not. And on the season premiere of NBC's The Voice Monday night, we met someone whose backstory (musical and otherwise) is already making me (and the judges) pretty emotional. Meet 35-year-old TSA Agent Damien from Monroe, La., who, like most Voice hopefuls, dreams of making it big in the music industry.
He moved out to LA to make it happen, and got a job at LAX . Then, tragedy struck. Damien was at a security checkpoint on Nov. 1, 2013, when Paul Cinacia opened fire and killed one of Damien's coworkers and injured six other people. A lot of people would find it hard to keep fighting for their dreams, but here's Damian, on stage and unwilling to give up.
And if you planned on watching The Voice without tissues nearby, at this point, you probably regretted it. Damian performed the same song that he performed at the funeral of Gerardo Hernandez, his slain co-worker and friend. If you thought that Boyz II Men couldn't get any sadder, prepare to be proven wrong. Damian's voice is amazing — and as he began to cry during his performance, I wanted to, too.
Needless to say, all four judges spun their red chairs around to face Damian, and he was a lock. It's not just that has this incredible story and drive behind his voice. This guy is actually super talented, too. Watch his performance below.
"I've just been told no so many times," he said tearfully. "It just feels good to see you guys turn around for me."
Obviously, Damien had his pick of the judges, and ultimately, he decided to go with Adam Levine. Solid choice... and not because he's one of the best looking guys in the entire world, either. I think they'll make an awesome match.
And as Damien headed offstage, his family was waiting proudly to congratulate him. I can't wait to see how Damien performs this season. My fingers are crossed for you, buddy! You've got this!
Image: Trae Patton/NBC