Those Pumpkins Are Good For More Than Just Carving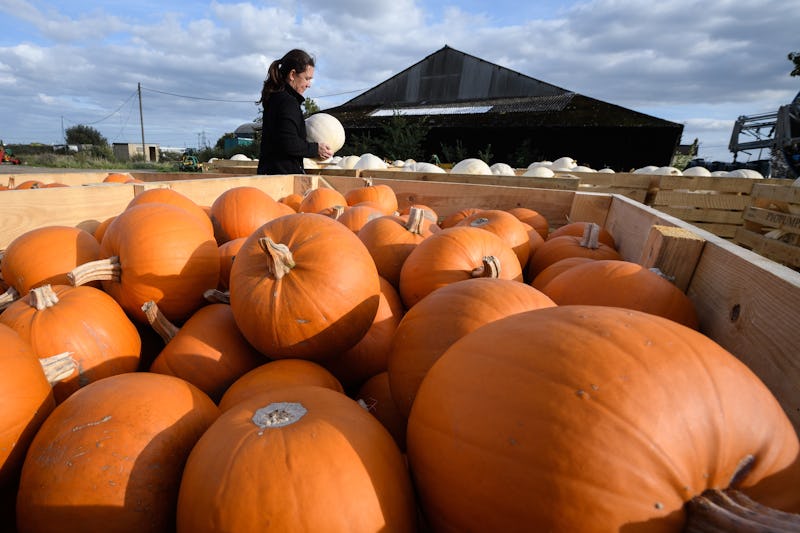 Leon Neal/Getty Images News/Getty Images
Sometime in August, I'll begin whining about how much I hate summer and how I can't wait for fall. With fall comes cider week, bourbon heritage month, and some seriously cute layering of button-ups, cardigans, and knee high socks. Being from New England, the first crisp autumn night perks up the nostalgia receptors in my brain; apple picking with my sister and long runs through the woods at dusk make me long for fall to stay forever. Hilarious Halloween costumes are just around the corner, and pumpkin festivals with flavorful beers and desserts are plentiful. On the first day of November, you can easily slip in a pile of pumpkin seeds and slowly the jack-o-lanterns begin to rot on front porches until we all accept the death of our favorite season. Oh, and pumpkin seeds are really, really good for your skin, too. You know, as an added bonus.
This fall, while you gut your pumpkin into a skull or evil smiley face, be sure not to ditch those goopy seeds. Pumpkin seeds can have a seriously positive effect on your skin and hair health. Pumpkin seeds exhibit anti-inflammatory properties that mirror our favorite oils to fight acne. They are rich in antioxidants with vitamins A & E to help moisturize and restore dull skin; this means it has a leg up on fighting premature aging. This year, when November rolls around, you can count on seeing me collecting those ditched pumpkins to make some slammin', all natural beauty products.
Biotin is one of the hottest oral supplements for healthy hair, skin, and nails. You don't need to rush to your local vitamin shop to find it come fall — pumpkins are rich in this B vitamin. That's not the only part of a pumpkin's unique anatomy, these plush orange fruits also contain zinc which is not only for toning skin, it's also going to balance hormones that induce acne. Due to the presence of zinc, pumpkins have been known to boost sex drives.. say whaaaa? Yep, eat a pumpkin and you can go all night. Probably.
You can purchase pumpkin seed oil at Trader Joe's or your local vitamin shop. Pumpkin seed oil is pricier than some of the other carrier oils, so I suggest making your own oil during the fall while pumpkins are in season to save on cost. Here are a few ways you can introduce pumpkins into your skin routine:
Deep Conditioner
Pumpkin Seed Oil
Apple Puree
Shea Butter
1 Egg
This deep conditioner is going to be paradise for anyone suffering from thinning or dull locks. Pumpkin seeds are rich in vitamin K, which is super beneficial for healthy hair. First, blend or puree half an apple, which some researchers say can reverse balding. Next, add one tablespoon of shea butter and one tablespoon of pumpkin seed oil. Whisk your egg separately and stir into your mixture. Use this conditioner on freshly washed hair and leave in for at least 20 minutes before rinsing out thoroughly.
Anti-Aging Daily Face Cleanser
Raw Honey
Pumpkin Seed Oil
Nutmeg
Tea Tree Oil (optional)
This is another delicious fall recipe: Start with half of a cup of raw honey and add in a teaspoon of nutmeg and one tablespoon of pumpkin seed oil. This cleanser won't take off your makeup, but it will rejuvenate and tone your skin, so it's great as your morning wash. The nutmeg is an extra anti-inflammatory that will further heal past acne scars and prevent new pimples from ruining your Halloween makeup. I add just a few drops of tea tree oil, because let's be real here, my skin stays oily through February. This recipe works on all skin types, but if you have dry skin? Just add more pumpkin seed oil to your new cleanser.
Skin Toner
One of the best natural toners out there is witch hazel. Here's the thing: As we move into the colder months, witch hazel can quickly go from being your skin's best friend to your skin's arch nemesis. The best way to get through the temperature change and keep your fave toner is to add pumpkin seed oil. Use equal parts or play with the portions based on your skin's needs — extra oily means add less pumpkin seed oil and vice versa.