11 Best 'One Tree Hill' Episodes To Watch, Because We're All Brooke Davis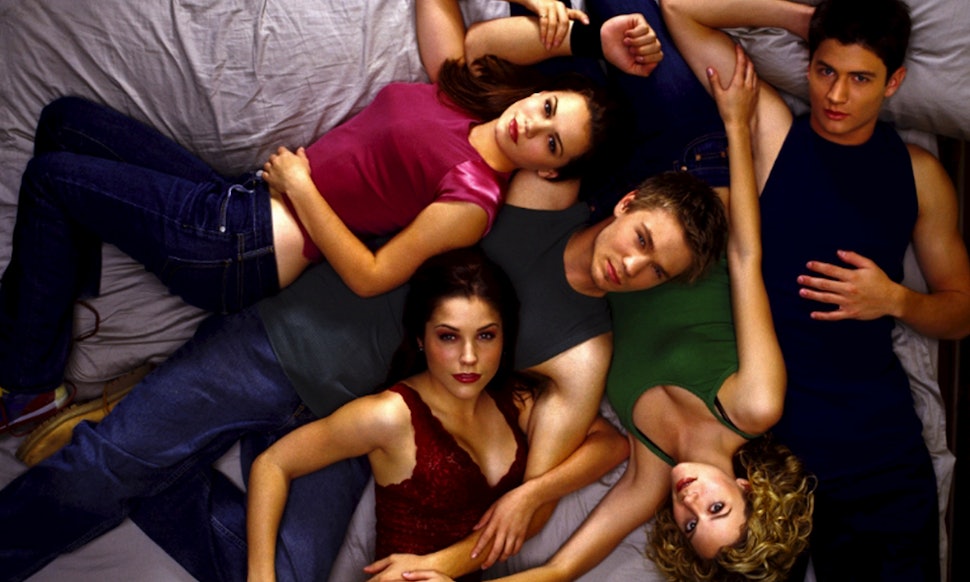 There's only one Tree Hill and, while the river court might not still stand, it's 11 years old today. That's right, CW fans, One Tree Hill premiered on Sept. 23, 2003. So, if you're a diehard OTH fan, you're probably feeling pretty nostalgic right now for what should be known as the greatest teen drama of all time. And Brooke Davis totally gets that you can take our Tree Hill away, but you can't take it out of us — on Tuesday, Sophia Bush posted an OTH throwback photo on her Instagram of the cast celebrating their 100th episode in honor of the 11th anniversary that'll tug at your Gavin DeGraw-loving heartstrings.
Luckily for you, emotional OTH fan, the entire series is streaming on Netflix. So, here are the best 11 episodes from all nine seasons to help you celebrate your love for Brooke Davis the right way.
Image: The CW
Season 1 — "The Places You Have Come To Fear The Most"
Sure, the One Tree Hill pilot is great and all, but there's one thing it doesn't have — Brooke Davis. The first season's second episode introduced Sophia Bush to the world and, for that, it deserves a spot on this list.
Image: The CW (screengrab)
Season 2 — "Don't Take Me For Granted"
OTH took on hate crimes in this episode when Brooke's ex-boyfriend Felix spray-painted "Dyke" on Peyton's locker to get back at Brooke for breaking up with him. And, well, because he was really uncool with his sister, Anna, being a lesbian. So, what did Peyton do? When the school ignored it, she spray-painted the word on her T-shirt and wore it to school in protest. And, even though I don't love Peyton, it was awesome.
Image: The CW (screengrab)
Season 3 — "The Wind That Blows My Heart Away"
What's with Chad Michael Murray and making swoon-worthy speeches in the rain? Well, he really outdoes his Cinderella Story speech in this episode while Lucas spouts off all the reasons why he loves Brooke in the pouring rain. But this episode also marked Nathan and Haley getting back together. So, generally, love all around.
Image: The CW (screengrab)
Season 3 — "With Tired Eyes, Tired Minds, Tired Souls, We Slept"
This is by no means an easy episode to watch, but the challenge is what makes it one of OTH's best. The school shooting episode that cost both Jimmy and Keith's lives is powerful, heartbreaking, and a standout in the series' best season.
Image: The CW (screengrab)
Season 3 — "When It Isn't Like It Should Be"
Pete Wentz the Snuffleupagus. This was the first time everyone got together after Rachel confessed to Mouth that she released the time capsule that caused Jimmy to bring a gun to Tree Hill High. It was also the first time Pete Wentz appeared IRL and met Peyton's friends AND when Nathan re-proposed to Haley after deciding to renew their vows.
But, mostly, who really thought anyone would believe that a rockstar would date a high schooler?
Image: The CW (screengrab)
Season 3 — "How a Resurrection Really Feels"
Peyton grappled with her Angel of Death self over her relationship with Ellie, and Lucas confronted Deb about trying to kill Dan in the dealership fire. But the real beautiful moment was when Chris Keller sold his guitar to pay for Haley's demo.
Image: The CW (screengrab)
Season 4 — "I Love You But I've Chosen Darkness"
Nathan and Haley want to go to colleges on different coasts and, surprise, she's pregnant. So, when Nathan gets his dream scholarship to Duke, his selfish side takes over until he realizes that he's a husband and a father and has to be a man. Then he delivers an amazing speech at a press conference about his decisions not being just for him, but for his family. Swoons.
Image: The CW (screengrab)
Season 5 — "4 Years, 6 Months, 2 Days"
Anything after season five of OTH is kind of the worst. But when Lucas and the rest of the crew return to Tree Hill after college, work, and internships have kept them busy the past four years, it's an interesting reunion and testament to growing older and growing apart.
Image: The CW (screengrab)
Season 6 — "Searching For A Former Clarity"
One of Haley's finer later-season moments — after getting a teaching job at Tree Hill High, she runs an essay contest and picks Sam's troubled, yet inspired essay about living life in foster care. And when the principal demands that she apologize and retract Sam's win, Haley up and walks out of her job because her morals are too good to lay down for authority.
Image: The CW (screengrab)
Season 6 — "Remember Me as a Time of Day"
Nathan finally makes it to the NBA and he and Haley break it to Jamie in the most adorable way possible. Do I even need to say more?
Image: The CW (screengrab)
Season 9 — "The Killing Moon"
We'd seen Brooke Davis be a lot of things on One Tree Hill, but when Tara insults Julian about forgetting one of his sons in the car, a new side of Brooke came out. Watching her tear through Tara's cafe was terrifying and powerful and why this episode from an otherwise not-so-great season made it onto this list.
Image: The CW (screengrab)