This 'Freak Show' Teaser Is the Creepiest So Far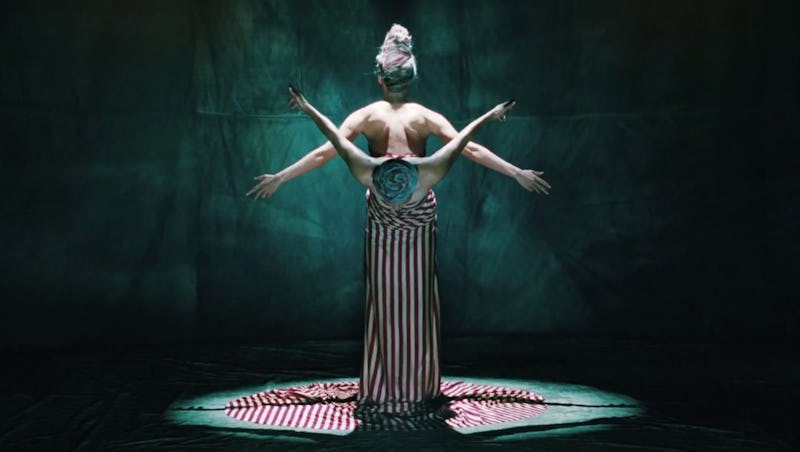 At this point, either you're head over heels, crazy excited for the upcoming season of American Horror Story: Freak Show, or you're not excited and just haven't been properly convinced yet. Luckily for the latter of you, FX is still rolling out epic teasers for this thing, so you all have a great new promo to help finally make you see the light: the light, of course, being that Freak Show is clearly going to be the creepiest season of this show, ever. That's never been more apparent than it is in FX's new American Horror Story: Freak Show teaser, which features an all new meaning to the phrase, "back to back"...as in, literally, one person with two upper bodies, back to back.
As with most AHS teasers, I doubt that this creepy image is going to directly make it into the series — their specialty is setting a certain tone for the season rather than actually showing footage from the season — but I imagine it's a bit of a reference to Sarah Paulson's conjoined twins characters, Dot and Bette.
There's a silver lining, though: Where the promo lacks spoilers, though, the cast is certainly making up for in social media. Last night, on the set of the new season, star Emma Roberts posted a very curious picture on her Instagram of a book cover, which reads, "Crystal Ball Reading For Beginners." The caption? "Night shoot reading material #americanhorrorstory #freakshow." Vague, yes — and initially not too interesting, because crystal balls and freak shows go pretty hand-in-hand. But, when coupled with previous spoilers saying that Roberts will be portraying a con artist with returning cast member Denis O'Hare...well, it suddenly becomes a lot more interesting. Is this how her character will enter the freak show of AHS: Freak Show?
Luckily, we won't have to wait soon to find out. Freak Show will premiere on FX on Oct. 8.
And Roberts' spoilerific pic...
Images: FX/YouTube, emmaroberts/Instagram