She Had Kelly Clarkson On Her Side On 'The Voice'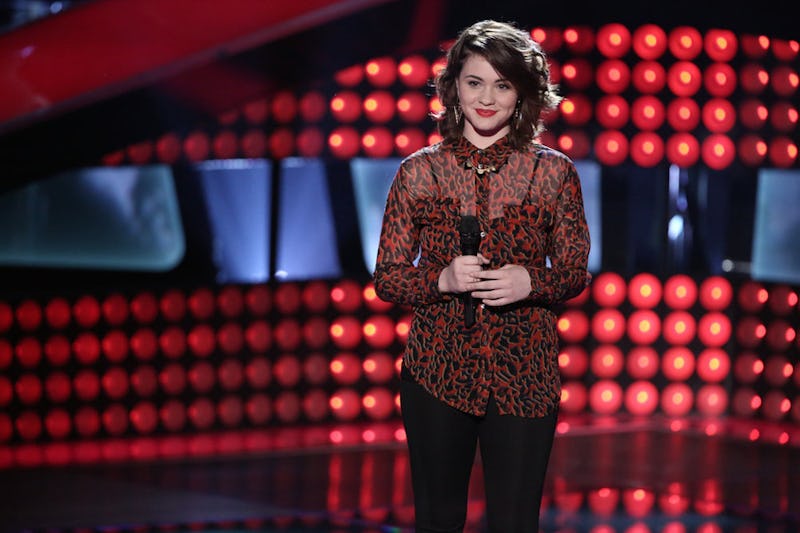 There's definitely something in the water in Burleson, TX. You know, the very same Texas town that a little American Idol Season 1 contestant named Kelly Clarkson hailed from back in 2002. On Tuesday night's The Voice blind auditions, James killed a cover of Ed Sheeran's "Gimme Love" that absolutely would've made Clarkson proud. So it wasn't surprising that the Idol-winner inspired 15-year-old Reagan James to audition for this season of The Voice . And it definitely inspired judge Blake Shelton to goad her into joining his team — James' only missed opportunity might've been the fact that she didn't choose to sing one of the many hits in Clarkson's expansive discography.
But that definitely didn't work against her. Because her story is pure, reality TV gold. A young singer from a small town in Texas shares a powerhouse voice and a love of partially corn-rowed hair with the first ever American Idol winner who also happens to be from her hometown? That's EVERYTHING — Kelly Clarkson fans around the world are rejoicing that she's inspiring the next generation. And the judges were impressed, too. As soon as James revealed her hometown following her performance, Blake Shelton — whose team she decided to join — brought up the fact that Burleson happens to be Clarkson's hometown as well. So, it's not surprising that the judges were falling all over themselves to grab James — Burleson breeds winners and everyone wants to win. Oh wait, this show is about nurturing exceptional performers, right?
With or without Burleson as her secret weapon, James' "Gimme Love" performance killed it. Watch it here:
Image: Tyler Golden/NBC