This Couple's Danced Their Last 'DWTS' Dance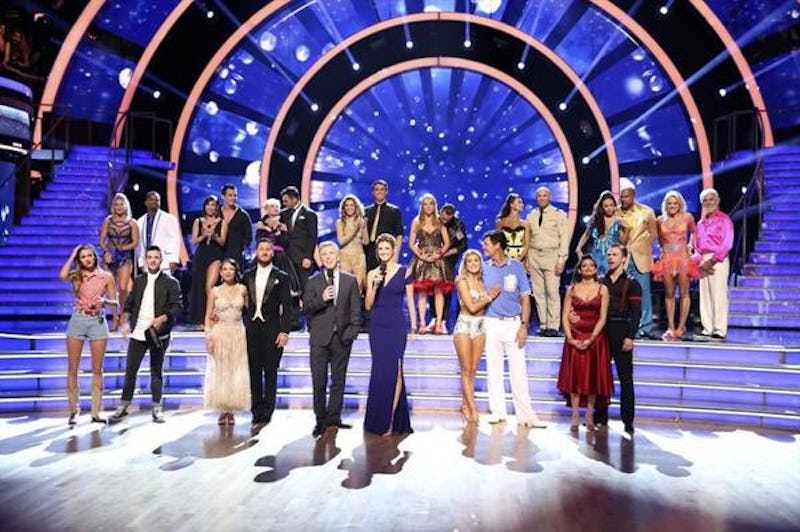 The bottom three of the Dancing With the Stars results show included Tavis Smiley, Michael Waltrip, and... Sadie Robertson. It was such a shock that she was in the bottom, that the audience booed when they heard she was in jeopardy. Fortunately for fans, the Duck Dynasty sweetheart made it through elimination to dance another week, but Tavis Smiley and Sharna Burgess weren't so lucky and were sent packing. Monday night, the duo had debuted a Cha Cha number to the 1979 hit "Boogie Wonderland." But it didn't wow the judges or the voters.
I personally thought Michael Waltrip's "Girls in Bikinis" number was gross and offensive and had hoped he'd be booted, but I have to say I'm not surprised Smiley wasn't able to make it further. His song was too dated considering the young age of the voting crowd. Plus, as a PBS talk show host, he's not really a recognizable celebrity. He may have been an OK dancer, but it wasn't enough to win over the judges or voters and his time on DWTS came to a close.
The reaction on Twitter was pretty much in favor of the elimination with many saying Smiley just didn't have the personality to be noticed on the show. It does take a certain brand of charisma to get the crowd on your side, and Smiley would never have been able to sell a Janel & Val-style showmance. To put it plainly, Smiley didn't have the audience appeal necessary to win.
But Smiley probably doesn't have any hard feelings. He's pretty focused on his book tour right now which is much more up his alley than this dance competition could ever be.
Image: ABC