The Judges Couldn't Handle Her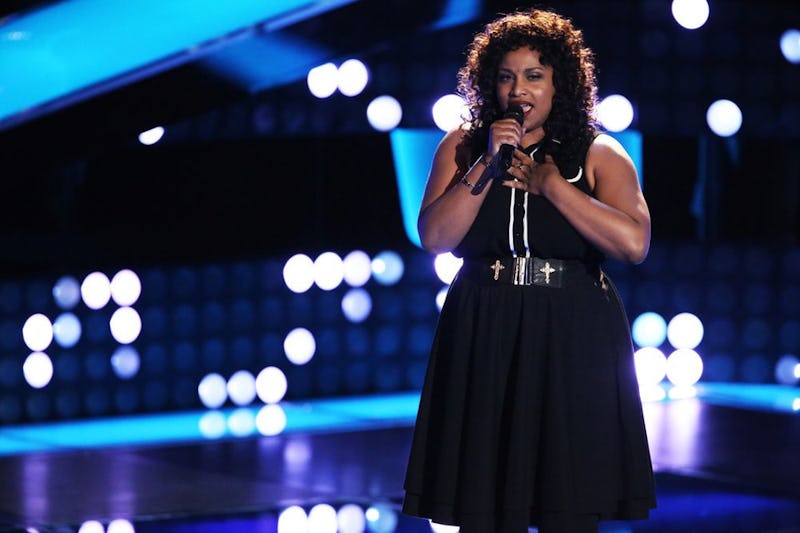 OK, so there was a clear frontrunner during Tuesday night's blind auditions for The Voice . And no, it wasn't Kelly Clarkson 2.0, Reagan James, even though she totally rocked. Before and during the episode, NBC aired sneak peeks at Maiya Sykes' cover of Sam Smith's "Stay With Me." Basically, so you knew it would be good and so you'd sit through the lengthy commercial breaks until she dropped the last performance of the night. And, again, you knew it'd be good from how much the judges — yes, all of them — fawned over her and made me and probably everyone watching uncomfortable.
The Los Angeles native whose been working as a professional singer for years and is the self-proclaimed wedding singer of choice for Armenian weddings was hyped up to be the best performance of the night. And, well, she was. "Stay With Me" hasn't sounded so good since Smith performed it himself at the 2014 MTV VMAs. So, I get it, the judges were knocked out of their seats by Sykes' talent and their desire to win her over — so much so that they became totally desperate.
I know that the blind auditions are all about the judges' banter and them throwing little digs at each other. But Sykes' performance was incredible and Gwen Stefani parading around the fact that she's also a fashion designer ALMOST overshadowed it. Yes, Gwen tried to get Sykes to join her team on the basis of free shoes, clothes, and bags and it was kind of hard to not see that the singer was a little put-off by the suggestion. Then throw in a little bit of Pharrell mentioning his multitude of brands, but assuring Sykes that her brand was more important and Blake and Adam giggling like little girls and it was just a total mess.
Again, I know how The Voice blind auditions work, but Maiya Sykes was actually SO GREAT and it kind of would've been great if all of the judges could've kept their heads on for her.
Watch Sykes' full performance of Sam Smith's "Stay With Me" here:
Image: Tyler Golden/NBC