Pharrell & Gwen Are Already BFFs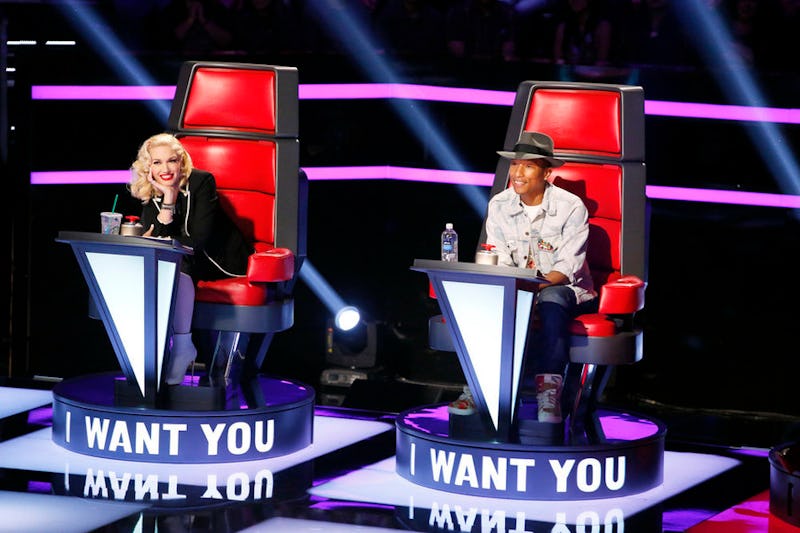 I have some bad news for Adam Levine and Blake Shelton: As adorable as your bromantic banter is, you guys may have officially lost the race in the competition for cutest reality competition BFFs. Thanks to Monday night's season premiere of The Voice , there's a new dynamic duo in town, and from what I witnessed, it definitely seems like newbies Pharrell and Gwen Stefani are about to take over. They both might be new to the show, but they're not new to each other.
Pharrell and Stefani go way back — as she mentioned on the show, they worked together on No Doubt's 2002 single, "Hella Good," and earlier this month, Pharrell gushed about her upcoming album. Clearly, these two are meant to be best friends, and judging by their on screen chemistry, we're already off to a good start. Also important: Pharrell definitely called Stefani his "boo," which means it's serious. I'm hoping Stefani's husband, Gavin Rossdale, doesn't get too jealous!
And, um, unfortunately, Shelton showed his age when he asked what a boo was. Maybe he should spend some time catching up on the hip lingo the kids are using. Do you think he knows what YOLO stands for? Probably not.
Something else Stefani and Pharrell have going for them already? The fact that, because they've spent so much time working together in the past, they know each other's strengths. This can only benefit the contestants, thereby giving us an even better show. Pharrell wasn't afraid to pass off a contestant to Stefani when he knew that her style would be a better fit for her... although at other times during the show, all four judges were ready to duke it out over the night's most talented hopefuls. Can we blame them, though?
Pharrell and Stefani make a pretty great team, and it's going to be a lot of fun watching them together this season. Let's not get ahead of ourselves, though — it's not like I'm ready to forfeit my valuable Levine screentime for Pharrell/Stefani bonding, and it's true that they just don't have the same sass that Levine and Shelton are famous for. Maybe we can strike a healthy balance? Either way, with the upbeat, fresh energy The Voice's newest judges bring to the show, I'm looking forward to the rest of the season.
Image: Trae Patton/NBC