Sophia Bush Vs. 'Chicago P.D.' Cop Erin Lindsay: They're Both Pretty Badass, Which Counts For A Lot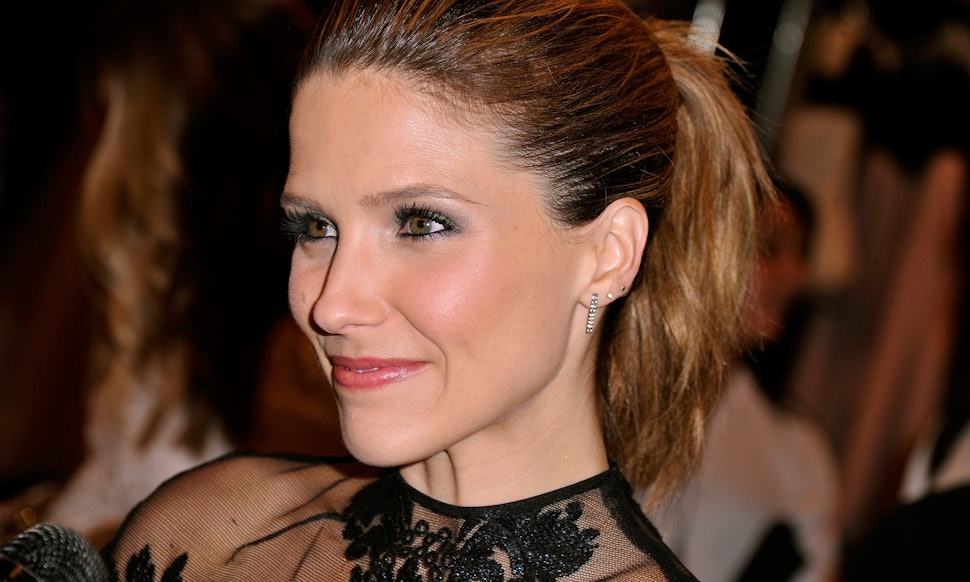 Stephen Lovekin/Getty Images Entertainment/Getty Images
There's no shortage of reasons to admire Sophia Bush and I'm not just saying that because her career-making role as One Tree Hill & Sophia Bush's Brooke Davis was one of the best characters on TV. With the second season of Bush's show Chicago P.D. starting Wednesday, it's as good a time as ever to acknowledge how totally awesome Bush is IRL and onscreen as Detective Erin Lindsay.
Lindsay is a tough-as-nails cop that turned her unfortunate childhood into helping others and she's more or less a total badass. Oh, and did I mention that she's BFFs with Law & Order: SVU's signature lady-boss Olivia Benson? Well, she is.
Offscreen, Bush is equally as awesome. The actress is style icon, an activist, a badass feminist, and your dream celebrity BFF (if she's not already, she should be). And she's got a killer Instagram account to back it all up full of photos of her rescued pitbulls. Yes, OK, I have a girl-crush on Sophia Bush, but I also have one on Erin Lindsay — so how alike are Bush and her Chicago P.D. character? They're pretty damn similar in the most awesome of ways.
Erin's Beginnings
Erin Lindsay had a rough childhood — her father was in prison, her mother was a drug addict, and she was basically out on the street by the time she was a teenager. Luckily, her life turned around when Sergeant Hank Voight took her in and she ended up working for him at the Chicago P.D.
Image: Matt Dinerstein/NBC
Sophia's Beginnings
Bush's childhood was hardly as troubled as Lindsay's. But this is really the one place where they aren't extremely similar. Bush was born and raised in L.A. where she was a Tournament of Roses Parade Queen, went to USC for journalism and drama, and was a member of Kappa Kappa Gamma sorority. A far cry from being arrested multiple times and living on the street.
Image: SophiaBush/Instagram
Erin Being A Total Boss
Erin Lindsay is, like I wrote above, a total boss. She's tough-as-nails, she's respected, and she sure as hell knows how to wield firearms. And, I mean, she's a pretty damn good cop — it takes a special kind of person to be a cop, someone with an innate sense of leadership.
Image: Matt Dinerstein/NBC
Sophia Being A Total Boss
IRL, Bush is also a total boss. Whether it be shutting down ignorant anti-feminists on Twitter or walking around NYC like she literally owns the place (she doesn't, but she should), Sophia Bush's presence commands attention. She's also got a killer sense of style.
Image: SophiaBush/Instagram
Erin's Tough With a Big Heart
A big part of Erin Lindsay's character is that she's drawn to helping young people like Nadia, the drug-addicted prostitute, in Season 1. Lindsay has compassion for them because, well, she was once one of these troubled young people. Sure, she's a badass cop, but she's also got some serious heart and a desire to help people change their lives.
Image: Matt Dinerstein/NBC
Sophia is a Fierce Activist
Bush, much like Lindsay, is all about fighting for the cause — whether it be helping children get an education, promoting gender equality, or awareness. This actress has been on the front lines of activism for a variety of causes for years. And it's totally cool.
Image: SophiaBush/Instagram
Erin Has Badass Lady-Cop Friends On TV
Can someone give NBC a medal for putting these three women on the same network in the same night? Chicago P.D. did crossover episodes with Law & Order: SVU during its first season and it was awesome to see two women like Lindsay and Olivia Benson working together and commanding the series. And during this fall TV season, NBC is bringing them together with Mysteries of Laura star Debra Messing. A match made in badass female TV heaven.
Image: NBC
Image: NBC (screengrab)
Sophia Has Badass Lady-Cop Friends IRL
And the best part about this trio is that they're actually friends IRL. Bush's Instagram is full of photos of her goofing off with her badass lady-BFFs. How could you not love these women?
Image: SophiaBush/Instagram