Chris Pratt's 'SNL' Promos Objectify Him & His Abs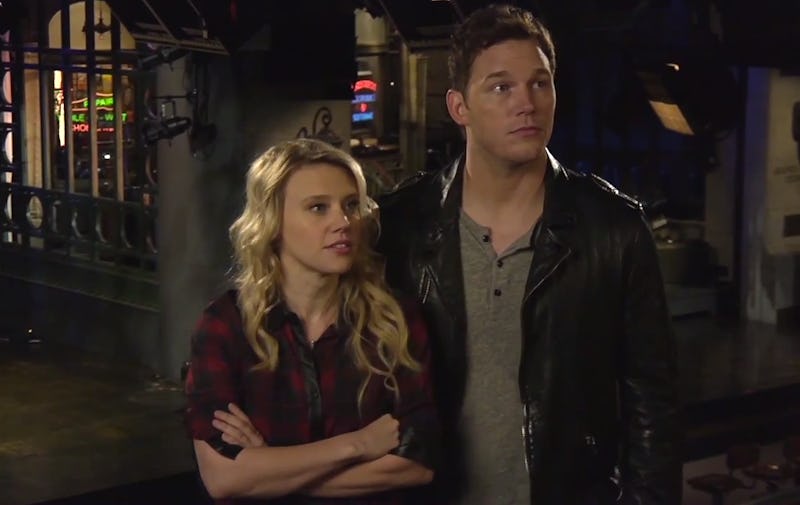 In case you somehow haven't heard, Saturday Night Live is about to launch its 40th season and Chris Pratt is hosting SNL 's premiere episode. Pratt is a first time host who has made the leap from star to superstar after playing the lead character, Peter "Star-Lord" Quill, in the mind-blowingly popular Marvel movie Guardians of the Galaxy. Along with Saturday Night Live cast member Kate McKinnon, Pratt released his SNL promos on Tuesday and they really served to show off his comedic timing. Sure, that's what the promos are for to begin with, but Pratt's brand of comedy usually involves being the chatty, wacky character that makes straight men characters curb him in (see Andy Dwyer on Parks and Recreation with April Ludgate and Ann Perkins or Peter Quill in Guardians of the Galaxy with Gamora). However, in these promos, Pratt was playing the straight man to McKinnon.
Of all the sketches they perform over the course of the six minute promo, three in particular stand out. In one, McKinnon pretends to worry that she isn't in frame, a problem she fixes by literally pressing herself against Pratt. When Pratt asks her what she's doing and then reminds her that he is married, McKinnon replies that sexuality is a "dazzling spectrum" and that his wife is welcome to join them. In another sketch, Pratt gives McKinnon a flash of his abs at her request that has her walking away with her mouth wide open and sing-songing, "Thank you!" A straight-faced Pratt states, "I feel dirty."
Those two sketches were honestly the weakest in the group since they inherently made light of sexual harassment, which is a joke I've never quite found funny. The fact that Pratt manages to keep a polite smile on his face even while McKinnon is rubbing against him or coercing him into showing off his abs to the audience since that's the "whole reason you're here" doesn't really make it any better. Thankfully, those were the only two forgettable ones in an otherwise long mine of comedic gold and they found a better way to make Pratt feel awkward and uncomfortable for the purposes of a good punchline.
For example, the best display of awkward comedy was when McKinnon admitted that when she had heard her favorite star of Guardians of the Galaxy was coming, she had thought they meant Rocket Raccoon. Second to him? Groot. Third to them? Gamora. That leaves Pratt as the fourth favorite Guardian out of a group of five — hopefully. Half the reason the sketch is so funny, aside from the long minutes of awkward silence that follows each of her admission, is the expressions that Pratt's face transitions through, from annoyed to upset to trying-not-to-be-annoyed-or-upset.
McKinnon and Pratt have great comedic chemistry and Pratt already seems like he'll fit in very well with the Saturday Night Live cast. Check out the promo below.
Image: YouTube