Ellen DeGeneres Flashes a Pic of the Gosling Baby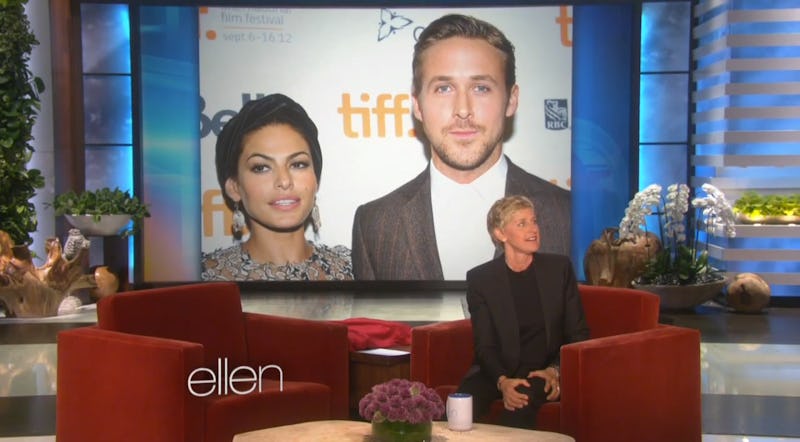 This is the moment that we've all been waiting for. Well, all right, so everyone is probably keeping a running tally of Moments We've All Been Waiting For, but when the story broke that Ryan Gosling and Eva Mendes had a baby girl, I sure haven't been able to think about anything but what the baby's name is or what the baby looks like. It's a hilarious feeling, considering the fact that Gosling and Mendes never even confirmed that they were pregnant let alone that they just recently became parents, but the world thinks they know what's up and that's all that matters. Luckily, we have someone like Ellen DeGeneres to go and get the scoop for us. On Tuesday's broadcast of The Ellen Show, DeGeneres shared the first photo of Gosling and Mendes' baby and, boy, was it dazzling.
Listen, guys, I've figured out the secret. I mean, it's really obvious when you think about it. Gosling is such a heartthrob at this point in his career that everyone needed to go through the five stages of grief when they found out that Gosling and Mendes were pregnant. And Mendes is no slouch in that department either, being a singer and a model and an actress and, well, Eva Mendes. Combining those two gene pools was basically like cupping a star and forging it into a human being so beautiful that our pathetic human eyes can't handle it.
So when you look at the first peek DeGeneres flashes of the baby Goose, remember that you are literally in an Emperor's New Clothes situation. Much like the new clothes in the Hans Christian Andersen tale were supposedly invisible to people who were dim-witted or incompetent, so too is the Gosling baby invisible to those whose mortal eyes can't process godlike (Gos-like?) infant beauty. And that's pretty much all of us, so it would certainly explain why Gosling and Mendes haven't made any attempt to show their alleged baby girl to the world themselves yet. They're just looking out for us.
Check out the clip below.
Image: YouTube