Could They Be in Trouble Already?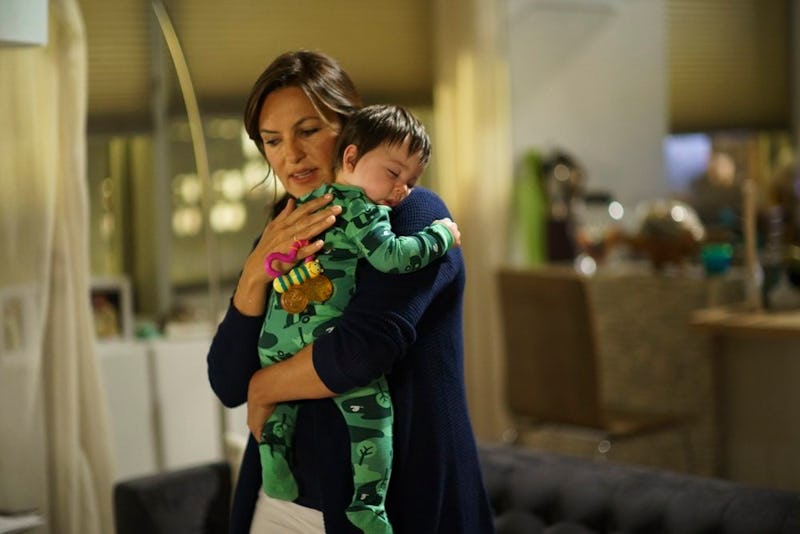 Some may say we are in a golden age of strong television heroines. Between your Peggy Olsons and Olivia Popes, there is no shortage of female characters owning their respective universes. But true TV junkies know, one of the OG tough and smart ladies of the small screen is found on none other than the 16-season strong Law & Order: Special Victims Unit . Sergeant Olivia Benson has been on our screens nabbing perps since 1999, but Season 15 seemed to leave her with a new frontier: motherhood. So the reigning fan question is of course, will Benson adopt baby Noah? TV Guide's spoiler for the season indicates there is no reason to doubt Benson will be giving the child a new home and raising him.
Further, showrunner Warren Leight tweeted a screencapped spoiler photo of Benson's apartment looking very lived in by Noah with baby stuff strewn about. Given that everyone around the show isn't being too mum about Benson's new foray into being a mom, how will the show and the character handle her working parent status? Especially when her job often puts her in the line of deadly fire? It seems that there's tough times ahead for the new family.
Entertainment Weekly reports that there is a high probability the cartel that killed Noah's birth mother will rear its head again, meaning Benson's position is not just a liability for her own life, but of those she loves. While she hasn't had a problem sharing that love with romantic partners, how will she do when she realizes her love puts her child in danger?
Will she have to go under witness protection like ADA Cabot in Season 5? Will it just be baby Noah who will have to be put into hiding with a new mother? No word yet on how the story will play out, but EW also reports Amaro will be going undercover to break down the cartel's plans from the inside.
The most exciting progression, aside from the cartel plotline, will be seeing Benson transition into her new maternal role. It's definitely rare to find a show where the tough as nails heroine takes on a child at the start of a season. Usually, children come into a character's life just as the show is about to end, as a conclusion of sorts to the heroine's journey and desire for a family (see: 30 Rock). A realistic portrayal of continuous working motherhood where the mother doesn't sacrifice her identity as a career woman or commitment to her family will be a refreshing turn.
Image: Michael Parmelee/NBC