Will 'The League' Tackle Abuse In the NFL?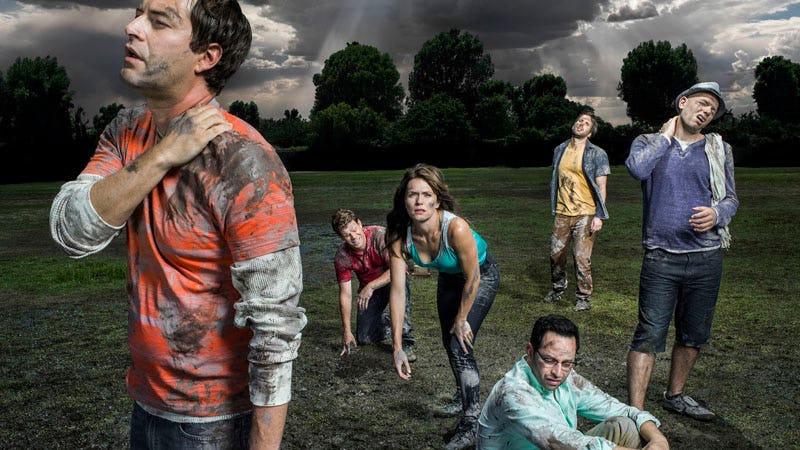 They talk dick cream. And eskimo brothers. They masturbate to inanimate football-related objects. But one touchy subject The League hasn't covered yet is abuse within the NFL. The video of Ray Rice knocking his then-fianceè Janay Palmer unconscious led to an eye-opening moment where football fans and, well, the NFL couldn't look the other way anymore. Then came Adrian Peterson's arrest for alleged child abuse. Let's not forget about the assault charges filed against Jonathan Dwyer. Yup, things are not looking too good for football fans. Especially female fans.
It's interesting timing for the comedy, which just last season crowned Jenny, played by Katie Aselton, fantasy football champion for the very first time. The foul-mouthed female lead of an otherwise male-dominated show is currently sitting on top. And man is it great, especially for us die-hard female fans.
So will The League take on abuse within the NFL? Yes, if Katie Aselton has anything to do with it. "We don't leave any stone unturned, and as unfortunate and horrible as all this has been for the NFL, it does give us a lot to work with," Aselton said on a call with reporters.
One of the main draws of The League is the show's ability to take on current football gossip, stats and general happenings and blow them up in hilarious proportions. They covered David Wilson's disappointingly disastrous season with the New York Giants last year. And in Season 6 we've already seen cameos from Houston Texan defensive end J.J. Watt, Mark Cuban, and Eagles running back Darren Sproles.
Though I'm sure any coverage of these abuse scandals will include the obligatory dick or fart joke, this a great time for The League to jump in and let a strong, female character shape the conversation. "I have a lot to say about this and I can't wait to dig in," Aselton said.
Here's to hoping Jenny MacArthur does get the opportunity to tackle such a sensitive and morally ambiguous issue, even if it is with obscene humor and full-blown snark. This is why we all love her and The League after all.
Image: Matthais Clamer/FXX (2)