How To Be the 'Friends' Cast For Halloween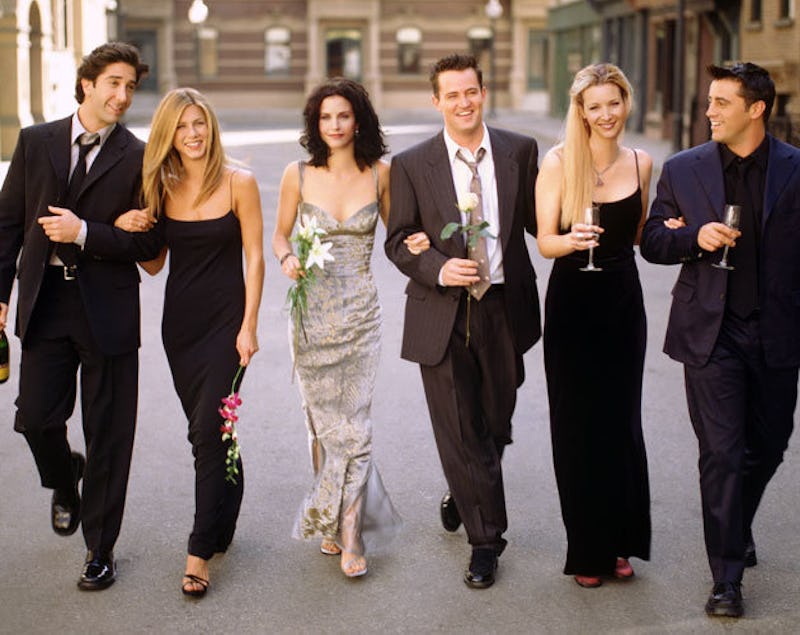 If you happen to live under a very dense, very deeply set rock, in which no sunlight, noise, or fresh air can reach you, then let me tell you that the 20th anniversary of Friends just passed on September 22. I know, crazy! We're all really getting old and decrepit, aren't we? There's even a pop up Central Perk in Manhattan and everything. Now, I know what you're thinking. You've been under that rock so long you didn't realize Halloween was also fast approaching! At least you didn't miss that, though. What is that you say? You don't know what you should dress up as?
HMMM... I'll give you a 2-3 day grace period to send out that dreaded group text to your friends (*cough* Friends *cough*) saying, "Hey guys, I've got an idea..." Because, yes, 2014 is in fact the perfect year to resurrect the Friends group costume for a few reasons, but mainly because the 90's are slowly infiltrating its way back into your closet and it's a hell of a lot easier to do than you think. Other plausible reasons? It's super comfortable for literally everyone and Friends was the greatest show to ever grace our planet.
Check out the entire 'What's Up, Boo?' series and other videos on Facebook and the Bustle app across Apple TV, Roku, and Amazon Fire TV.
RACHEL GREEN
It would be wise to carry around some department store shopping bags in honor of Rachel's favorite sport.
Outfit: Girl was a fan of denim and overalls... and denim overalls, if my Google search means anything to you. Luckily, so is every modern day designer:
You can buy these overalls:
With this cami to go underneath:
And this hoodie to tie over your waist if you for some godforsaken reason don't have one lying around (but isn't that what brothers and boyfriends are for?):
MONICA GELLER
Carry around a bottle of Windex and a spatula for effect.
Monica's style was comfort as exhibited by this flannel.
Loose fitting, light wash jeans, try these boyfriend jeans:
And these platform sneakers from Steve Madden:
PHOEBE BUFFAY
Pheobe's style was certainly eccentric, but one thing remains clear: she really liked floor length dresses and skirts.
Guitar (if you don't have one lying around, just buy a toy one like this from Toys R Us):
JOEY TRIBBIANI
A simple guido with a simple, replicable style. For your laziest friend.
The most imperative item: HAIR GEL. Spike that hair up in the front, spike it good.
Throw on a pair of black pants:
And consistently ask people "How YOU doin'?"
ROSS GELLER
Ross has been known to wear a sweater or two in his day.
Sweater (get a size or two too big):
Corduroy Pants (the baggier, the better):
Ring (because would it really be Ross if he weren't wearing a wedding band?):
Marcel (you can hang this around your neck. Fancy, I know):
Note: Borrow some of Joey's hair gel and style similarly and yet less severely.
CHANDLER BING
Possibly the most questionable style out of the whole crew. Lots of lose fitting, bowling type-Hawaiian shirts.
Images: NBC (7); Amazon (13); Target (4); Toys R Us (1); Nordstrom (1); Kohl's (1)