Victoria Wasted Her Phone Call — VIDEO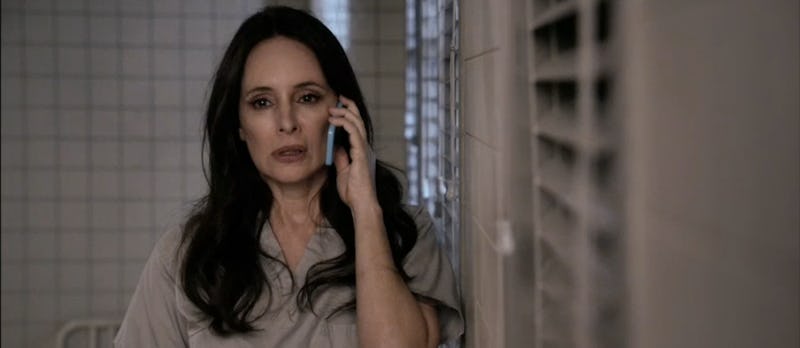 Well, you did this, so I did that. That's essentially how Emily and Victoria's first conversation in Revenge Season 4 is going to go down. And, while it sounds pretty childish when you boil it down that way considering the circumstances, it actually set a chilling tone for ABC's return to the Hamptons. After learning that Revenge Season 4 will follow Victoria's revenge story, fans have anxiously been waiting for the season's Sept. 28 premiere to see how it'll all go down. And in this sneak peek of the Revenge Season 4 premiere, "Renaissance," we see exactly how it will while Emily and Victoria verbally spar over who deserves to suffer.
First of all, where the heck did Victoria get an iPhone 5c while she's locked up in an insane asylum? Who's manning the security of this place and how did that get past them? AND how is Emily on a texting basis with someone that works there that she could send them a quick alert that Victoria has a phone so that it could promptly be confiscated? Important questions that Revenge probably won't answer because, well, it has bigger problems — like Emily dropping the bomb on Victoria that Conrad killed Pascal, not her. And making sure we all know, Victoria included, that she has NO REGRETS for what she's done even if it did lead to Aiden's death. Well, #sorrynotsorry to you too, Emily.
Aside from the terribly chilling set up of this conversation — how cold Emily is and how manic Victoria seems — it's obvious that David Clarke hasn't tried to contact his daughter. And it's obviously been a few months since his return to the real world, considering that Emily's moved into Grayson Manor and gave it a major upgrade since the Revenge Season 3 finale. Does David have no intention of letting his daughter, who's spent her life avenging him and lost her happy ending for his memory, know that he's alive and well or even that he loves her? If it hasn't happened yet, let's just hope Emily doesn't make any grave mistakes before he gets the chance.
Watch the sneak peek of the Revenge Season 4 premiere here:
Image: ABC (screengrab)