Is Ariana's Hair Real? These Pics Almost Fool Us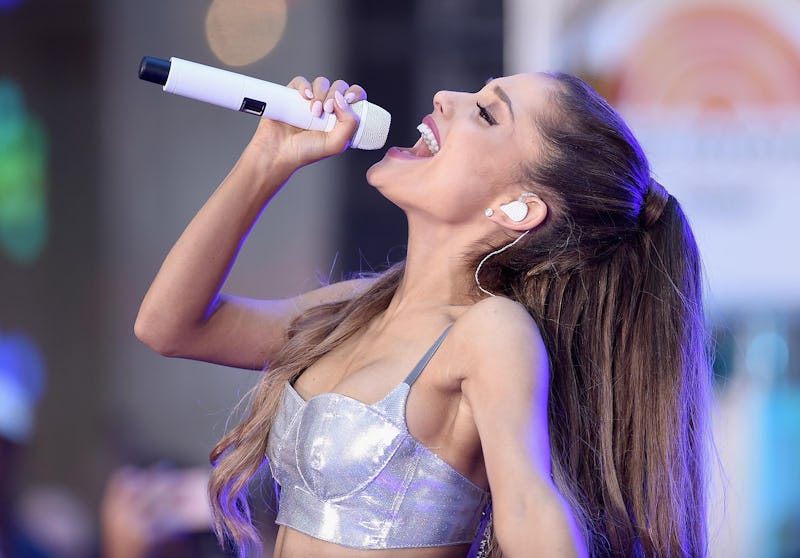 Pop's current It Girl has always been up front about why we see her signature half-up ponytail so often — it's partially extensions. At least, it was. The question is: Is it still? Ariana Grande addressed the real hair rumors back in January by posting Facebook explaining why her hairstyle was so consistent: "I had to bleach my hair and dye it red every other week for the first 4 years of playing Cat... as one would assume, that completely destroyed my hair.... I wear extensions but I wear it in a pony tail because my actual hair is so broken that it looks absolutely ratchet and absurd when I let it down."
She continued, "So as annoying as it is for y'all to have to look at the same hair style all the time, it's all that works for now (AND I'm comfortable for the first time in years).... And trust me, it's even more difficult for me to have to wait forever for my natural hair to grow back."
But that was nine months ago, and we can't help but wonder if that's still the case. Either her hairstylist does an immaculate job, or her formerly damaged hair has finally grown out and she's just sticking with her go-to 'do. These pictures have us thinking the latter might be true.
Now that she's a megastar, I imagine she's doing a lot more hair tossing/jumping on stage, like so. That must be pretty hard on hair extensions, no?
This side view makes her ponytail look pretty authentic.
Again with the hair toss, this time to the back.
See? She doesn't ALWAYS wear the half-up ponytail.
She changed it up again here, à la Miley Cyrus...
...And here, too.
Look at all that tousling. Looks pretty real to me.
If Ariana's hair is back to being 100 percent hers, I am so jealous. (That volume tho.) And if it's not... well, I'm still so jealous.
Images: Getty Images (2); @arianagrande/Instagram (5)