Hilary Duff's New Video Is Your Life Story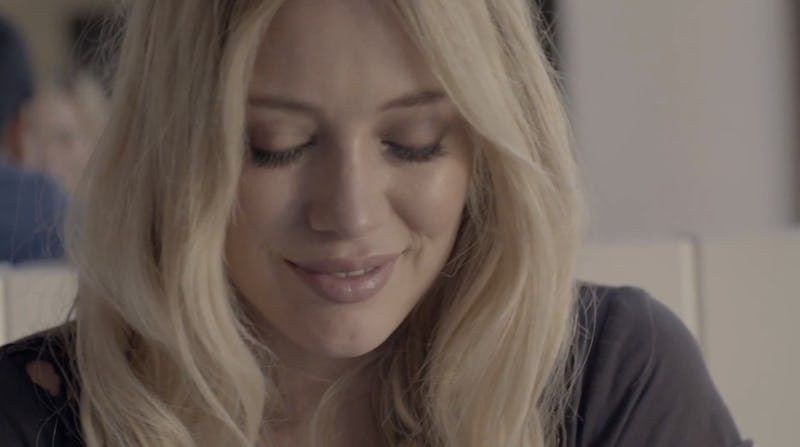 I'm going to go ahead and say it. I enjoyed Hilary Duff's "All About You" way more than I enjoyed "Chasing the Sun". Oh, sure, the "Chasing the Sun" music video was cute and the song was very summer and very catchy, but I was expecting a little more from Duff's first single in years than "Chasing the Sun" was able to provide. On the other hand, "All About You" delivered the exact kind of oomph that "Chasing the Sun" was lacking, something that was only continued in the video. Duff debuted the music video for "All About You" on Wednesday and it's just as adorable and true to life as you might imagine.
Spoiler alert: inside every person is just the tiniest bit of stalker. After all, what's the first thing you do when you meet a cute guy? If you didn't say go home and stalk him on Facebook, then you are totally lying. In "All About You", Duff slyly snaps a picture of a cute guy she sees in a diner and sends it to her friends, only to notice that he leaves his record behind at the table when he leaves in a hurry. She goes on a long quest to return the record to him using nothing but that picture, her wits, and a few of her girl friends/dance partners.
This video had just about everything I've come to expect from a good music video: a good plot, a cute guy, dance sequences, and solo shots of Duff singing to her own song while pressed against a wall or hanging out at a beach. Her outfits in "Chasing the Sun" might have been cuter than her outfits in "All About You", which were all about the high-waisted shorts and fishnets that took Duff from cute to sexy, but it was a sweet and relatable ride. I wish I could say I've never covertly snapped a picture of a cute guy to text to my friends and ask if I should go for it, but the little stalker in me would be lying.
Check out the video below.
Image: YouTube