Do These Socks Really Need 'Shark Tank's Help?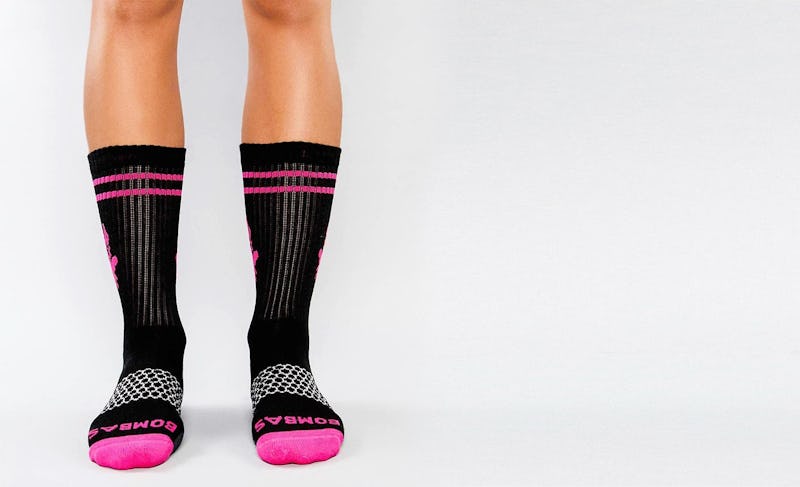 If only I was a successful and wealthy businessperson — then I could sit on the panel of Shark Tank and get to be the Goddess of Consumerism. Shark Tank returns to ABC on Friday night and one of the new products that will be up for the Sharks to decide on is Bombas athletic socks, founded by David Heath and Randy Goldberg. You can buy their socks online, but when I tried to check some out on their site, bombas.com, it was down. They did have the cute message of "Pardon our dust, Bombas.com will be back online soon," which I thought might've meant, "Pardon our dust, Bombas.com will be back online after we receive funding from Shark Tank." The website has since been fixed so if you couldn't wait to get your hands on a pair, don't worry.
In 2013, Bombas ran an Indiegogo campaign from July to September. They originally were asking for $15,000, but ended up earning $142,488 — 950 percent of their goal (!!). It's really impressive that they had that much backing and definitely a plus for a Shark to take interest in them. But with all that extra money, it's not a great sign that they are going on Shark Tank for more funding — which I'm sure Sharks Mark Cuban, Lori Greiner, Robert Herjavec, Daymond John, and Kevin O'Leary will bring up.
So what makes Bombas socks so revolutionary from all other socks? Here are some things that Goldberg and Heath are sure to pitch on Shark Tank.
They Follow the Buy One-Donate One Model
According to their video on Indiegogo, Bombas began when Goldberg and Heath saw these words from the chief communications office of The Salvation Army, Major George Hood,"Through our work with those in need, we know that socks are oftentimes the most requested clothing item at homeless shelters."
Now, when I first heard of TOMS shoes, I swooned. The idea that your commercialism can help others in need makes shopping less guilt-ridden for me. (Although it does feel slightly elitist and still doesn't replace donating directly. But hey, normally when I buy a pair of shoes — I'm just buying a pair of shoes.)
Now, I've got to say that I have some Puma socks that I really love (they're close to this style), that seem pretty similar to Bombas. The fact that they cost the same amount as Bombas ($9 for a pair), but Bombas would donate a pair of socks to someone who needs them (through their partnership with Hannah's Socks) definitely would sway me to become a Bombas girl.
And in this interview with Bloomberg, Heath and Goldberg said they would like Bombas to expand into underwear and undershirts with the same business model.
Perhaps that's why they are going to the Sharks. If that's the case, I say more power to them! The cynic in me just really hopes that companies like TOMS, Warby Parker, and Bombas really do put their shoes/glasses/socks where there mouths are and stand by their "one for one" model.
Birchbox, best known for providing its members with classy, monthly product samples (for a small fee), sells Bombas socks. I'm too cheap (and too close to becoming a hoarder — HAHA — just kidding! obviously ... a real hoarder would never admit to being a hoarder. Right? Right? Moving on.) to allow myself to sign up for Birchbox, but I am oh-so-envious of my friends who do get them. They look classy and I just have faith in the products they choose, so the fact that they sell Bombas is pretty sweet. You can also buy them through The Grommet, where Heath personally responded to customer feedback.
Bombas Socks, $12, Birchbox; Bombas Socks (2 PK), $22, Grommet
Bad Socks Suck
Have you ever bought a shitty pair of socks? It seems like a tiny thing, but bad socks can ruin your day. As a child, I apparently would flip out at the seams of my socks shifting. With hand-sewn seams (called the "InvisiToe"), that's allegedly not an issue with Bombas (as outlined in their Indiegogo video below).
When it comes to athletic socks, the height of the sock is also a huge deal. For ankle socks, too high and you look like a nerd, too low and your sneakers dig into your heels and ruin your workout. For all sock heights, Bombas uses a y-shaped stitch at the heel, which they claim makes it a more natural fit and helps stop the sock slipping into your shoe. And they also have a blister tab for the ankle socks and trust me, that's a life changer when it comes to socks. Plus, as a fan of bright colors and their bumble bee logo (Bombas is derived from the latin word for bumblebees), they look damn cool.
I have faith that Bombas will fare much better than the three-sock company that came on Shark Tank before (video below), but we won't know for sure unless we tune in Friday night.
Images: Bombas; TOMS; Birchbox; Getty Images