Britney Serves 'Something's Gotta Give' Realness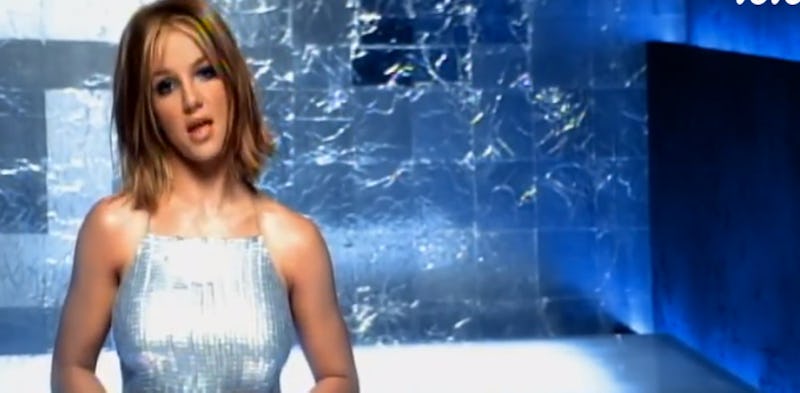 Two thoughts popped into my noggin the moment I saw Britney Spears' new bob haircut: 1) her hair is pretty dang cute and 2) awww it's just like the old days! Back in '99/'00, Brit Brit bobbed in the bob hairdo waters. And yes, I've found visual aids: Her bob made appearances on the cover of the Teen People , on the cover of Rolling Stone , and in the "Born To Make You Happy" music video.
"Born To Make You Happy" is from 1999's …Baby One More Time, aka The Album That Started It All. If you've never seen the Wade Robson-choreographed music video, it's not because you were asleep at the wheel when it hit cable: "Born To Make You Happy" was released as a single outside of the U.S. So, if you lived in the U.S. in 1999, this song was just a ...Baby One More Time deep cut.
I lived in the U.S. in 1999, so I had to learn about the music video the old fashioned way: I stumbled upon it during a late-night YouTube deep-dive a few years ago. Even so, I forgot approximately 99% of what happens in it since I last put the music video into my eyes. (The one detail I could remember: "It's, like, silver? Or something?")
My main takeaway from my recent revisit: The music video is strange. Naturally, I love it. Here are my favorite moments:
Seabirds squawk in the background, so I guess Britney is sleeping in a sunken, very red, square-shaped room next to a beach. Like one does.
Give me that butterfly blouse, please:
Wait, where are we now? Inside a video game?
Aaaaand I'm taping this image to my mirror as my new eye makeup guide:
TWO BRITNEYS!
The flipped out ends. The highlights. This bob is so '99:
She kicks her leg up…
...and strikes a pose...
...and body rolls on out of that pose. GODNEY IS IN THE BUILDING:
"Don't mind me! Just writhing in front of a wall made out of gum wrappers."
Now she's on a platform in outer space? With a bunch of dancers? OK.
Always a fan of a marionette move:
I would wear that red pleather top + skirt + boot outfit in a heartbeat:
Wait, why'd we go back to the square bed pillar room? It's so weird there! I miss the space platform!
WAKE UP, BRITNEY! SOMEONE IS CREEPING AROUND ON THE OTHER SIDE OF THE GAUZE:
This Halloween, I'm dressing up as Britney from the "Born To Make You Happy" music video/Diane Keaton in Something's Gotta Give.
Oh, shoot. Now she's the one creeping around on the other side of the gauze while Butterfly Blouse Britney rests her eyes.
And suddenly, we're hit with a random male torso:
Oh, Butterfly Blouse Britney is not in the red bed anymore. Carry on, Something's Gotta Give Britney.
Ah. The owner of the torso:
Just hoppin' it out:
AUGHHHHHHHH:
Oh, I love a bird's eye view:
"It isn't fair! It isn't right!":
Very chill outfit, Brit Brit. FYI, the dude hasn't stop skulking around:
ARE THEY GOING TO LIFT HER UP?
They're lifting her!
WE HAVE LIFTOFF!!!!
"Hey, Britney. [Exhales loudly.] I have a fun idea."
"It involves..."
"PILLLLLOOOOOOOWS!"
There is an inexplicable amount of feathers:
Like, the pillows aren't any less full. Does this pillar room rain feathers? What the heck is this place?
Britney vanquishes the creep:
I assume those blue lights project a force field around the space platform. Otherwise, Britney and the dancers would've drifted into outer space immediately, duh.
Wait, the creeper survived the pillow battle?
And that's how the story ends. Huh. Well, then. I thought for sure we'd visit the gum wrapper video game room one last time.
Images: BritneySpearsVEVO/YouTube (37)