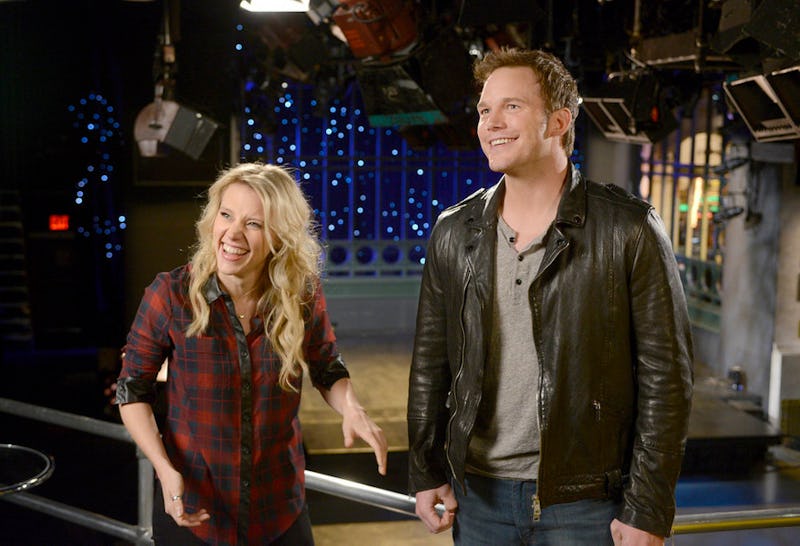 Could this guy be any cuter? Chris Pratt did a monologue song on SNL (like so, so, so many hosts before him) and while he didn't seem to hit it quite perfectly, it was still one of the cutest darn things I've ever seen. Putting on a wee bit of his Mouse Rat hat (Parks and Rec fans know what I'm talking about here), Pratt sang a free-wheeling little ditty about his life and, of course, his wife Anna Faris, who made a cute lil cameo in support of her husband.
Sure, the monologue could have used a little taste of Pratt's Guardians of the Galaxy co-star Dancing Baby Groot, but it was pretty sweet without it. After rushing from the opening sketch, in which Pratt played NFL commissioner Roger Goodell, Pratt seemed a little flustered and flubbed a few of his lyrics. Did it make his monologue any less adorable? Nope. In fact it probably made it cuter.
While strumming his guitar with Andy Dwyer's signature flair, Pratt touched on a few things we know and love about him:
His "Hottie" Wife
I married "this hottie" and then "we had sex and a baby popped out." Classic Pratt silliness.
"Do you remember that?" he asked Faris. "Ohhhhhh yeah," she replied, because she knows a thing or two about over-the-top comedy too. It would have been gross if it was any other couple, but when Pratt is the dude running the total over-share moment, it can't be anything but adorable.
His Weight Loss
"I have gone from skinny to fat and then fat to skinny," he sang after answering everyone's big question about how he lost all that weight so quickly. "It's called lose a lot of weight really quick so you can be in this movie," he joked. Can we stop talking about it now and just love Pratt, whatever he's doing with his physique at the moment?
Pratt Vs. Mouse Rat
And of course, he sang the whole thing like the lead singer of Mouse Rat from Parks and Rec:
And now, for the cute lil song itself:
Image: Dana Edelson/NBC