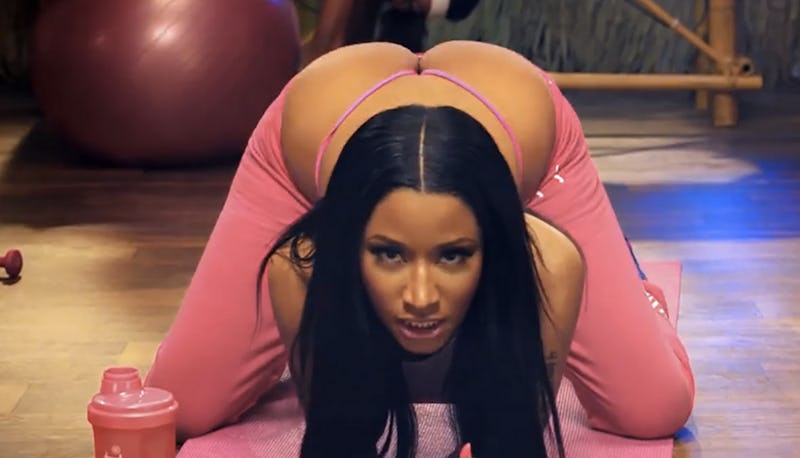 Look, I don't like being the person who's always whining about the days in which Saturday Night Live used to be great. The thing is that SNL has never been 100 percent great. Ever. Go back and watch episodes from the '70s and you'll find just as many clunker sketches as you see now; we just remember the great ones and forget the others exist. But after Saturday's Saturday Night Live premiere, I might just have to join the "WTF is happening on SNL" club. Aidy Bryant led a parody of Nicki Minaj's "Anaconda" that didn't entirely make sense, which was sad because with something like "Anaconda," the material is sorta endless.
While sitting with her girlfriends in the bar set that SNL loves to use when it runs out of ideas, Bryant's shy girl works up the nerve to flirt with Chris Pratt's average bar dude. When she finally works up the courage, she heads over to the middle of the bar and starts singing a version of "Anaconda" that skirts copyright infringement by changing the song's signature lyrics to "Big Fat Ass." OK, the concept of her using "Anaconda" to hit on a guy is interesting, I suppose. But the fake lyrics are just sad and they'd be sadder if it weren't for Bryant's fervor — the only funny part of this entire exchange.
But with all that in mind, I just have to say: Seriously, SNL? Nicki Minaj served up her ass on a silver platter and all you can do is waste Aidy Bryant's kickass delivery on silly lyrics that I could have made up after three rounds of a heavy drinking game? Not cool, writers. Not cool.
Image: Nicki Minaj/Vevo (Screengrab)