How to Dress Like Effie Trinket For Halloween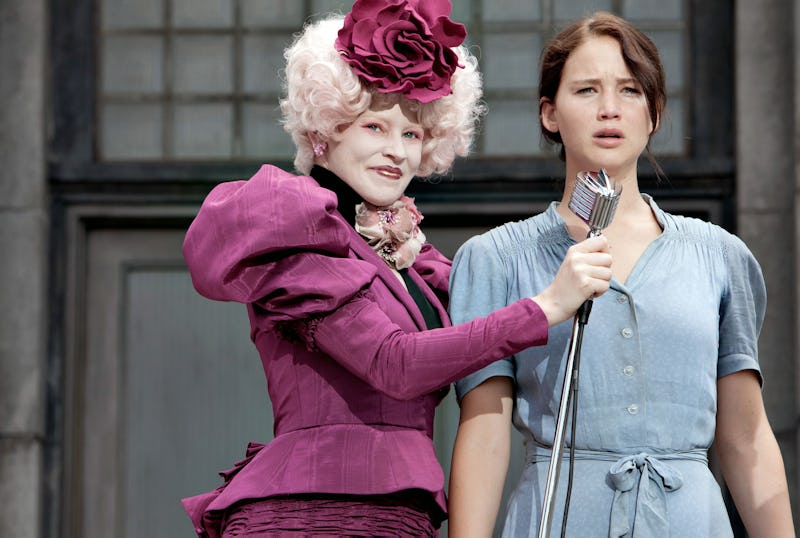 With Mockingjay Part 1 hitting theaters in November, Hunger Games- themed costumes are sure to be popular for Halloween. But instead of throwing on a simple Katniss costume, why not choose an overlooked character like Effie Trinket? The District 12 mentor and escort has such over-the-top outfits that she'd be a blast to be for Halloween. You basically get to wear the gaudiest clothing and jewelry you can find, and what is Halloween for if not dressing up like a fancy, painted Capitol citizen?
But while this guide will help you achieve all your Effie dreams, I promise it won't be as intense as Elizabeth Banks' costume process. The actress had to endure 4 A.M. wake up calls to get ready to film and spent 3-4 hours in hair and makeup to get the look just right. "The nails [were] the worst part," Banks told Ellen DeGeneres in 2012. "You can't undo a button. I couldn't use my Blackberry. The biggest problem was I couldn't go to the bathroom. I had, like, ladies in waiting ... They would hand me the toilet paper."
Yikes! But Banks didn't suffer through all that for no one to ever dress up like her character. So start preparing your Effie Trinket costume now with this handy tutorial.
Check out the entire 'What's Up, Boo?' series and other videos on Facebook and the Bustle app across Apple TV, Roku, and Amazon Fire TV.
HIGH-FASHION HAIR
Effie has some crazy blonde curls so start with this wig from Amazon.
Blonde Wig, $11 Amazon
Then you can experiment with some color. Grab some spray paint and use this Effie hairspiration as a guide. You can paint it gold get a look that will match Katniss' mockingjay pin:
Anything pastel like purple, pink, or even orange would also work:
Or you could go green. But only if you match your hair with an angry look like she's sporting here:
For extra oomph add an elaborate fascinator like this one from Amazon. It's only $9 and it comes in any color you want.
ARTFUL MAKEUP
Effie wouldn't be a Capitol citizen if her face wasn't practically painted on. Use this styling tutorial to achieve that pale skin and perfect pouty lips.
This video is for a pink look, but you can always change out the colors of lipstick and eyeshadow to match your outfit and/or hair. And don't forget the eyelashes. Copy Effie's exact look with these $9 paper lashes:
RUFFLED TOP
Here's where your mom's 80s vintage wardrobe could come in handy because Effie loves puffy sleeves and lots of ruffles. Shop your relatives' closets or hit up a thrift store to find a fluffy blouse. Or pick up something like this $25 dollar top.
Pastel purple is so in Effie's wheelhouse and it can transition from costume to office attire pretty easily.
CHIC SKIRT
Effie tends to play it a little more low key on her bottom half, letting her top, makeup, and hair demand the most attention. A pencil skirt in a bright color will keep your look polished and prim. I recommend this silver one from Charlotte Russe because it stands out, but will go with any color top you want. Plus it's only $12.50.
STUNNING SHOES
Sky high heels are a must. Remember, this is the Capitol and they go overboard with everything, so you can get really creative. I recommend shopping somewhere like UrbanOG because they have relatively cheap party shoes like these:
CREATIVE NAILS
Elizabeth Banks says that her Pinterest-worthy nail art added 45 minutes to her already hours long costume process. But Banks didn't mind too much. "There is no Effie without that look," she said. "I wouldn't have settled for anything less. I would've taken three hours if that's what it took."
To get equally enviable claws, glue on a pair of gaudy fake nails. It's all the look of Effie but in a fraction of the application time. Try these white, blinged-out ones from Amazon or surf the Kee Nails store for more designs.
The most important thing to remember when you're assembling an Effie Trinket costume is to have fun with it, and the more over-the-top the better!
Images: Lionsgate (7); katniss-clary-tris, verasgifstorage/Tumblr; China Glaze; Elizabeth Banks; Amazon (4); Charlotte Russe, UrbanOG; RoseGal; giphy