17 Peeta Quotes Guaranteed to Break Your Heart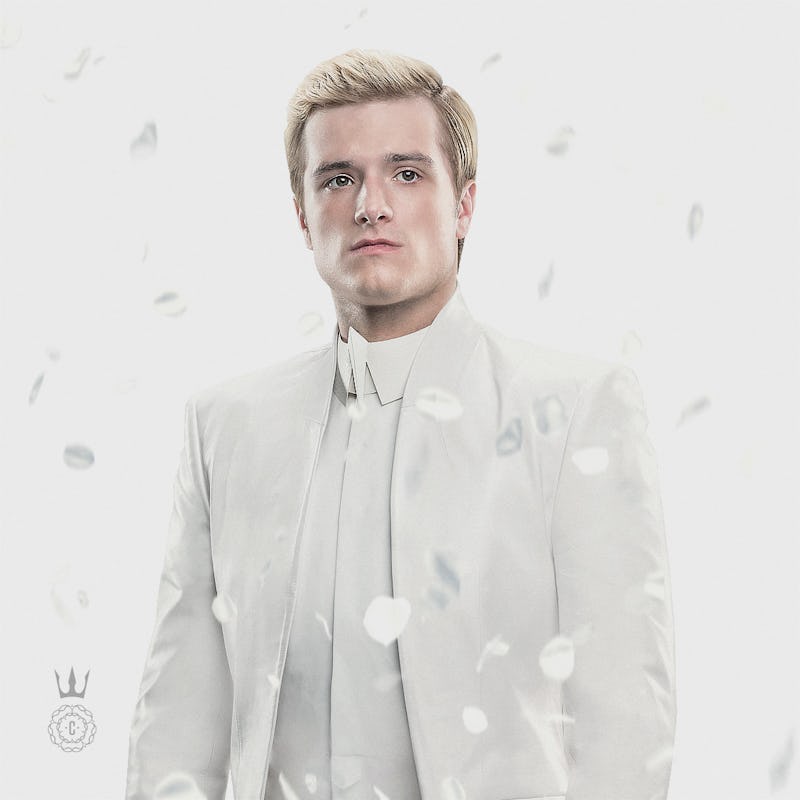 We're just over a month away from the premiere of Hunger Games: Mockingjay Part 1 and I'm trying to steel myself against all the pain I know is to come. But as much as I try, there's nothing that can prepare me for hijacked Peeta, especially since Josh Hutcherson is sure to nail the part and break my heart. There are a lot of sad things that happen in the Mockingjay book [spoiler alert], but one of the worst is watching the Capitol torture Peeta and turn him into a weapon against the woman he loves. For two books, Peeta does everything he can to protect Katniss, and it's a symbol of how powerful the Capitol is that they erased that in a matter of weeks.
The worst part about Mockingjay Part 1 is that it's not going to end on a happy note, as the book did. We likely won't see Peeta's recovery process in the first film. We'll just be shown the worst parts of him. If you think I'm being overdramatic, just take a look at these 17 Peeta quotes from Mockingjay guaranteed to break your heart. If the movie utilizes any of these lines, the theater better provide some tissues.
"YOU HAVE TO IMAGINE HOW IT FELT IN THE ARENA ... THAT GIANT CLOCK TICKING AWAY YOUR LIFE. EVERY HOUR PROMISING SOME NEW HORROR ... ONCE YOU'RE IN THE ARENA, THE REST OF THE WORLD BECOMES VERY DISTANT. ALL THE PEOPLE AND THINGS YOU LOVED OR CARED ABOUT ALMOST CEASE TO EXIST."
The award for most accurate and depressing account of the arena goes to Peeta who suffered through all that not once, but twice.
"IN THE ARENA, YOU ONLY GET ONE WISH. AND IT'S VERY COSTLY ... IT COSTS A LOT MORE THAN YOUR LIFE. TO MURDER INNOCENT PEOPLE? IT COSTS EVERYTHING YOU ARE."
Although I don't doubt that Katniss felt bad for killing people, Peeta had a much different outlook on the Games and the price of taking a life. The fact that he was forced to do it anyway is devastating when you know he was so aware of the cost.
"I SHOULD HAVE NEVER LET THEM SEPARATE US! THAT'S WHEN I LOST HER."
Peeta blames himself for losing Katniss and that kind of pain must be excruciating.
"SHE'S A LIAR! YOU CAN'T BELIEVE ANYTHING SHE SAYS! SHE'S SOME KIND OF MUTT THE CAPITOL CREATED TO USE AGAINST THE REST OF US! DON'T TRUST HER. I DID, AND SHE TRIED TO KILL ME. SHE KILLED MY FRIENDS. MY FAMILY. DON'T EVEN GO NEAR HER! SHE'S A MUTT! SHE'S A STINKING MUTT!"
These are the first words Peeta speaks about Katniss after being hijacked. To see just how much the Capitol has invaded his mind is heartbreaking. They totally changed his perception of the one person he loved the most and it's beyond cruel.
"I MUST HAVE LOVED YOU A LOT."
Not the past tense, Peeta, please.
"YOU BE NICE TO HER, FINNICK. OR I MIGHT TRY AND TAKE HER AWAY FROM YOU."
In the book, Katniss illustrates exactly why this harsh line is so horrible coming out of Peeta's mouth. "It could be a joke, if the tone wasn't so cold. Everything it conveys is wrong," Katniss says. "The open distrust of Finnick, the implication that Peeta has his eye on Annie, that Annie could desert Finnick, that I do not even exist." Ugh.
"[FINNICK SAVED MY LIFE FOR KATNISS]. FOR THE REBELLION. NOT FOR ME. I DON'T OWE HIM ANYTHING."
Peeta has had to bear the cross of never being anyone's first choice. In his first Games Haymitch picked Katniss to save, and did so again in the second book. Even Finnick admitted he restarted Peeta's heart only because he knew Katniss wouldn't go on without him. How horrible it must be to live thinking you only exist to play a role in someone else's life.
"THESE LAST COUPLE OF YEARS MUST HAVE BEEN EXHAUSTING FOR YOU. TRYING TO DECIDE WHETHER TO KILL ME OR NOT. BACK AND FORTH. BACK AND FORTH."
Peeta's hijacked assessment of how Katniss felt about him is sad because you know he really believes that she wants to kill him.
"THE PROBLEM IS, I CAN'T TELL WHAT'S REAL ANYMORE, AND WHAT'S MADE UP."
I've never had anything so horrific happen to me, but I would imagine that losing your memory is one of the cruelest fates there is.
"YOUR FAVORITE COLOR... IT'S GREEN?"
Peeta is trying so hard to reconnect with Katniss, but this line shows they have such a far way to go. If Peeta is confused even about something so simple as Katniss' favorite color, you feel like he will never get to a point of loving her again.
"THE FIRE WAS MY FAULT."
Again, poor Peeta thinks he is to blame for the disaster brought upon District 12. The guilt of thinking you've killed thousands, including your own family must have been unbearable for him.
"THERE WERE TWO AVOXES WITH ME IN PRISON ... I WATCHED THEM BEING TORTURED TO DEATH ... IT TOOK DAYS TO FINISH [DARIUS] OFF. BEATING, CUTTING OFF PARTS. THEY KEPT ASKING HIM QUESTIONS, BUT HE COULDN'T SPEAK, HE JUST MADE THESE HORRIBLE ANIMAL SOUNDS. THEY DIDN'T WANT INFORMATION, YOU KNOW? THEY WANTED ME TO SEE IT."
The fact that this happened is horrible enough, but the fact that Peeta knows the Avoxes were killed just to break him is awful. I'm sure he blames himself for their deaths as well.
"ISN'T IT OBVIOUS? OUR NEXT MOVE... IS TO KILL ME."
He's 100 percent serious about being such a detriment to the cause that he'd sacrifice himself for it. At this point I just want Peeta to know he's loved, but he can't see that. Only the pain he's caused others.
"I JUST MURDERED A MEMBER OF OUR SQUAD ... HE'S DEAD, ISN'T HE? I DIDN'T KNOW. I'VE NEVER SEEN MYSELF LIKE THAT BEFORE. KATNISS IS RIGHT. I'M THE MONSTER. I'M THE MUTT. I'M THE ONE SNOW HAS TURNED INTO A WEAPON!"
The moment where Peeta breaks, broke me.
"I'M SO TIRED, KATNISS."
Peeta has been put through so much more than Katniss has at this point, and survived it all. But it must have been exhausting to spend all his waking moments trying to sort what is real and what is not and blaming himself for things that weren't his fault. No wonder he's tired. At this point he just sounded like a boy who needed a hug. He is only 17 after all, and he's dealt with so much.
"SHE LOVES YOU, YOU KNOW. SHE AS GOOD AS TOLD ME AFTER THEY WHIPPED YOU."
Peeta has been in love with Katniss for approximately forever, and having to admit that she loves Gale had to hurt. It sure hurt me.
"I WENT TO THE WOODS THIS MORNING AND DUG THESE UP. FOR HER ... I THOUGHT WE COULD PLANT THEM ALONG THE SIDE OF THE HOUSE."
There's the Peeta we know and love. The one who is so thoughtful he brought a Primrose flower to plant in memory of Katniss' sister. Although the moment is touching for the couple, he's voicing just how much has been lost in this war and the reminder is almost too much for the reader to bear.
It doesn't help that Josh Hutcherson has that heartbroken facial expression down pat. This is going to be a rough film to see. But at least we can hold onto hope that Peeta does get better. Even if he crushes our hearts first.
Images: Lionsgate; clotureclub; sebastiaanstans, irey21, forerunner, peetamellarkthebaker (2), boywiththesnares, dimonxeverlark, fuckyeahreactions/Tumblr; teen; degrassi/Wikia; tinyobsessions, thequantumcretin, thisfangirlsperspective/Wordpress; apekfia/Blogspot; pinterest; julianneslitblog