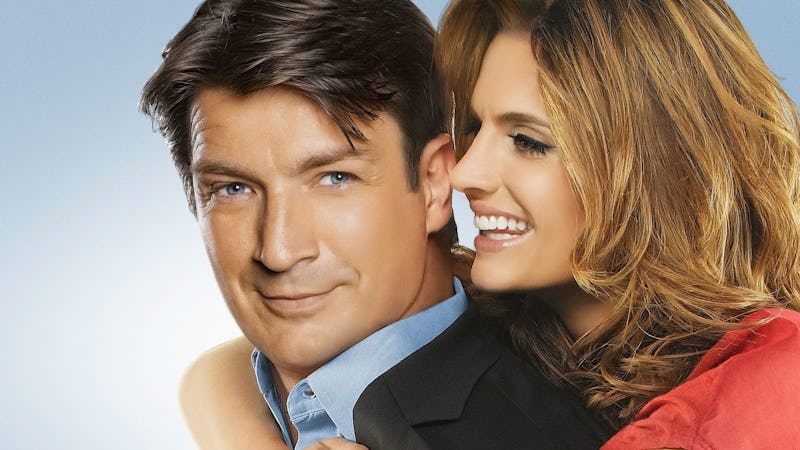 From an outsider's perspective, I can see how you'd think ABC's Castle was just like any other cop drama out there: each week a new case, each week a new mystery solved. But any hardcore fan will tell you that the key to this show's success lies not within the actual cases themselves (though there have been some pretty great ones) but rather in the relationship between the series' core duo, Richard Castle and Kate Beckett. These two crime-solving partners have an undeniable chemistry that's been palpable since day one. For years, Caskett 'shippers have dreamed of these two finally finding their happily ever after together — a dream that was almost realized on their wedding day at the end of Castle's Season 6 finale last May. That is, until Castle's mysterious car accident (don't worry, no body was found), which left poor Beckett groom-less and the rest of us throwing things at our television screens while wondering one simple question: where the heck is Castle?
And though that question will hopefully be answered during Monday night's Season 7 premiere, I thought it would do us all some good to look back at the happier memories we've witnessed from these two throughout the years. Not only do these moments prove that Nathan Fillion is downright sexy, but they also highlight why we fell in love with this couple (even when they weren't a couple yet) in the first place. We love you, Caskett. Never change.
The Time They Almost Froze to Death
OK, I know this doesn't exactly scream romance or anything, but it actually turns out to be a very sweet moment for these two. While trapped and freezing to death during one of their cases, Beckett, wrapped in Castle's arms, thanks him for being there for her, to which he replies, "Always." Obviously, they end up getting rescued and they continue to mask their feelings for each other — for the time being, anyway. But there's no denying how much they care for each other on a much deeper level than just mere colleagues or even friendship.
The Time They Shared Their First Kiss
Though it was done as part of an undercover mission, it was made abundantly clear how much the two of them secretly enjoyed locking lips. Castle even accidentally blurted out, "That was amazing," before quickly recovering, and making it seem like he was referring to Beckett's police work. But we know better.
The Time Beckett Was Shot
Again, I know this doesn't sound appropriate for this conversation, but trust me when I say that this scene is full of romantic implications. Right after Beckett gets shot, Castle pleads with her to stay with him before ultimately revealing his true feelings using three little words: "I love you." Granted, he could've picked a better time to tell her this, but I know that if I was dying, it'd be something I'd want to hear. (From Rick Castle, of course.) Bottom line — you will swoon for Fillion in this scene. Hard.
The Time Beckett and Castle Hooked Up (Finally)
It was an event years in the making and finally, at the end of Season 4, Beckett realizes that what she wants most in the world is the be with Castle. Of course, it took nearly dying twice for her to get there, but whatever works I guess, because this scene made all the waiting well worth it. Castle's look of desire around the one-minute mark will give you all the feels.
The Morning After
Proving that they are just as adorable as we hoped they would be, Castle wakes up after his steamy night of passion with Beckett and is beyond happy to realize that it wasn't all a dream. As were we.
The Time Castle Proposed
Anything that combines jewelry and Nathan Fillion are bound to be good, and Castle proved that fact when he got down on one knee and proposed to Beckett, much to her (and our) delight. You may want to have tissues on hand for this one.
Images: ABC