Ranking the DCOM Halloween Movies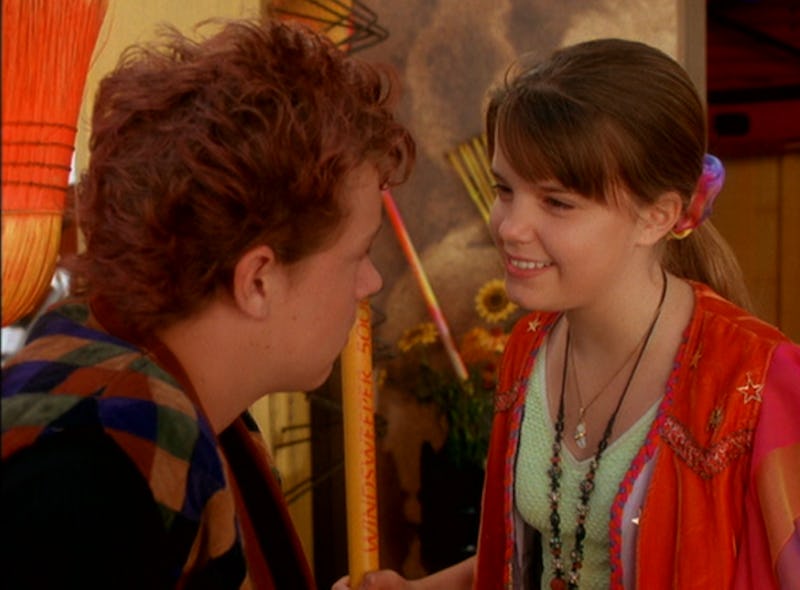 Remember when your social calendar revolved around the Disney Channel Original Movie schedule? If you missed the premiere of the new Zenon , you would have nothing (and I mean NOTHING) to talk about at school on Monday. If you hadn't seen Ryan Merriman do his most recent Disney thing (whether that was battling some quasi-evil AI in Smart House or shrinking down to a wee man in The Luck of the Irish) you were out of the loop. I could start rattling off references to the obscure sports Disney made you dream of playing, but you get the idea. But there was one time of year that defined the DCOM (that's what the cool kids called them) like no other: Halloween.
Disney Channel was always good for a spooktacular (because I don't think that work was absent from ANY of their Halloween specials' marketing campaigns), has-monsters-but-isn't-actually-scary-at-all Halloween movie. Between 1997 and 2007, Disney Channel produced 10 Halloween-themed DCOMs (they took a year off in 2003, presumably because everyone at Disney needed a few months off after wrapping The Cheetah Girls Movie) and now it's time to take a trip down Nostalgia Lane and officially rank these spooktastic made-for-TV gems.
10. Return to Halloweentown
Sorry, Sara Paxton, I love you, I really do, but you can't just replace Kimberly J. Brown as Marnie Cromwell and not come in dead last in this list. This movie saw Marnie head to college (Witch U) and rehash the plot of the first three movies.
9. Twitches Too
It was as corny as the first one, but minus the novelty. Still, Tia and Tamara will always be '90s kids' second favorite twin actors, so that counts for something.
8. The Scream Team
This one was a surprisingly forgettable DCOM, considering the all-star cast, but the convoluted plot (dead grandpa, weird ghost hierarchy and nonsensical mission) killed it. The grownup stars included Eric Idle of Monty Python fame and Kathy Najimy who has forever-clout in the Halloween movie department thanks to her turn in Hocus Pocus. Plus, one of the kid stars was a young Kat Dennings, which is almost enough to make you want to watch it again (almost).
7. Halloweentown High
By the time Halloweentown High rolled around, the series was barely even about Halloween anymore. It was more or less about taking witches and putting them in everyday tween/teen situations (paving the way perfectly for Wizards of Waverly Place, but maybe disappointment hardcore horror-comedy fans who loved the series). But Kimberly J. Brown was still on board, so all wasn't lost yet.
6. Twitches
When Twitches came out, Sister Sister had already been off the air for six years and the '90s kid public was itching for some Mowry sisters. Yes, Twitches was campy. And yes, maybe Tia and Tamera's core fan base was a little old for it when it aired, but the heart wants what the heart wants.
5. Don't Look Under the Bed
Probably simultaneously one of the zaniest and genuinely scariest of the DCOM Halloween specials, Don't Look Under the Bed was about a girl who was being framed by the boogeyman and needed the help of an imaginary friend (one that she didn't want, at that) to defeat him. After this movie scared some Disney viewers, they dialed back the scares and turned up the camp for pretty much every subsequent Halloween movie.
4. Mom's Got a Date With a Vampire
This was another instance Disney bringing in known grownup names to try to draw in a kid audience. With Caroline Rhea aka Aunt Hilda from Sabrina the Teenage Witch at the helm and Charles Shaughnessy, aka the dad from The Nanny as her undead date, it almost qualifies as "star-studded" by DCOM standards. But it was kid funny and the title is still great, years later.
3. Halloweentown 2: Kalabar's Revenge
Every single trailer for every single Halloweentown movie features Marnie's mom pouting about Marnie being a witch and Marnie being an indignant teen who just wants to use her amazing magic powers, GEEZ MOM. Halloweentown 2 saw Marnie ready to make the jump to Halloweentown and spend a year with her grandma, getting her witch on. Of course, a cute boy, Kal, screws everything up when he flirts his way into the Cromwell house to steal the family spell book. Hormones are a teen heroine's worst antagonist of all.
2. Under Wraps
Harold the Mummy is screwed if three spunky kids can't help him find his way back to his coffin by midnight on Halloween. He'll stop existing! Of course, the existence he's fighting for is one spent locked in a coffin, because apparently leaving that coffin for more than a few days spells certain doom, but hey, when you're 10 years old, you don't think too hard about plot. Under Wraps was funny, Halloween-y and featured a greedy grownup as its main villain. Basically, it had all of the ingredients for a near-perfect kids' movie.
1. Halloweentown
And then, of course, there is the ultimate in all Disney Channel Original Movie Halloween specials: Halloweentown. The original is always the best and the first in the Halloweentown series introduced us to the Cromwell clan and showed us Marnie and Sophie discovering their magical potential for the first time. Didn't you always kind of catch yourself looking out for the Halloweentown bus stop on Halloween night after seeing this movie? Or chanting "I really want a cookie" over and over and hoping that it would float magically into your mouth (I still do this, on a weekly basis when I'm Netflixing from bed)?