What's Happening In the 'Inherent Vice' Trailer?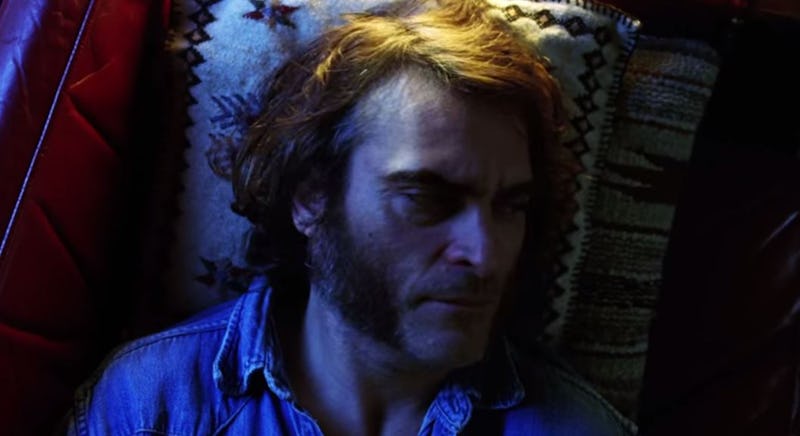 The first 30 seconds of the recently released trailer for Inherent Vice already mark it as a movie to watch. A heftily-sideburned Joaquin Phoenix plays "Doc," whose ex-girlfriend wants him to help stop her boyfriend's wife and the wife's boyfriend from committing him to a mental institution. And it only gets more complicated from there: "Doc" gets pushed over by some cops, Josh Brolin seems to be acting as some sort of law enforcement, Reese Witherspoon shows up, there's something going on with a Jewish guy that "wants to be a Nazi," Owen Wilson does a good creepy whisper, and there's a lot of deadpan humor. And... is that singer-songwriter (and spouse to Andy Samberg) Joanna Newsom narrating the trailer? Suffice it to say, there's a lot more going on in this movie than the trailer can summarize.
This is mostly due to the fact that Inherent Vice is based on the Thomas Pynchon novel of the same name, and thus doesn't do well with snappy summaries. The story falls somewhere between detective noir and post-modern psychedelia; "Doc" is actually a P.I. in '60s Los Angeles. His investigation into the plot against and later disappearance of his ex-girlfriend, Shasta Hepworth's rich lover, Mickey Wolfmann, serves to send him further down the rabbit hole in an investigation that only grows infinitely more complicated.
According to The Satirist , "Doc" finds a musician (Wilson) who's being forced to work as a government informer; he frequently goes up against his nemesis, Detective Christian "Bigfoot" Bjornsen of the LAPD (Josh Brolin); discovers The Golden Fang, a world-dominating secret organization... and that's only scratching the surface. This film also includes a lot of small appearances from great actors like Benicio del Toro, who plays Doc's lawyer; Reese Witherspoon, who plays a deputy DA who's frequently entangled with Doc; and even Maya Rudolph, who plays pregnant nurse Penny Leeway. As for Joanna Newsom? She'll narrate the film as "earth-goddess-like" character Sortilège.
And if you haven't noticed, the film is directed by Paul Thomas Anderson, director of classic films like Boogie Nights and There Will Be Blood. So read the book, watch the movie, or both... either way, it's hard for this trailer not to get you hooked on what's sure to be a hell of a complicated ride.