These 11 Books Will Make Your Halloween Terrifying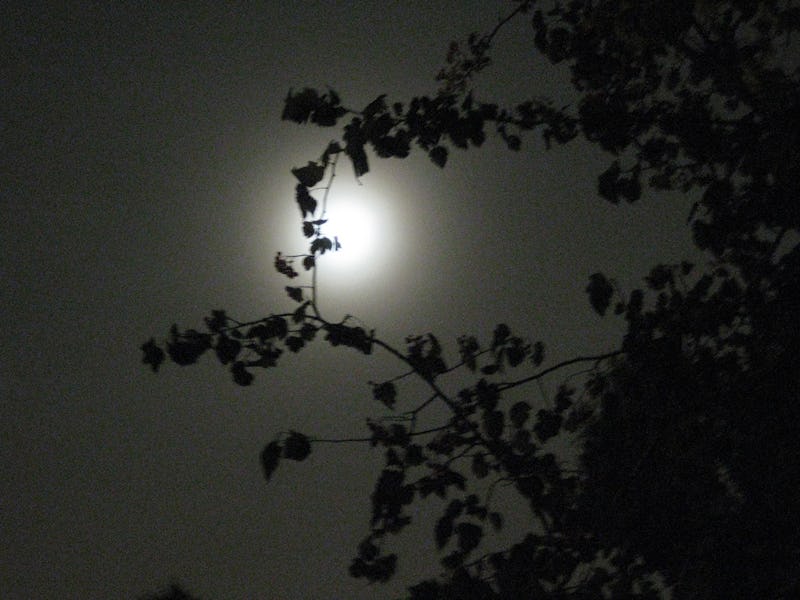 We all like a good scare. We relish things that go bump in the night. We watch with baited breath movies where a soon-to-be-dead character decides to explore an unlit basement. We tell ghost stories around the campfire (or in the living room with the lights out, with only the holiday Yule log to keep away the dark).
As the days grow shorter, the nights grow longer, and as Halloween approaches, it's the perfect time to huddle up with a book that's going to scare the shit out of you. Everyone has a different threshold for thrills and chills — some people might get enough danger from a classic British locked room mystery while others need something, well, bloodier. It's a bit like picking out a steak: the rawer it is, the more it's fraught with danger.
With books, you're giving up the chance for a restful night's sleep, coupled with a tenfold increase in your paranoia. But that's part of the thrill: turning pages fast enough that you'll whiz past the scary bits yet wanting to savor the feeling of those hairs on the back of your neck sticking straight up.
Here are 11 creepy reads to get you in the Halloween spirit:
The "tagline" for Billingham's first installment in his London-based series featuring DI Tom Thorne should give you an idea just how unsettling the book is: "He doesn't want you alive. He doesn't want you dead. He wants you somewhere in between." Since serial killers, spree killers, and mass murderers (do yourself a favor and Google the definitions before hurling yourself down the crime fiction rabbit hole) are as common as a winter cold in mysteries, it takes no small amount of effort to craft a memorable villain. Billingham, who's up to 12 books in the Thorne series, doesn't disappoint. Thorne chases a man who wants total control over his victims. Remember those dreams you've had where all manner of scary things are approaching but you're frozen in place? That, in a nutshell, is Sleepyhead. It will make you the opposite of tired.
Postmortem by Patricia Cornwell
Forensic-based crime fiction — featuring medical examiners, coroners, and anthropologists — is now a heavily populated sub-genre. But when Patricia Cornwell came along in 1990 with Postmortem, it was fairly new territory. Her long-running series featuring Chief Medical Examiner Dr. Kay Scarpetta set a high bar from book one. Scarpetta is a no-nonsense heroine, deeply flawed and wickedly competent. She's no damsel in distress: she's a genius with a scalpel. It doesn't hurt that she's also a lawyer, prompting fleeting thoughts during my freshman year of college of pursuing a joint MD/JD. (These fizzled faster than a body decomposing on a hot day.) The killer she's chasing in Postmortem leaves few clues behind at his Richmond, Virginia, crime scenes — just a trail of strangled women. Cornwell pulls no punches in her gritty accounts of murder scenes and autopsies, so you may want to put that sandwich down before reading.
Ellroy's obsession with crime is unfortunately personal — his mother was murdered when he was 10, an ordeal he recounts in his memoir My Dark Places — but it makes for truly disturbing reading. The Black Dahlia is the first in his L.A. Quartet, and uses a real case as the catalyst: the still unsolved murder of Elizabeth Short — the titular dahlia — in 1947 Los Angeles. It's hard to pinpoint the most disturbing part of this book (there are so many choices) but the two LAPD cops' dogged pursuit of the killer as a means to capture and possess the dead woman makes the lines between law enforcers and law breakers increasingly blurry. Postwar Los Angeles is the perfect seedy setting, one that Ellroy returns to often in his work. The fact that the case remains unsolved adds yet another unsettling layer of intrigue to a thoroughly unsavory — and wholly addictive — story.
Confession: I read this book when I was about 10. This is not an appropriate book for the 10-year-olds in your life. Sure, a good portion of it went over my head — I've reread it multiple times in the intervening decades — but I distinctly remember sitting on my bed with all the lights on and imagining just what portion of skin Buffalo Bill would take from me to add to his flesh suit (think of it as a human version of that meat dress Lady Gaga wore a few years ago). Some people might be familiar with FBI Agent Clarice Starling and serial killer—and unabashed cannibal—Hannibal Lecter only through the excellent film adaptation by Jonathan Demme, starring Jodie Foster and Anthony Hopkins. If you had to turn that off midway through because it was too scary, this book is not for you. Harris's novel takes that fear — the unlit basement lair, the cat-and-mouse relationship between Starling and Lecter, the young woman held captive and told to "put the lotion in the basket" — and magnifies tenfold.
There are only a handful of authors that I can't read while eating because the plot is too stomach churning. Hayder is one of these authors. Birdman introduces readers to her troubled hero, London detective Jack Caffery, and it's apparent from the first few pages that this is a book that will make you cringe in the best possible way. The first corpse in bad enough — hint: live bird + dead body — and the case becomes increasingly grisly as more bodies pop up. Later in the series, Hayder adds police diver Flea Marley to the mix — she comes with her own personal demons, of course — but this first book is all about Jack, a man tormented by his past, unsure about his future, and on the hunt for a killer whose disregard for human life turns the most iron of stomachs.
A perennial favorite that's lost none of its creepy allure after nearly 50 years in print, Jackson's psychological thriller will haunt you. Four unhappy people — really, who wants to read about cheery characters? — converge on the dilapidated Hill House, each with his or her own agenda. Called upon by occult scholar Dr. John Montague, lonely Eleanor, strong-willed Theodora, and genteel aristocrat Luke come to the house to participate in a ghost hunt. And everything goes downhill from there. In the same league as Henry James' The Turn of the Screw, Jackson's classic novel makes everyday things more terrifying that you could ever imagine. This is not the book to read on your vacation at an isolated bed and breakfast. Unless you plan on not venturing out of your room for the duration of your stay.
As with The Silence of the Lambs, many people are only familiar with the film version of this horror classic. Stanley Kubrick's adaptation is decidedly creepy and chockfull of memorable scenes that may have scarred you for life (anyone else plan on never going into a maze?). But the book is even darker, if that's possible. We still follow Jack Torrance, frustrated writer and mediocre family man, as he tries to get his groove back while tending to the Overlook Hotel during its off season. Suffice it to say, things don't go well. King creates such an overwhelming feeling of claustrophobia as the Torrance family reaches its breaking point in the isolated hotel in the dead of winter that it's sometimes necessary to take a break from reading and poke your head outside, just to be sure that the world isn't really closing in around you. There are plenty of fictional hotels that one might enjoy visiting in real life. The Overlook is not one of them. And if someone you know starts introducing themselves by screeching "here's Johnny!" it's time to reevaluate your friendship. For even more Torrance madness, check out King's long-awaited sequel, Doctor Sleep .
One of the core members of the Scottish crime fiction movement known as Tartan Noir, McDermid is in a class by herself when it comes to un-peeling the human psyche and looking at all its hidden — and deeply disturbing — crevices. The first in a long-running series, Mermaids introduces readers to socially awkward criminal psychologist and profiler Dr. Tony Hill and no-nonsense detective Carol Jordan in the fictional northern English city of Bradfield. The complex partnership of Hill and Jordan develops beautifully over subsequent books and the pair faces some of the most tormented killers in modern crime fiction. In Mermaids, which sees Hill consulting with the police for the first time in his mostly academic career, the duo pursue a murderer who sexually mutilates his— or her — victims and yet McDermid's depiction of torture never feels like overkill, no pun intended. That said, those readers with a more delicate constitution might find the unrelenting grittiness too unnerving. There's also an excellent British television adaptation of the series, called Wire in the Blood, available on Netflix.
You might have another, "Wait, didn't I see that movie?" moment with Peace's interconnected series, which explores the crimes and consequences of the Yorkshire Ripper in Manchester beginning in 1974 (book one) and ending in 1983 (book four). Also available on Netflix, the televised version — which pared the quartet down to a trilogy — does a fine job conveying the terror rippling through the community during the Yorkshire Ripper's spree but the books do an even better job. Unlike a traditional series that follows one or two main characters over the course of several books, Peace shifts from one character to another so that each book (or year) focuses on a different person, who's always tangentially involved with his or her predecessors (and successors). And as expected from a series based around the crimes of someone known as the Yorkshire Ripper, this is a gritty, bloody read. Even though I'm a proponent for reading all series in order, this one particularly demands it (and makes it easy with the titles coming from the dates of the action — if you can count, you'll know the correct order).
One of crime fiction's most prolific — and darkest — voices, Thompson is a writer to savor. And then take a shower because the grimy underbelly of humanity that he serves up will make you feel dirty by association. As the title suggests, Killer is narrated by a, wait for it, killer. This is decades before Bret Easton Ellis gave us Patrick Bateman in American Psycho and years before serial killers like Charles Manson and Jeffrey Dahmer became headline mainstays. Thompson takes us inside the mind of a sociopath — who also happens to be the sheriff of his small Texas town — and traces both his madness and his efforts, not always successful, to mask his true nature. Just as real-life examples like Dahmer and Bundy would show, the most normal looking person, the guy who lives next door or works at the coffee shop down the street or carries a gun and a badge, might be a monster.
Before I Go to Sleep by S.J. Watson
If you couldn't get through Memento without having a panic attack, you might want to skip this book. Like Guy Pearce's character in the film, Sleep's Christine wakes up every morning with absolutely no clue as to who she is. Her husband is a stranger — she doesn't even remember that she's married. Her doctor is just a strange man with a notebook, not a trusted confidante. At the center of the story is the accident that caused Christine's amnesia and its ripple effects on her life and the lives of those closest to her. But what Watson does so brilliantly is turn the idea of trust on its head: Can Christine really rely on her husband Ben's version of events, especially after she finds a note scrawled in her own hand that tells her "don't trust Ben"? The notes she leaves herself every day, the basic facts that she needs to get through life, become darker and darker until the reader is as terrified and disoriented as Christine. A film version starring Nicole Kidman, Colin Firth, and Mark Strong is in the works but, as usual, read the book first. I guarantee Watson's words — and the weighted silences between them — will give you more chills than a screen adaptation can muster.
Image: coolmikeol/flickr