Gag-Worthy Ads Highlight the GOP's Woman Problem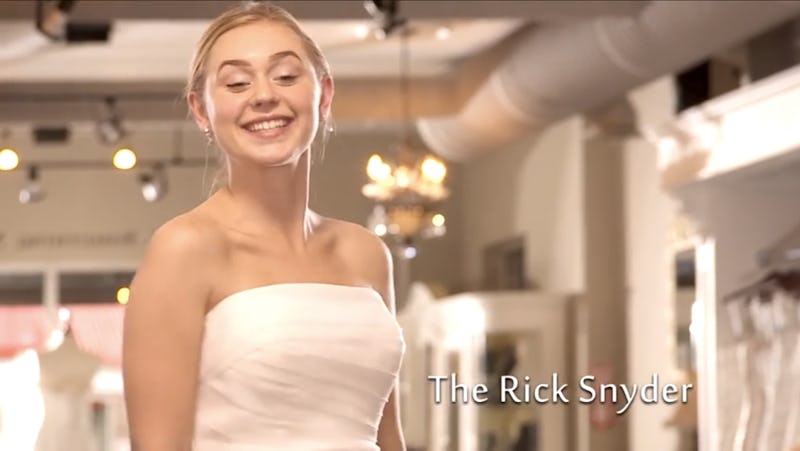 In case you couldn't tell by the barrage of political ads, we're only a month away from midterm elections. And ladies, there's a lot riding on these Congressional and gubernatorial races — for both parties. So take a break from reading Lena Dunham's explainer for Planned Parenthood on why you should vote, and watch this GOP-sponsored ad, "Say Yes to the Candidate." Weddings and Republicans, you say? Nothing can be better than that.
The College Republican National Committee unveiled its latest campaign appeal to female voters on Wednesday, and it's truly a stunning accomplishment of political tone-deafness. Called "Say Yes to the Candidate," the series of ads parodies the chief wedding industrial complex reality show Say Yes to the Dress. Because women are always shopping for $5,000 wedding dresses, am I right?
The six ads are individually tailored to six crucial gubernatorial races. There's one for reigning Republican Florida Gov. Rick Scott, who's trying to hold onto his position in a race against former Gov. Charlie Crist (according to Talking Points Memo, Crist has just taken the lead in the polls). There's one for Michigan Gov. Rick Snyder, a Republican running for reelection against Democratic challenger Mark Schauer (who's trailing by just several points). And don't forget Bob "47 percent" Beauprez, the Republican candidate attempting to take Colorado's reins from Democratic incumbent John Hickenlooper.
So do the ads propose that we, the ladies who registered to vote, are marrying these candidates? Well, no, the candidates are actually the wedding dresses we're trying on and giving a twirl. The candidate is the "perfect dress," for the lovely price tag of your affordable birth control, health care, and job security, depending on which candidate you choose.
The "Say Yes to the Candidate" ads are surreal, to put it mildly. What's fascinating is that the concept reveals much more about the GOP than the video dialogue itself.
There's a lot to unpack here, but let's start with the premise: Brittany, the main young woman in the ads, says she's a recent college graduate worried about normal recent graduate problems — student loans, finding a job, and finding a job and then still being underemployed because the only job you could get pays minimum wage. She seems way more preoccupied with jump-starting her career outside the home, so why, then, show her shopping for a wedding dress? Wouldn't a smarter, more realistic plotline be Brittany going from office to office on job interviews, with each interviewer representing a candidate?
Of course, there lies just the overarching conceit of the "Say Yes to the Candidate" ads: A woman makes her choices dependent on — and in consultation with — a man. It reeks of paternalism.
It's worth pointing out the talking points in each ad. Brittany says she's on a budget — while shopping for luxurious wedding dresses, naturally — yet the ads don't address anything that would pertain to her day-to-day life. There's nothing about job creation, living wages, student loan policies or affordable health care, only increased government spending, high taxes, and debt. "I'll be paying this off for the rest of my life!" Brittany wails.
Well, Brittany, you might have an easier time paying it off if you received equal pay to your male colleagues, or paid maternity leave further down the road. (The ads conveniently leave these talking points out.)
To be fair, it's admirable for the GOP to want to steer female voters toward economical issues and away from birth control and abortion. With much of the Democratic lobby appealing to women with a reproductive rights plank, it's a smart strategy to say, "Hey, we're not obsessed with birth control. Let's talk about taxes."
However, the argument can also be made that the GOP reopened the political Pandora's box of abortion when it added a strict anti-abortion position — not to mention abstinence-only education — to its party plank in 2012.
The strangest aspect of these "Say Yes to the Candidate" ads is the fact that the GOP is struggling to win votes from single women voters, as shown by the wide gender gap of the 2012 presidential election — the largest recorded in election history. So why choose wedding planning as the surefire way to win over single women? Or is the line of thinking we're all spinsters hanging out with our cats, waiting for an invitation for a trip to Kleinfeld Bridal, where we can pick our perfect Rick Scott with some help from Randy?
The GOP has a woman problem. It knows it has a woman problem. An exclusive report created by several conservative groups this summer showed the scary depths of the woman problem. And yet these adds are just reaffirming the woman problem.
For this upcoming election, GOP, consider me always a bridesmaid. Never the bride.
Image: screenshot/CRNC ad