This Airplane Seat Is Bigger Than Your Apartment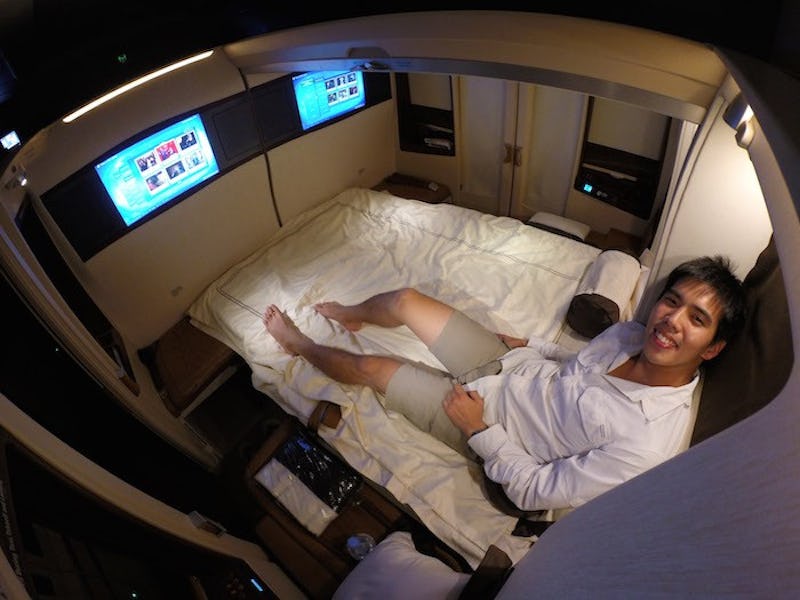 If you think First Class is luxurious, what with the champagne and the seat that reclines all the way back, get ready to have your mind blown. Introducing Singapore Airlines' Suites Class, the $18,400 plane ticket that treats you to a mini vacation before you even reach your destination. From the five-course dinner that includes caviar and lobster to the Givenchy PJs to the full-size bed in a suite bigger than most Manhattan apartments, Singapore Airlines' Suites Class makes regular First Class look like a highway truck stop.
Since launching its Suites Class in 2008, Singapore Airlines has set itself apart in the aviation industry as the commercial airline that introduced the double bed, thereby upping the ante for all other airlines. To anyone who has ever flown, that is a concept similar to reaching nirvana. Besides the best airplane bed in the world, the Suites Class, which is exclusive to the airline's flagship A380 aircraft, also features private cabins with sliding doors, a soft leather recliner, private bathrooms with vanity mirrors, and nonstop entertainment on a flat-screen LCD TV.
One brave man, Derek Low, decided to trade in a lifetime's worth of frequent flyer miles for a Suites Class ticket and documented the experience on his blog. It's a flight you have to see to believe, and a journey that is likely to be way more rewarding than the destination.
The Luxury Begins at Check-In
Low describes the First Class and Suites check-in lounge as like a hotel lobby, complete with a bell hop who carries your luggage for you.
He wasn't all that hungry, but he couldn't pass up the fine dining offered in the lounge. Remember, you don't want to look back and think, "I could've eaten that."
Since he was only feeling peckish, Low only ordered the chicken and mutton satay...
and the baked lobster...
and the foie gras burger with fried quail egg. A modest meal for a modest appetite.
Then He Boarded... Heaven
When Low booked his flight, he was asked to choose a title for his profile. You know, titles like King, Lord, President, etc. Low said if he could do it all over again, he would have chosen President or Princess Low.
Because these suites are totally fit for a princess.
And here comes the champagne — Dom Pérignon, no less.
Low even had his own Chief Steward, who tended to his every need, recommended movie titles, and even gave him the history of tea. A far cry from the flight attendants who tell you to "move it along now" in Economy.
How happy does Low look?
Bose headphones > flimsy foamy headphones you have to pay $2 for.
Complimentary toiletries came in a Salvatore Faragamo case and included a full-size bottle of cologne.
Givenchy provided the blankets, pillows, slippers, and PJs. What, no Prada eye masks?
Of course the famous Blue Mountain coffee was served on board. Low ordered some at 1 a.m., not wanting to go to sleep yet. Who can blame him?
Especially when there's nonstop entertainment on your own personal 23" LCD screen.
And there's more food to be had.
The First Meal
Since Low was still stuffed from his last meal in the airport lounge, he decided to order modestly again, settling on the five-course dinner.
Low liked the first appetizer of caviar with lobster-fennel salad (above) so much that he ordered two plates.
The third appetizer was duck foie gras with fennel and beetroot.
The Defining Moment
We're talking about that double bed, of course. That double bed. On an airplane.
After getting a tour of the plane as if he were some important foreign dignitary — he might as well have been on this flight — Low came back to his cabin to find the lights dimmed, meaning it was sleep time.
But in the Suites Class, you're not expected to push that cold metal button to recline your seat back like some lower life form. In the Suites Class, the flight crew turns your cabin into a huge bedroom.
They folded down a partition to combine Low's cabin with an adjacent cabin to form ... the double bed!
At this point, Low was speechless. "I probably need a poet to describe how amazing this was."
He spent the next hour in experimentation.
And then he decided to test the bathroom with the "Hollywood-style" mirror.
After sleeping soundly and a two-hour layover in Frankfurt, where his airport lounge had a spa and a hot shower, Low boarded the flight again and had his pre-ordered Book the Cook breakfast.
It Just Keeps Getting Better
For breakfast, Low had the lobster Thermidor...
And some sort of tart he was too busy being in heaven to remember.
At nap time, Low decided not to bother the flight crew and opted for the single bed, which still looks plenty comfortable to me.
Upon waking up, he was immediately served his final meal.
Which included prime beef filet designed by renowned chef Alfred Portale.
Of course, one thing you should take into account before booking a Suites Class flight is the inevitable conundrum of not wanting to ever leave the flight, as Low experienced. Luckily, he was going to one of the best cities on earth, New York — not to mention, the total duration of the flight was an entire day.
A day well spent, clearly.
Images: Reproduced with permission from DerekLow.co