Where You've Seen This 'Mulaney' Star Before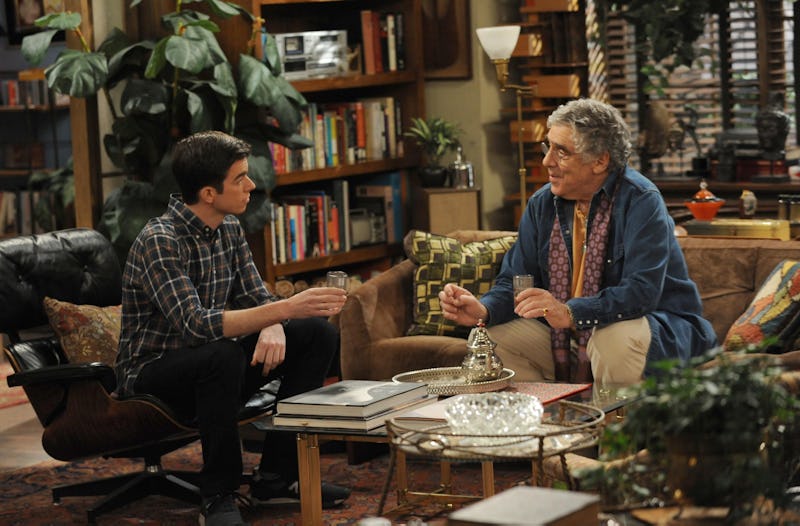 For his new show on FOX, comedian and former Saturday Night Live writer John Mulaney tries to re-create the feel of older sitcoms, like Friends or Seinfeld. So it'd make sense that he'd fill out his cast with a couple of veteran sitcom actors. One of the most notable is Elliott Gould, Ross and Monica's dad on Friends . (Or, if you're more of a movie person, he's Grover's dad in Noah Baumbach's Kicking and Screaming — "Knicks in trouble.") On Mulaney , Gould plays Oscar, a pot-smoking hippie who lives in a rent-controlled apartment across the hall. I guess he's the Monica/Rachel to Mulaney's Joey/Chandler, since he's the one that gets the NYC apartment for cheap.But Gould is more than pop-culture fathers and father-figures. He's had a long career filled with roles that don't involve saying inappropriate things or giving Courteney Cox a Porsche. He's been in everything from fun, lightly comic films like the Ocean's 11 trilogy to dark, gritty movies like American History X. He's been on Broadway, he's starred on television shows, he's done voiceovers (and he has a very recognizable voice) — basically he's done everything you can do as an actor in show business. Here, we delve into some of Gould's most essential roles.
The Definitive Non-Friends Role: Philip Marlowe in The Long Goodbye
Gould should probably be known more for being on director Robert Altman's list of go-to actors than for being on Friends. He's done several films with the director, including M*A*S*H* and California Split. The Long Goodbye is the most famous of their outings together — and the coolest, because Gould gets to play Raymond Chandler's Philip Marlowe, one of the greatest private investigators in crime lit. "I've always wanted to play that guy," Gould told the A.V. Club of the cat-obsessed P.I. "And Robert Altman said to me, 'You are that guy.'"
The Awards-Bait: Ted in Bob & Carol & Ted & Alice
Gould has been outstanding in a litany of films, but, to date, he only has one Oscar nomination. He was nominated for Best Supporting Actor for the role of Ted in the 1969 film Bob & Carol & Ted & Alice, a comedy about a couple in an open-ish marriage. (Hey, it was basically the '70s.) Unfortunately, Gould lost to Gig Young from They Shoot Horses, Don't They.
The TV Performance: Saturday Night Live
Friends isn't Gould's first TV role, and Mulaney isn't the first time he's worked with a Saturday Night Live writer. He's hosted Saturday Night Live half a dozen times, which puts him in the prestigious "five-timers" club. In a Tom Hanks-hosted sketch from 1990, SNL opened the doors of the luxurious club, where Gould and other frequent hosts — including Mulaney co-star Martin Short — were clad in robes and waited on by a young Conan O'Brien. The sketch was later repeated, sans Gould, when Justin Timberlake became a five-time host.
Friends, Mulaney, and SNL are all comedies, but Gould has also ventured into television dramas, too, with the role of Ezra Goldman on Ray Donovan .
The Heartfelt Role: He's a Friend to Muppets
Since their inception, Muppet movies have been known for their cameos. Gould is actually one of the few actors who makes appearances in more than one Muppet movie. He introduces Miss Piggy as a beauty pageant contestant in The Muppet Movie — it's the first time Kermit sees her! — and then returns as a cop in The Muppets Take Manhattan. Robert Altman is impressive and all, but working with Kermit the Frog — twice — is truly impressive.
Images: Ray Mickshaw/FOX; doobydum/Tumblr; Getty Images; NBC