Your Dany Costume Doubles as an Elsa Costume!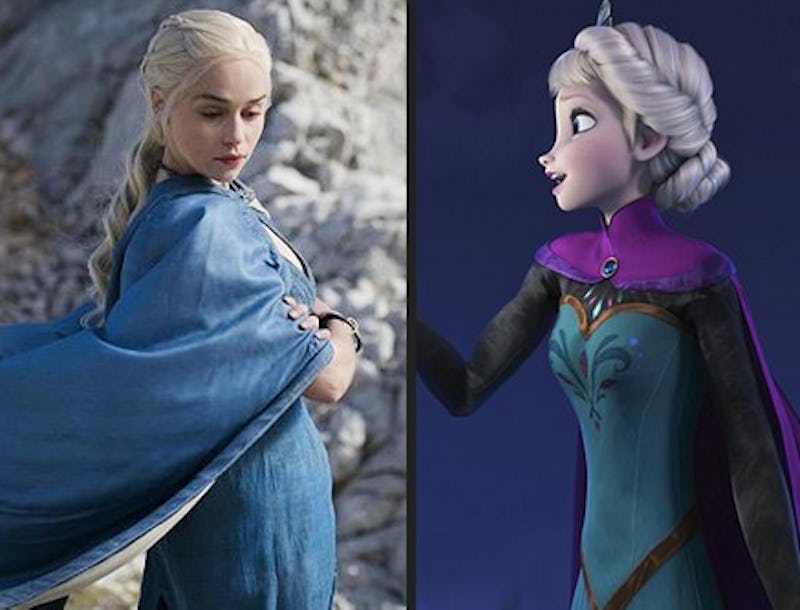 Halloween happens to fall on a Friday this year so you know what that means: multiple parties. Surely not everyone you know will be throwing their costume ball on October 31. You've got November 1 as a totally reasonable time to have a Halloween soiree or for the overly-excited witches and warlocks, the weekend before Halloween makes room for all the cauldrons full of sangria your heart desires. Having more than one costume party to attend might seem daunting at first, but trust me, it's much easier than it sounds...especially when two cultural zeitgeist characters have pretty much the EXACT SAME COSTUME. That's right and you goblins and ghouls, your Daenerys Targaryen aka The Mother of Dragons from Game of Thrones doubles as Elsa from Frozen.
All you need for your dual-costume is one long blonde wig, some trusty bobby pins, and a little creativity. Thankfully there's already a fun and crafty DIY Dany look, but if you want to make it even easier on yourself, I've got a few ideas to help you out. No matter what party you attend, arriving as the most badass Queen from one of television's most popular series or as the heroine of the most universally beloved film of the last year, your costume will be a hit. Here's now to do it in just a few easy steps.
Step One: The Outfit
Ice Blue Maxi Dress, $30, LuLu's
This ice blue maxi dress has just the right regal appeal for both Dany and Elsa. With a few additions, the dress can easily be transformed for either character.
Step Two: The accessories
Go gold for Dany. You're a Queen, OWN IT! A must-have extra is of course the dragons. You can either safety pin a stuffed dragon or two onto the costume or take a lightweight plastic dragon and hotglue a pin to it, then attach to the costume. Easy-peasy!
For Else, tulle is your best friend. Grab a yard or two at your local fabric store and wear as a cape or drape around your arms for an extra icy look.
Step Three: The Wig
This long white Angel wig available at Pink Queen is just $15 online and is just the right tone to match both Dany and Elsa. For Dany, simply pin two long strands in the front to the back of the head. Or if you want to get fancy with it:
For Elsa's fancy coronation updo:
One wig, two costumes! It's easy as 1-2-3. If you needed any further proof that these costumes are easily interchangeable, a woman dressed in Dany cosplay was mistaken for Elsa and wound up entertaining a 9-year-old's birthday party back in September. Mother of Dragons or Maker of Ice. The choice is yours!
Images: Dany_Stormborn_/Twitter; Pink Queen; LuLus