Felicity's Got A Love Square Going Across 2 Shows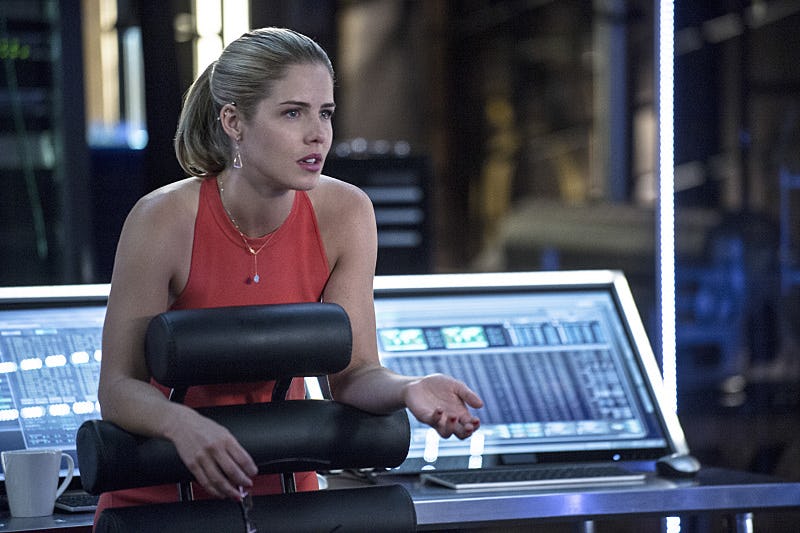 Our favorite computer tech, Felicity Smoak, is about to find out just how many love triangles is too many love triangles. Not only is Arrow setting up a potential relationship between Felicity and Oliver — and new addition Ray Palmer — but also one on the brand new The Flash. Felicity will appear on The Flash in the fourth episode of the season. She'll make a trip over to Central City to visit her "friend" Barry Allen. (I put "friend" in quotes because I imagine her telling Oliver she's going to visit him and being like, come on, Ollie, we're just friends.) Once there, she'll encounter another triangle, between Barry and his best friend, Iris West. Oh, Felicity. Save some superheroes for the rest of us.
When Barry appeared on last season of Arrow — during the arc that slowly started setting him up for Flash — he and Felicity flirted a lot. Mind you, this was also during the time on the show were Felicity was starting to realize that maybe Oliver doesn't feel the same way about her as she does about him. Then in walks this brilliant forensic scientist who is just as adorably awkward as our girl. How could she not immediately fall for him? (Fans sure did. He got his own show, didn't he?)
Felicity's not showing up on The Flash to create romantic tension, though. She actually has an agenda when she arrives in Central City. As showrunner Adam Kriesberg told Comic Book Movie, "Felicity is somebody who knows how difficult it is to have teammates who are fighting crime. So, she's there to offer some sage advice." Wise mentor Felicity? Sounds good to me. If someone does need to take on the role as CEO of the Arrow Cave, it would be Felicity. So don't get your supersuit all in a bunch assuming that Felicity's appearance will only be there to complicate Barry's love life. She's there to help.
But... Felicity's manages to create that romantic tension, anyway. Candice Patton, who plays Iris West, explained at Paley Fest that "Iris and Felicity get along. Iris genuinely wants the best for Barry so she's trying to set him up. She doesn't even realize that he could want [Iris]." Even though Iris will push him towards Felicity, we can make the educated guess that the two of them don't work out. It's just not in the cards for this scientist and tech. This, however, doesn't mean we won't get witty science banter and maybe some lingering glances — they just won't last for long.
Also, thank you, Flash, for conveying the message that not all females are going to fight over potential love interests! How does that feel to come from a comic book TV show?
Don't hold your breath for any long-term cross over potential, though. Fans of the comics will know that Barry only has eyes for Iris, so the writers are having a bit of fun setting up this love triangle — eh, square? The eighth episode of the series will feature another crossover between the two shows, so they'll probably mix and mingle then too. Just don't expect Felicity to pack her bags and move to Central City anytime soon.
Photo: Cate Cameron, Diyah Pera/The CW