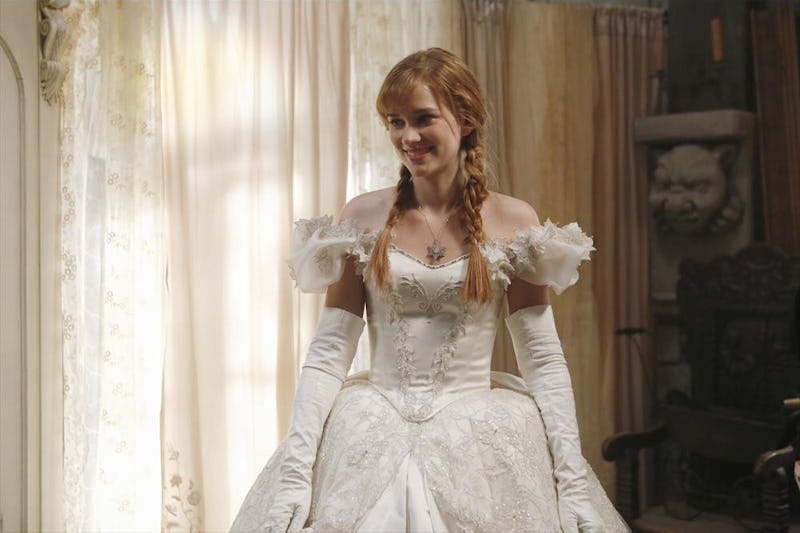 This might be the million-dollar question on Once Upon A Time : Where is Frozen 's Anna? And now everyone is looking for her. On last Sunday's OUAT Season 4 premiere, we saw Anna head off to "Misthaven" aka the Enchanted Forest in search of help for her sister, Queen Elsa of "Let It Go" fame. But what happened to her when she finally got there? OUAT's Oct. 5 episode, "White Out," revealed that Anna was looking for Rumplestiltskin in the Enchanted Forest. But I'm so not ready to let it goooo just yet, because now I have even more questions for OUAT.
First, did Anna ever make it to Rumplestiltskin? On Sunday night's episode, we saw her take a detour where she met Charming (who apparently knows Kristoff — is there some type of pre-royal fraternity around those parts that all men are required to join?) and taught him to sword fight. Yeah, I didn't necessarily believe that either. There was also a subplot where Little Bo Peep is a "warlord" in the Enchanted Forest and she "brands" Anna because David and his mother couldn't pay her. But, don't worry, that didn't stop Anna from continuing on her mission — the episode ended with the bride-to-be setting off to meet Rumpel.
But now that we know where she was going and that she's alive, thanks to Bo Peep's magical staff, Elsa's big question still remains — where is she now?
She's In Storybrooke
It's very possible that Anna's somewhere in Storybrooke and just hasn't come into play yet. I mean, we're obviously supposed to believe, from Sunday's episode, that the Snow Queen has been hiding in plain sight the entire time. So maybe Anna's been hiding somewhere in Storybrooke as well. She could be locked in the insane asylum like Sidney was or she's living somewhere in the woods with Kristoff and Sven — granted those two got zapped by the curse as well. Is there a sandwich shop in Storybrooke? Because, if so, that's exactly where she is.
She's Still In The Enchanted Forest
It's entirely possible that Anna never left the Enchanted Forest. Maybe she's met up with Aurora, Prince Philip, and Mulan at this point and that's how OUAT will check in with that group, by connecting Anna with them. We do know that some people were left behind for whatever reason — Anna could be one of them.
She's Back In Arendelle
This is kind of silly, but what if Elsa and Anna just crossed paths and this is all a big misunderstanding? I mean, c'mon OUAT, I really wanted that Frozen wedding to happen.
Image: Katie Yu/ABC; oncepromised, inhislight/Tumblr