The Fur Flies as Two 'Suits' Lawyers Come to Blows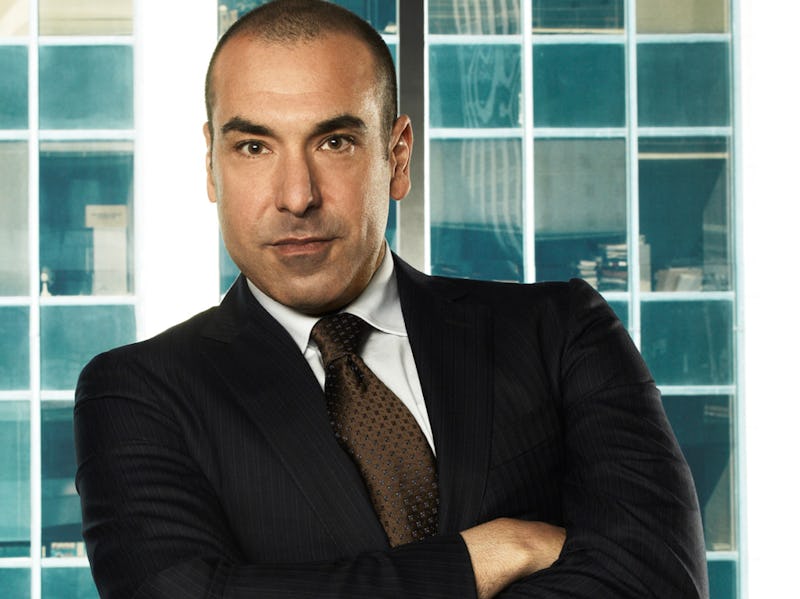 Steven Huntley's charms can sure cast a spell on Donna, but they don't have the same effect on her boss. Thanks to Huntley's intervention, the prosecution now has access to Colonel Moriga, a key witness in the case against Ava Hessington. For this misstep, Harvey threatens to "beat the shit out of [him]," which is highfalutin legalese for "beat the shit out of [him]."
Moriga is prepared to testify that Hessington bribed him to murder her company's detractors. Though Harvey, Mike and Jessica are initially dismissive of his alleged relationship with Ava, Cameron Dennis produces records of the colonel's calls to her. Hessington acknowledges that they'd spoken over the phone, but she insists the conversation was innocent.
Harvey may have changed his mind about gunning for Jessica's job, but Pearson remains deeply hurt by his betrayal. She takes out her anger on Darby, demanding that he remove Huntley from her firm. But could this have been Harvey's plan along—his roundabout way of convincing her to back out of the merger? He admits the thought occurred to him.
Louis Litt is in his element as a surrogate cat father, obsessing over the precise fat percentage of Mikado's afternoon milk. He's more than a little dismayed when Nigel returns from abroad early to take her home. "She wants to be my cat," Litt tells him. He claims that their previous catsitting agreement means he's owed another week's custody of Mikado, and sues Nesbitt for her ownership. Because they are insane, the two agree to stage a mock court before a jury of associates. Because she is insane, aspiring attorney Rachel volunteers to represent Litt.
Rachel's case is proceeding smoothly when Nigel introduces the spurned Harold Gunderson, Litt's old punching bag, as a surprise witness. Who better to attest to his lackluster "parenting" skills? But Rachel nevertheless manages to discredit the firm's ex-employee. For all his mistreatment of Howard, Litt indisputably loves cats more than anything.
Nigel offers a settlement. He'll allow Litt to oversee the associates once again in exchange for the return of Mikado. Louis relents, and as a thank-you gift, hands Rachel her Columbia Law School acceptance letter, delivered that morning.
Donna is furious when she discovers that Huntley lifted a copy of Moriga's deposition from her files. Is this guy trying to get the shit beat out of him?
Yup. Mike discovers why Huntley needed to read the colonel's deposition: It was Steven, not Hessington, who ordered the killings. He'd played rugby with Moriga during a semester abroad in Cape Town.
Harvey ends the episode by fulfilling a promise he made at the beginning: to beat the shit out of Huntley.
Image via USA