This Is Your 'Gone Girl' "Cool Girl"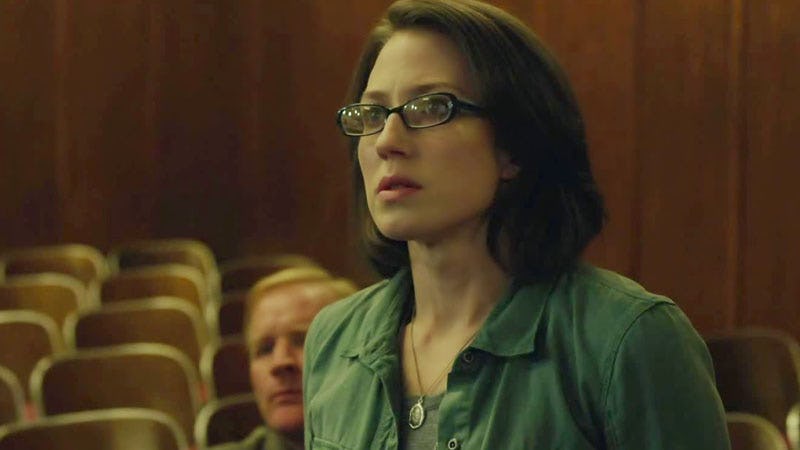 Gillian Flynn's 2012 novel Gone Girl is credited with both explaining — and then shattering — the "cool girl" trope, so it's not surprising that David Fincher's 2014 Gone Girl adaptation would explore the theme. The "cool girl" comes in many forms, but above all, she's the woman who loves her man despite his flaws, never complaining, nagging, or expecting her guy to change. Yes, a "cool girl" is often hot, and funny, and possibly brilliant, but above all they are understanding, undemanding, and perfectly content with allowing their men to be exactly who they wish to be. Maybe a "cool girl" shotguns beers with her boyfriend and his buddies, maybe she knows every single song of her guy's favorite obscure indie band.
The "cool girl" molds herself into the woman a man wants, and doesn't come across as the illusion because so many women feel the need to fake it. Flynn's character Amy is a self-professed former "cool girl" who loathed the performance she put on for her husband, Nick. Gone Girl attempts to shatter the "cool girl" myth, but even it can't totally rid itself of the trope.
Amy's variation of "cool girl" was the girl who didn't complain when her husband stayed out late with his friends, and forked over the last of her trust fund for Nick's risky venture into owning a bar. But though Amy can fake it for Nick, she can't shake her strong opposition to the things that Nick does — she refuses to ignore her own wants for the sake of Nick's happiness. And though Amy is not a good person — quite the contrary — she is a refreshing character. She's not ride or die. She's not willing to put up with the bullshit. And, at the end of the novel, she's definitely not the "cool girl."
But one of the characters in the novel might be. I read Gone Girl, but it wasn't until I saw Fincher's adaptation — penned by Flynn herself — that I realized that the film isn't devoid of the trope. The term "cool girl" is commonly used in association with romantic relationships, but I don't think that it has to be used exclusively for them. The "cool girl" in this case is Nick's sister, Margo. Margo and Nick may be siblings, but their relationship is more than familial — they are best friends, confidants, and one another's support system. Nick lovez his sister, in part because Margo is clearly the "anti-Amy." Margo cracks sex jokes; Amy is described as "uppity." Margo is Nick's companion in their bar adventure; Amy is resentful that Nick claimed the last of her money. And though Margo doesn't agree with everything Nick does — the reveal about his affair pisses her off — she supports her brother wholeheartedly.
There's nothing wrong with Margo's characterization on its own — Margo can be supportive, and witty, and a bourbon fan without falling prey to the trap of the "cool girl" — but her character is an interesting juxtaposition to Amy. The way that Amy describes Margo makes us think that maybe Amy believes Margo wears the "cool girl" mask — or that Amy is resentful that Margo doesn't need to wear one.
Gone Girl shattered the notion of the "cool girl" with Amy, but didn't exactly destroy the trope. Nick loves Margo because of her "coolness" and resents Amy for her lack of it. Margo may not be a romantic interest for Nick, but she is a person who stands in for potential future mates — posing the idea that maybe there are authentic "cool girls" out there in the world.
And there are. But to place one next to someone wearing that mask seems off — because for every authentic "cool girl," there are millions more who secretly detest poker, dirty jokes, and burping.
Images: 20th Century Fox