Ebola Has Made It To Spain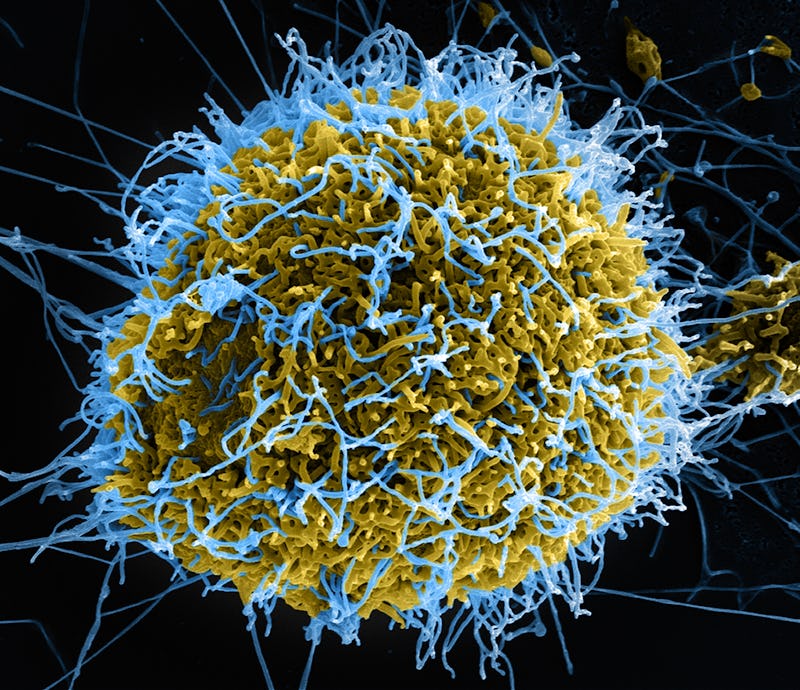 Some terrible news: According to the AP, a Spanish nurse has been infected with the Ebola virus after treating an infected missionary from Sierra Leone, marking the first time that Ebola has been transmitted from person-to-person outside the African continent.
The news was announced by Spain's Health Minister, Ana Mato, who gave some details about the story: the nurse had been part of the team that treated Manuel Garcia Viejo, an Ebola-stricken priest who died after receiving treatment in Madrid. How precisely the nurse contracted the virus isn't clear, but she was reportedly put into isolation in a suburban Madrid hospital in the midst of a fever, and Mato told the AP that the Ebola was confirmed with two tests.
The news comes at a time when the spread of Ebola out of Africa is already on the minds of Americans, and their government, as well — the first confirmed case of the lethal virus stateside was Sept. 30, when Liberian national Thomas Eric Duncan fell ill and was confined at Texas Health Presbyterian Hospital.
After his Ebola diagnosis was confirmed, the Centers for Disease Control immediately got involved, and Texas Governor Rick Perry held a press conference detailing the situation. Duncan is reportedly in critical but stable condition presently, and ABC News reports he's receiving a new experimental Ebola drug in an effort to save his life.
Duncan's case, however, is distinctly different from what's being reported out of Spain. While he contracted Ebola while in Liberia, the West African country that's been hit the most devastatingly by the outbreak, the nurse in question got sick conducting her medical duties within a hospital in Madrid.
Basically, it's the kind of story prone to stoking fears about the safety of treating Ebola patients, or those with similar symptoms. While the virus is only transmittable through contact with bodily fluids, its reported symptoms do produce a lot of them — vomiting, fever sweat, bleeding and diarrhea, for example. And while it might not be clear how or why the nurse got sick, the fact that she did raises a familiar question: How do we protect the people working to stop the outbreak, as well as the people already ailing?
This'll be an important story to keep an eye on going forward. After all, maintaining trust in the medical community is of utmost priority in containing Ebola. Keeping up confidence about the safety of patients and medical professionals is a key part of getting people to submit to treatment in the first place, and having staff comfortable navigating the heightened responsibility.
Image: Getty Images (2)