Teresa Giudice Has A Few More Months of Freedom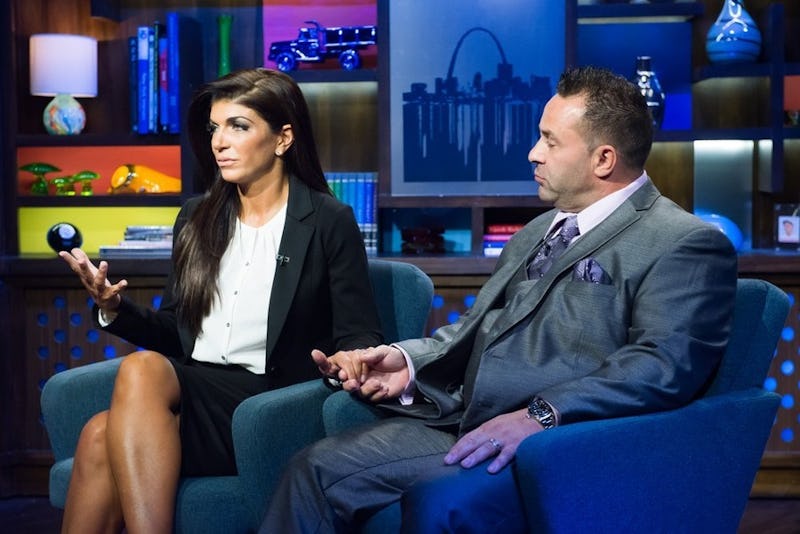 After months of speculation about what kind of punishments they would, Joe and Teresa Giudice were both sentenced to prison on Oct. 2, stemming from multiple charges of fraud that they plead guilty to in March. While Joe's 41-month sentence wasn't very surprising, many people were shocked to hear that Teresa must serve 15 months in prison. However, the Real Housewives of New Jersey stars are both still going about their lives, leading people to wonder when Teresa will go to jail. The couple appeared on Watch What Happens Live on Monday night, in an interview with Andy Cohen filmed the day after their sentencing, and Cohen revealed that Teresa will be going to prison on Jan. 5, 2015.
Teresa expressed gratitude to the judge residing over their case, as she could've demanded they both go to jail immediately, but instead gave them staggered sentences, with Teresa having three months to prepare for her jail time, and Joe not required to serve until after Teresa's own sentence is complete. The consecutive sentences were predicted by many, as it will allow their four daughters to always have a parent home with them.
Still, the Giudices should consider themselves lucky, as things clearly could've been much worse. Like Teresa said, the judge could have started their sentences immediately, or had them serve concurrently, leaving Gia, Gabriella, Milania, and Audriana without any parents for 15 months. Instead, Joe and Teresa have time to prepare for Teresa's sentence and more importantly, to prepare for their daughters. I'm sure the Giudices will truly appreciate the family time they've been granted for the next three months, before the trying times ahead.
Image: Charles Sykes/Bravo