The Bates Are Pretty Busy These Days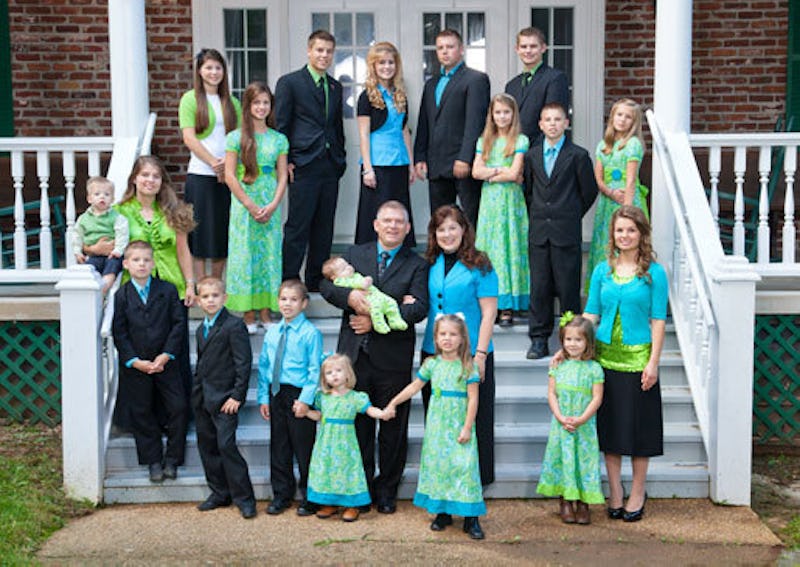 As hard as it is to believe, the Duggars from TLC's 19 Kids & Counting aren't the only family in the world who has 19 children. Their biggest rivals (in numbers, of course) are also their best friends: Gil and Kelly Bates, who head up their own ginormous brood in Tennessee. They make pretty frequent appearances on the Duggars' show, and even had a short-lived TLC series of their own, The United Bates of America, in 2012. And if you're still drawing a blank, remember that time Jim Bob, Michelle, and the kids showed up at a random family's house with the "surprise" of completing tearing apart their foundation and "helping" them completely rebuild their home before running back to Arkansas with their heads between their legs? Yeah, that unfortunate family was the Bates.
OK, I'm sure that Jim Bob's surprise wasn't all bad. But seriously. You gave them a gift that turned into a yearlong, life-interrupting project and then vanished? Who does that?
But anyway, back to the Bates. Their family's lineup and Instagram account look eerily similar to the Duggars, and they live with the same philosophy that Michelle and Jim Bob have tried to pass down to their children. It's been awhile since the Duggars gave us an update on how their old friends are doing, and as it turns out, their family's seen some major changes.
Alyssa Bates Just Got Married
Back in May, 19-year-old Alyssa tied the knot with John Webster before honeymooning in Lake Tahoe. Now, Alyssa and her new husband live in Florida, and Alyssa constantly uploads adorable photos of her beautiful married life. No kids on the way just yet, but I have a feeling that most (if not all) of the Bates' daughters plan to have a big family like their parents did.
And Erin is enjoying married life, too
Alyssa's not the only Bates girl who's living la vida newlywed. In November, she and her husband, Chad Paine, will celebrate their first anniversary. Chad frequently updates his blog, in case you're wondering what the couple is up to... and don't worry, Alyssa throws in a hair tutorial every now and then. I know you wanted one.
Lawson is trying to make it in as a musician
Yep, he recently released a full length album of Christian country music, and you can buy it on iTunes for the low, low price of $9.99. He's even started teaching the youngest Duggar, Josie, how to sing his songs on a guitar, which made for a really adorable video.
And Zach Bates and His Wife are expecting
Zach's wife, Whitney, is about 38 weeks along, and the couple already knows they're expecting a boy, who they plan to name Bradley. Since they've been married a little under a year, it seems like they're going with the Jill and Derick Dillard baby plan. Whitney's due sometime this month, and if it means another cute baby on Instagram, I'm all for it.
Images: TLC (2), Webster4Ever/Instagram, TheBatesFam/Instagram (2)