So, You Want To Dance Like Maddie?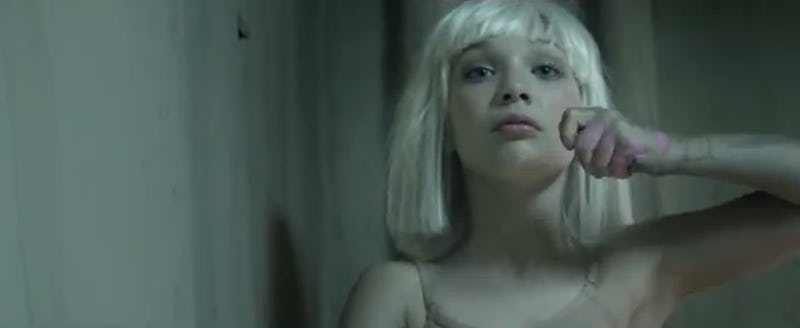 Do you want to make Abby Lee Miller proud? I know you do because there's no one that makes Abby prouder than Maddie — she's the standard that all her other dancers are held to on Dance Moms. Back in May 2014, Sia released the music video for "Chandelier," starring Dance Moms' Maddie Ziegler, and it was mesmerizing. Not just because of Sia's amazing vocals, but because of Maddie's manic, continuous choreography as she danced through rooms. So, what better way to accompany your "Chandelier"-themed 2014 Halloween costume than by learning Maddie's choreography? Maybe, afterwards, you'll finally be qualified to join Dance Moms.
And even if you don't plan on being Maddie for Halloween (big mistake because the costume is so cheap and culturally relevant) who wouldn't want to learn how to be that good of a dancer. I mean, it looks like Maddie made all of that choreography up on the fly, that's how great she is. Which says a lot, considering we all know that the video was choreographed by Ryan Heffington, a Los Angeles-based choreographer. (If you didn't know, sorry to burst your bubble.)
So, where are the best tutorials on the Internet for Maddie's dance from Sia's "Chandelier" video? Look no further than these:
Ryan Heffington's Video
You can't go wrong with going straight to the source. Heffington's video doesn't include Sia's hit song, but it does include him naming every single dance move Maddie performs in the video. The choreographer also slows the dance down a bit, so it's pretty easy to study. Also, how great is the dance move-name "Clean Your Mustache." Don't answer — it's so great.
Learn From Maddie
Jimmy Kimmel might've been intimidated by Maddie's tutorial on Jimmy Kimmel: Live!, but it's actually not that difficult to follow. Sure, this tutorial only shows the first part of her dance, but there's some great Abby Lee Miller-inspired advice for all of us in it — Maddie tells Kimmel, "If you can't do the choreography, you just have to sell it with your face." #Protip.
This Step-By-Step Video
If you feel like you might need a slower, more tutorial-like version, this Easy2Dance video is the one for you. The choreography in this video is broken down into the simplest and most technical terms. It's slightly different from Maddie's version, considering you have to take into account the fact that you, nor the girl in the video, are dancing in the actual music video set. But it's pretty spot-on with most of Maddie's moves that don't require additional props. And, again, it's slowed way down. If you're not convinced, watch the dance set to music in this video.
If None Of These Speak To You...
I suggest watching this video and taking note of these 5 things:
1) The high kick combinations.
2) The "1, 2, 3 - 1, 2, 3" segment.
3) The table combination.
4) How many times Maddie pats her stomach.
5) All of the times Maddie rolls on the floor.
Because, really, the rest of this you can absolutely flail your limbs around and make up. You might not look as experienced as Maddie, but it's the commitment to the emotion that counts. And selling it with your face — otherwise Abby will replace you with another dancer.
Images: YouTube, realtrackprobz/Tumblr