10 Ways to Make Apple Cider Even More Delicious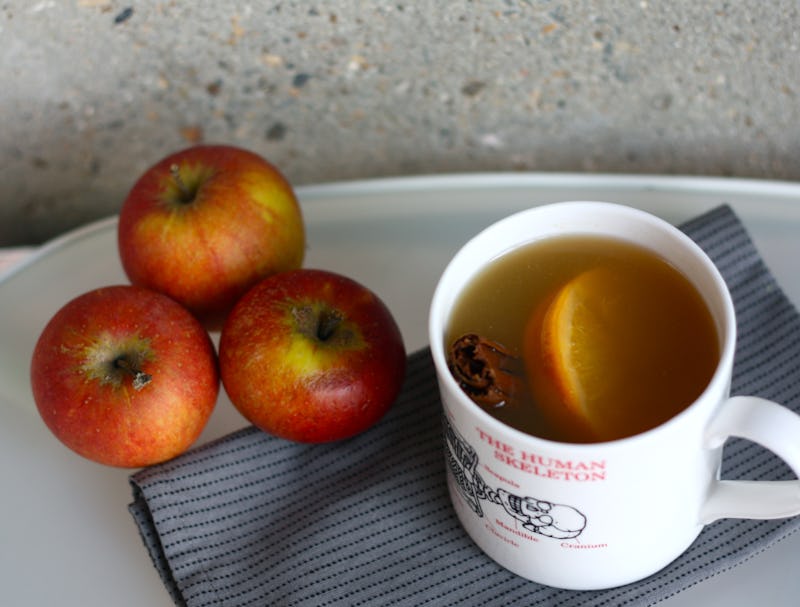 Sorry, pumpkin spice latte — there's another autumnal drink in town, and it's been a fall favorite long before you were even a blip on the radar. I'm obviously talking about warm apple cider. Whether you buy it fresh from your local farmers' market, snag a cup at your favorite coffee shop, or pick up a gallon at the store, apple cider never disappoints, especially when the leaves start to change colors, and the weather starts to feel a little more brisk. PSL lovers can say what they want, but cider is this season's most perfect drink — perfect for sipping outside with friends, perfect for when you really just don't need the caffeine from another cup of coffee, and perfect when you're simply looking for a warm taste of fall. And the best thing about apple cider? With a few simple twists, it's possible for this nectar to taste even better.
Though cider may seem perfectly delicious on its own, you shouldn't feel limited to just drinking it straight from the bottle. By mixing in some spices, toppings, and special ingredients, your apple cider can get a serious makeover. So let's take things to the next level, OK? Because a drink that captures the season so perfectly is something we can all get behind.
1. HEAT IT UP
If you're buying your cider pre-bottled, don't just sip it straight from the fridge. A minute in the microwave or on the stovetop turns this drink into a belly-warming mug of pure delight.
2. ADD A DASH OF CINNAMON
This one's easy: grab the cinnamon from your spice rack, and dash a bit into your cider. Mix well for an enhanced flavor.
3. BETTER YET, ADD A CINNAMON STICK
Feeling fancy? Use a cinnamon stick to stir your hot drink, or place a few sticks in the bottle to infuse the cider with spicy goodness.
4. SPRINKLE IN SOME ORANGE ZEST
A bit of preserved orange zest adds a kick to regular apple cider, and will make you feel like a master chef for even using orange zest in the first place.
5. POUR IT OVER A CHAI TEA BAG
If you need a little caffeine boost, step away from the coffee. Chai tea pairs wonderfully with warm apple cider, so steep a tea bag in your cup for 2 to 3 minutes, and prepare to be amazed.
6. TOP WITH WHIPPED CREAM
This should go without saying, but doesn't whipped cream make literally everything better?
7. POUR IN SOME CARAMEL
After topping your cider with a generous heap of whipped cream, drizzle on some caramel syrup. It's the obvious next step.
8. SPICE THINGS UP
Get creative with your spice rack. Tasty additions include cloves, nutmeg, ginger, and allspice. Mix and match to find your favorite combo.
9. ADD A TOUCH OF MAPLE SYRUP
If you've really got a sweet tooth, a spoonful of maple syrup perks up a cup of cider while also adding in yet another amazing fall flavor. Can you even handle all this autumnal goodness?
10. SERVE WITH SOME SWEETNESS
Cinnamon sugar donuts were practically invented to eat with a cup of warm apple cider. Take advantage of the world's most perfect pairing, and enjoy.
Image: Anne H. Putnam/Flickr, Giphy (10)