A Definitive Ranking of the Best PBS Kids Shows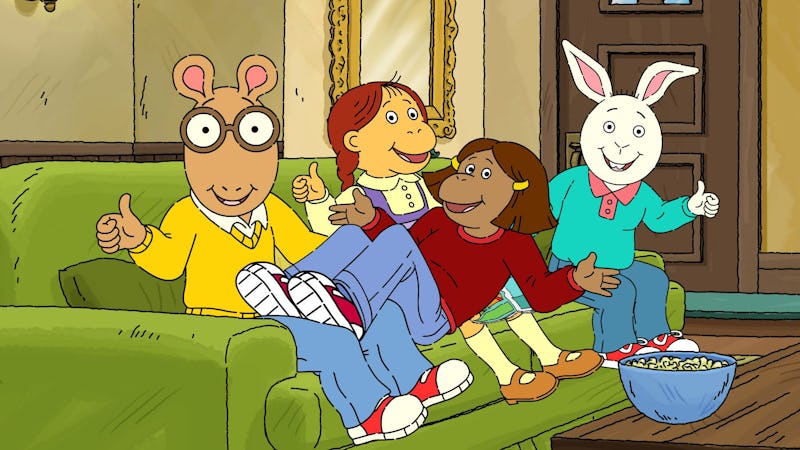 If you've never seen a PBS Kids show, your childhood was severely lacking. That being said, if you've seen all the shows on this list, your childhood probably lacked the joys of cable television (guilty!). Regardless, PBS Kids shows offered a variety of fun and educational programming. How would I have learned the classics of American literature before the age of 10 if it wasn't for a imaginative dog named Wishbone? How would '90s kids learn about exotic animals and their natural habitats if it wasn't for two twin brothers and their lemur friend? And if Bill Nye wasn't there to teach us about science, our after-school education would be sorely lacking in baking-soda experiments and lessons in electrons.
Needless to say, PBS did something right: Mixing the perfect amount of whimsical and fun with an educational message, kids who were raised on PBS programming knew a few things about the world. We may not have known who was which color Power Ranger, but we knew how to spell aardvark without missing a beat. And so, to celebrate the shows that shaped our childhood, here are the 17 best PBS programs, ranked from absolute worst to undeniably best.
17. Curious George
Not as good as the book, just sayin'.
16. Teletubbies
They were too "little kid" for your daily schedule, but your younger sibs were all over the 'tubs.
15. Clifford the Big Red Dog
The giant ginger dog captured our hearts, and his gang of fellow canines added to the fun — even if they were a quarter of his size.
14. Kratt's Creatures
Cute boys and cuter animals? What's not to love?!
13. Barney & Friends
Okay, so it's Barney, but it's a classic! Even some famous faces like Selena Gomez have appeared alongside the purple dinosaur.
12. The Berenstain Bears
The classic children's book was one of the few transformed successfully into a fun show for kids.
11. Dragon Tales
If only you and your younger brother could go on such cool adventures! Emmy was totally the original Khaleesi, btw.
10. Cyberchase
Cyberchase made math cool. I hate math and always have, but it was fun solving the mysteries of Hacker and his minions by using simple arithmetic. Bring it on, complicated equations!
9. Zoboomafoo
The Kratts brothers' second attempt at an animal-centric show, Zoboomafoo introduced kids to new animals and surroundings by way of their totally-real-and-not-fake-at-all lemur friend, Zoboomafoo!
8. Zoom
As a child, you knew two zip codes by heart: Your own, and Boston, MA's.
7. Reading Rainbow
But you don't have to take my word for it.
6. Bill Nye the Science Guy
Bill! Bill! Bill!
5. The Magic School Bus
If you say you never wanted to be a student in Ms. Frizzle's class, you're a dirty liar.
4. Mr. Rogers' Neighborhood
Although more outdated than some of the station's other offerings, we mourn the loss of Mr. Rogers, his sweaters, King Friday, and all of the wonderful, ooey-gooey words of encouragement the show offered us as kids.
3. Wishbone
You shipped Joe and Sam, you loathed evil Wanda, and you delighted in every single American classic Wishbone introduced you to. And those tiny Renaissance dog costumes?! Yes, please.
2. Arthur
Sing it with me! "Having fun isn't hard, when you've got a library card!" So. Dang. Good.
1. Sesame Street
Truly, is there a better show on television? Not only is Sesame Street fun for kids, its also a hoot for adults, with guest stars like Paul Rudd, Mindy Kaling, Katy Perry, and more. What's the letter of the day? A for Awesome!
Images: Tumblr; Gifsoup