16 Feel Good Movies To Watch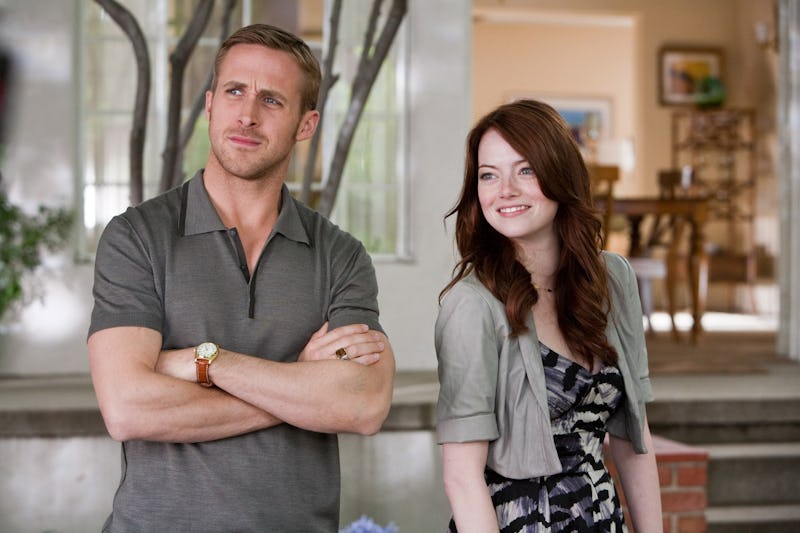 You know when you're in a good mood and nothing can bring you down? So you turn on a movie, get all wrapped up into the story and the characters and it turns out to either be one of the saddest movie known to man kind. Just like when I went from a 10 to 0 on the happy scale after watching P.S. I Love You. Or a movie leaves you feeling incapable of functioning with society like Requiem for a Dream did for me — I couldn't talk to anyone for hours! Sometimes you just need to watch a good movie for your good mood.
I'm talking movies that make you laugh, movies that just make you feel warm and fuzzy inside, or even movies that just cause you to raise a glass of wine in "hell yeah!" sort of way. Because when you're in a good mood, nothing — and I mean nothing, not even that looming credit card statement on your coffee table, or the fact that George Clooney is officially off the market — should bring you down.
Check out some of the movies to watch for when you're in a good mood and plan to stay in a good mood.
She's The Man
She's The Man is the ultimate feel good film. It's got Amanda Bynes at her peak, Channing Tatum shirtless, and it's semi-educational as it follows a Shakespeare plot (loosely). Insiders note: the cast commentary on this movie (DVD special features) is even more hilarious than the movie is. I know this because I can quote the commentary more than I can quote the movie.
13 Going On 30
We all know how it ends, but who cares! 13 Going On 30 is such a happy movie to watch. It proves that in the end, good wins over bad, it has a very attractive cast — hello, Mark Ruffalo — and has the "Thriller" dance in it. What more could you possibly want?
Crazy, Stupid, Love
The great thing about Crazy, Stupid, Love is that it has multiple stories happening at one time. So while you might feel your mood drop a little when you realize Steve Carell's life is sad and lonely, you instantly are brought back up to happytown — population, you — when Gosling returns to the screen. Plus, everything Emma Stone touches turns to gold.
Legally Blonde
You know it, you quote it, you stomp your last season Prada shoes at the perfect moment (also, who cares if they're last season?). Legally Blonde is the ultimate girl power movie, and will never fail to make you even happier than you already are.
Princess Diaries
I've seen Princess Diaries over 30 times, and that might be an understatement. Before Hathahate was a thing (and it shouldn't really be a thing, she's awesome), Anne Hathaway played a quirky underdog in San Francisco who finds out she is a princess to a small (fictional) European country where Julie Andrews is the Queen. I don't know exactly where Genovia is, but as Liz Lemon would say, "I want to go to there." Also, Erik Von Detten.
The Breakfast Club
I wish I could go back to high school and do something that would cause me to be put in detention, just so I could hang out with this group of kids. It's concept is simple, but the movie is amazing. Plus, it features Simple Minds' "Don't You Forget About Me," which will be stuck in your head forever, but because you're in a good mood, you don't care. Bring it on, Judd Nelson.
Neighbors
Neighbors is, simply put, a battle of the comedy gods. On one side, Seth Rogen and Rose Byrne (and Ike Barinholtz from The Mindy Project, hey!), on the other side, Zac Efron, Dave Franco, and McLovin'. Who will prevail?
The Hangover
The Hangover came out five years ago, so by now, you can probably recite the entire movie. So go for it. Nothing is holding you back, because when you're in a good mood, drumming to the Phil Collins song with Mike Tyson is the absolute best thing you can do.
How To Lose A Guy In 10 Days
This movie should really just be on your calendar for a monthly viewing, it's that good. Whether you tune in for the romance or the comedy, How to Lose a Guy in 10 Days has all the ingredients for a feel good film.
Zoolander
SO. MANY. STARS. Zoolander is 1) hilarious, 2) absurd, 3) has an amazing cast, 4) hilarious, and 5) has a walk-off, the makings of the perfect good mood movie. Plus, Will Ferrell says there will be a second film, so all is right in the world.
22 Jump Street
Sure, you can watch 21 Jump Street, but that's so 2012. 22 Jump Street is just as funny as its predecessor, plus it is so self-aware that it is a sequel, you are totally OK with the plot being the exact same thing as the first film.
10 Things I Hate About You
Don't cry, Julia Stiles! This is a good mood movie, despite the above GIF. It's a classic story — another Shakespeare film, that guy was on to something — set in modern time (if modern time was 1999).
Clueless
Whether you're a Cher or not, you can't help but love all of the characters in this film. Cher's optimistic attitude would totally approve of Clueless being on this list.
The Other Woman
The Other Woman is all about women working together to get back at the guy that screwed them all over. Add the comedic timing of Cameron Diaz, Leslie Mann, and Kate Upton, and it is sure to make you feel good.
Bridesmaids
Does this even need an explanation? Just watch it.
Pitch Perfect
I know this movie so well, I know the choreography to the dances performed, in addition to knowing every and all harmony the acapella groups sing. The only way this movie would bring you down is if you were rooting for Adam DeVine's character, and in that case... No.
Images: DreamWorks Pictures; Giphy (16)