Laurel Might Actually Be Cool with Olicity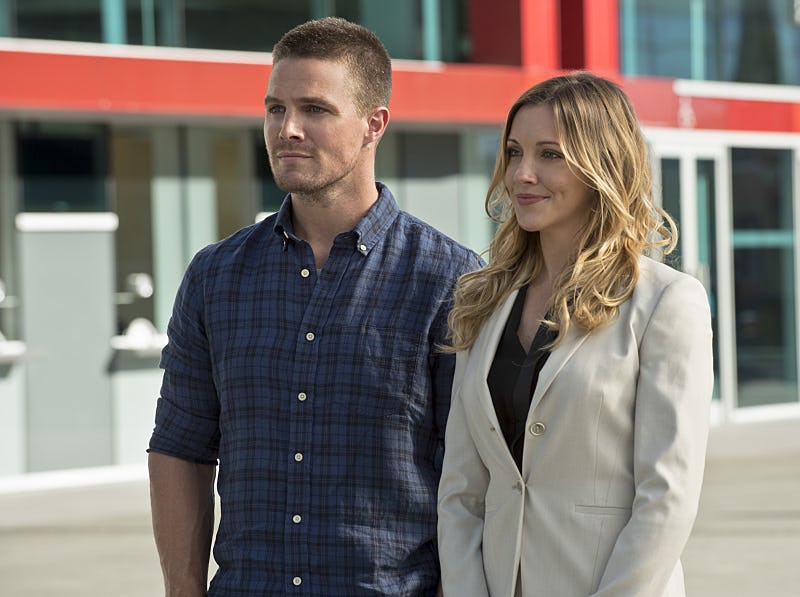 For the past few months, I think our blind Olicity craze has completely overshadowed one very important aspect about their new relationship: Laurel. Sure, it looks like Arrow Season 3 will finally bring Felicity and Oliver together (for at least one dinner date), but it's Laurel who has the bumpy history with Oliver. The two go way back, and it'd be completely human for Laurel to have feelings — whether good, bad, or indifferent — about the new pairing. When the third seasons kicks off, what will Laurel think of Oliver and Felicity's relationship? Because if it does last, I have a feeling they'll become the It Couple of Starling City.
Last season, viewers saw Laurel finally learn the truth about who's underneath the hood. Now that she's in on Oliver's big secret, Laurel becomes an honorary member of Team Arrow, though she probably won't be suiting up as Black Canary anytime soon. However, this doesn't rule out visits to the Arrow Cave to check in on pending crimes/criminals. She's bound to run into Oliver and Felicity from time to time. This has to be right up there with one of her top 10 most uncomfortable situations, considering:
Oliver was secretly hooking up with her sister, Sara
Oliver "died"
Laurel started dating Oliver's best friend, Tommy
Then, Oliver was alive
She and Oliver hooked up again
Then, Tommy died
THEN Oliver and Sara hooked up again
Finally, Oliver and Laurel come to a mutual friend agreement
Oliver and Felicity begin their beautiful relationship
Frankly, it's enough drama to cause someone to move to a new city for a fresh start. But Laurel's not that kind of girl, and she wouldn't leave her father behind. However, will Laurel really be able to put aside this history with Oliver and embrace Olicity like the rest of us?
According to executive producer Marc Guggenheim, probably. "I think Oliver and Laurel are sort of in a really good post-relationship place," He told TV Guide. "That's really the fun thing for us. We now get to have scenes between Oliver and Laurel that we never got to have on the show now that she's in the circle of trust."
However, while it pains me to point out, Guggenheim also said, "That's not to say [that Oliver and Laurel] never get back together again. We never say never on Arrow." And since he wasn't talking about Oliver + Felicity 2Gether4Ever, I stopped listening. Then, basically pouring salt in our growing wound, Kate Cassidy had to go and say in an interview with The Hollywood Reporter that she believes Laurel would be open to rekindling the romance with Oliver, because "At the end of the day, he's the love of her life and anything can happen. You never know." Ugh.
From this information, we can gather that Laurel won't be pulling any insane stunts to try and win Oliver back. From the sounds of it, she might even give the new couple her blessing. She's not going to force her way back into his life, since that's not what friends in a good post-relationship place do. In order to continue saving Starling City, Oliver and Laurel have to work together, so their relationship this season will probably be more business than pleasure.
However, their relationship is one of those "epic" relationships that will probably never end, no matter who the other dates. But for right now, let's continue basking in the ever burning glow of Olicity. From the sounds of it, you'll eventually get your time in the sun again, Laurel.
Images: Cate Cameron/The CW; queensarrow/tumblr