4 Reasons To Love 'Arrow's Wife Cassandra Jean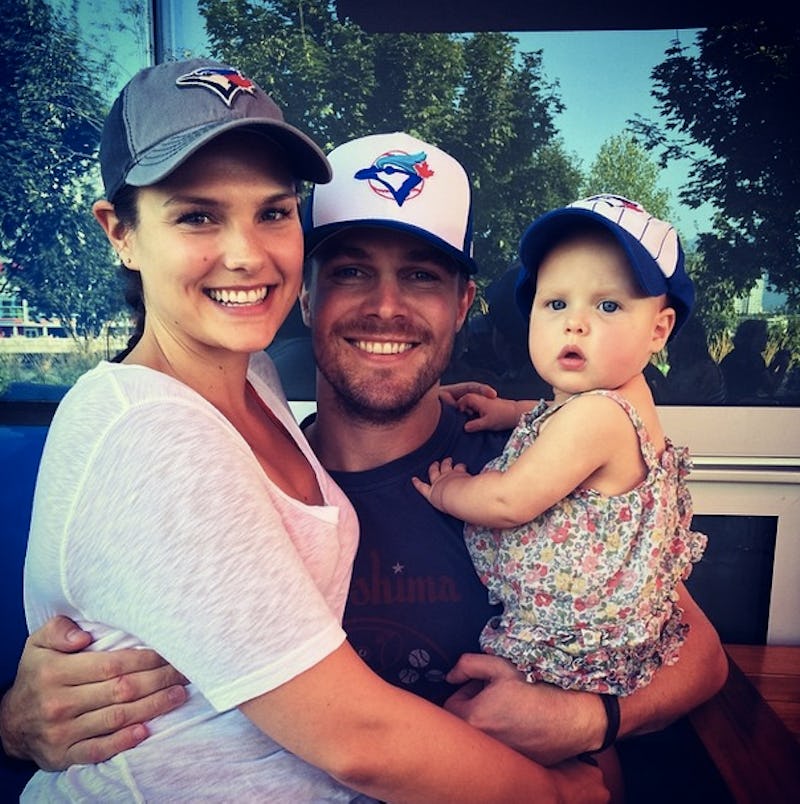 This is one of those relationships where it might be a toss up as to who is luckier. Is it Cassandra, because she has snagged a guy with killer abs? Or is it Arrow star Stephen Amell, because he has married a downright wonderful human being? I don't know, I might have to go with Amell being luckier, because abs are a dime a dozen nowadays — someone like Amell's wife, Cassandra Jean doesn't come around all that often.
Amell loves her so much, he didn't just marry her once, he married her twice. As reported by Us Weekly, the two tied the knot on Christmas day 2012 in the Caribbean, but then had a second ceremony stateside. They got married for the second time on May 26 in New Orleans. Then, before 2013 was up, the couple welcomed their daughter, Mavi Alexandra Jean Amell on Oct. 15.
Now that she's the envy of Arrow fans everywhere for marrying Oliver Queen himself, it's time to celebrate Cassandra in her own right. She's a former model who also has a background in beauty pageants and has worked steadily as an actress since the mid-2000s, on shows like One Tree Hill, Mad Men, and most recently, Hart of Dixie.
There's so much more to Cassandra than just these guest appearances, though. Here are four things to know about her (including one thing you most definitely remember her from).
SHE CELEBRATED Her Birthday IN STYLE
And by "in style," I obviously mean "complete with party hats and Amell gazing into her eyes." The 29-year old rang in her new year with her husband and daughter, in tow. Also, according to her twitter, she found $143 dollars in a jean's pocket, so her birthday clearly went out with a bang.
AMERICA'S NEXT TOP MODEL MELTDOWN
Don't even try to deny you haven't binged ANTM at least three times in your life on some Saturday. And if you're sticking to the story that you shy away from shows like that, you've at least probably heard the story about the contestant who freaked out during Cycle 5 and quit the show over the fact that Tyra Banks cut her gorgeous hair super short and dyed it blonde. That, ladies and gentlemen, was Cassandra. She holds the title as the first contestant to walk off of ANTM.
The way her face drops in the video immediately after Tyra breaks the news to her is priceless. Cassandra, you're not alone. I would have the same exact reaction to that situation.
SHE ROOTS FOR THE STARKS
When he and Cassandra were finally caught up on Game of Thrones, Amell shared this little delightful piece of dialogue that happened at the conclusion of the Red Wedding. She later told Zap2it that she was "changing careers... retired actress, aspiring GOT novelist."
SHE & AMELL ARE ABSOLUTELY ADORABLE TOGETHER
She only ever tweets about "her husband," and in return, Amell only tweets about "his girls" in relation to Cassandra and Mavi. Just wait until their little one is old enough to get a Twitter and vent about "her parents." But when they're both this awesome, what could she possibly complain about?
Image: amelladventures/Instagram