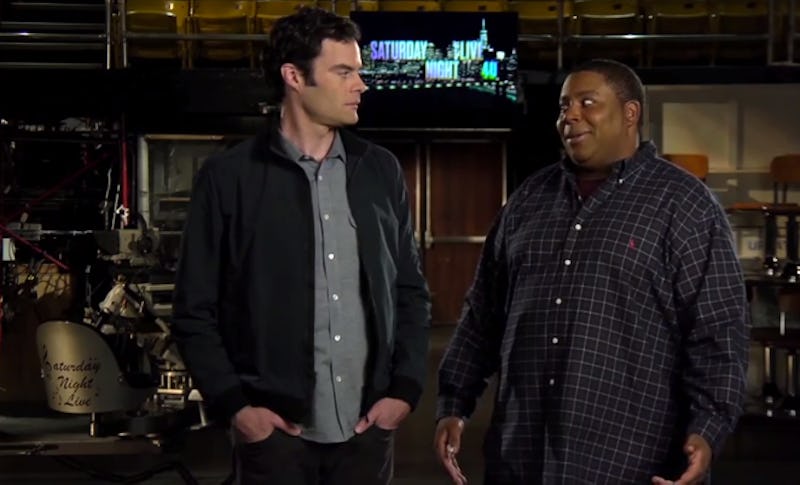 When it was announced that the wonderfully hilarious Bill Hader would be hosting Saturday Night Live — his old alma matter — during the 40th Season, I freaked out. So far this season (from the two episodes that have aired so far) the turn out of the skits have been above mediocre, a B- in letter grades if you ask me. Sarah Silverman did a good job as host last week, but Hader is the one I knew would hit it out of the park. So when Hader's SNL promos came out, and he and fellow cast member Keenan Thompson brought up Hader's Lindsey Buckingham character on "What's Up With That," I automatically started thinking about what characters SNL was going to bring back this week with Hader's presence.
Truthfully, I'd like to see an entire episode of skits using Hader's old characters. A "Best of Bill Hader" special if you will — then it can go on Netflix, and I can watch it until the end of time. But, alas, that will probably not happen. But that doesn't mean that the writers of SNL shouldn't use some of Hader's old characters this Saturday. Some of them were fan favorites, after all — ahem, Stefon. Here's who I hope to see SNL bring back this week.
Lindsey Buckingham
I mean, he and Thompson basically confirmed it, right? I don't know if this is accurate, but I might be the only person that absolutely loved the "What's Up With That" SNL sketches. I lived for the catchy tune of the song, I could watch Jason Sudeikis gleefully dancing in the background wearing a red tracksuit all day, and for some reason, I always thought it was funny when Thompson's character realized they ran out of time to talk to Hader's Buckingham (of Fleetwood Mac).
Stefon (duh)
He is one of the best characters to ever be on SNL, so they HAVE to bring Stefon back, right? Well, I am a little torn on this one, because I am one for tradition. I love Stefon. I have a Stefon keychain after all, but what about Seth Meyers? They have only done it together, and I think it would feel off if Meyers' patient anchor presence wasn't seated beside Stefon when he broke character.
Vinny Vedecci
Vinny Vedecci usually interviews the hosts, so this could prove to be a little tricky, but I'm all about that tricky life. I would love to see Vinny return, so maybe someone else interviews him, or he interviews one of the new cast members, or the musical guest?
Keith Morrison
I don't know what was creepier. The crimes or the lingering voice Hader uses for Dateline host.
Watch all of Bill Hader's Saturday Night Live promos below.
Images: Saturday Night Live/Youtube; Giphy (4)